Our Senior Performance Manager Tom Pickard and his girlfriend Robyn recently flew out to Jinja, Uganda to volunteer at the 1moreChild orphanage. They were out there from the 16th-23rd of April and were at the orphanage for 7 days out of the 8-day trip. We wanted to take the opportunity to tell you a bit about his time there and share some of the fantastic photos from his trip. 
Tom's mission in the orphanage was to help and support the children and workers by spending each day with them, getting to know them, and providing them with clothes and laptops. He spent a lot of time with the children teaching them how to use the laptops and get connected to the internet. They were then able to do some learning exercises on the laptops which the children found extremely interesting, however, Tom said they were more excited about Googling their heritage and tribe where they came from. They also thoroughly enjoyed watching the Ugandan football team on YouTube and seeing what Miss Uganda looked like!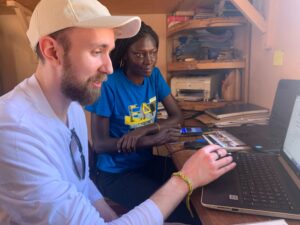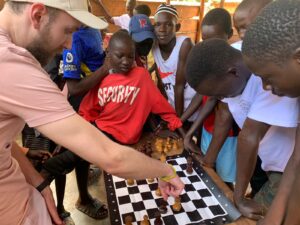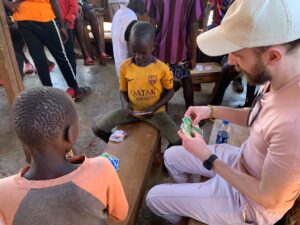 During downtime, the children took great pride in playing football and even let him join in on a few matches, to which they wiped the floor with him! They also enjoyed playing Uno and chess and were thrilled to be able to partake in selfies with Tom. Tom spent lunchtime at the orphanage and was shown how they cook their food which consisted of beans and maize in a large pan. The children typically eat with their hands but provided a knife and fork specially for Tom and Robyn.  
We asked Tom about his time with 1moreChild and here's what he said: "My time in Uganda was an incredible experience, experiencing the culture and seeing how the children lived was eye-opening. Their positive attitude to life was infectious despite the adversity that they faced; the charity is doing great work to help them achieve their dreams but there is so much more that can be done" 
Tom and Robyn also met Modo and Bosco during their time at the orphanage. Modo is a 13-year-old girl at the orphanage whom we named our digital marketing agency after, and Bosco is the man that runs the orphanage, whom we named our forecasting software after. Our CEO and founder, John Readman met Modo when she was only 9 years old and was amazed to see from the photos how much she was grown up.  
The 1moreChild orphanage in Jinja is something we hold very close to our hearts here at Modo25. We donate as much as we can every year to the orphanage to help with school fees, clothing, accommodation, and food amongst other things. Many of our team also make voluntary donations to the orphanage each month. For just £10, we can provide children with school fees, uniforms, shoes, school supplies, 2 meals a day, medical care, tutoring and mentoring for a month. For just £50, we can supply them with accommodation including electricity and clean running water, school fees, uniforms, shoes, school supplies, 3 meals a day, medical care and tutoring and mentoring. If you would like to donate to 1moreChild, you can do so here. All donations of any size are incredibly welcome, and the charity will provide you with updates on how you have helped to change a child's life for the better.
If you would like to know any more information about Tom's fantastic trip to Uganda, please get in touch at info@modo25.com, where we would be delighted to answer any questions.