Leeds/London/Manchester
We are currently looking for a talented digital strategist to join us as an Associate Director / Head of Digital Strategy in our SaaS and tech-focused organisation. We specialise in providing cutting-edge solutions to our clients, helping them achieve their business objectives through innovative technology and strategic multichannel initiatives. With a strong emphasis on growth and innovation, we are dedicated to delivering exceptional results and exceeding client expectations.
This role will see you report directly to the Director of Agency and be responsible for leading strategy initiatives with a digital and SaaS technology focus, your main objective will be to ensure the tech adoption of AskBOSCO™ to help our clients' success in the digital landscape. You will collaborate closely with clients to understand their business goals, identify opportunities, and strategies that drive growth and deliver measurable results. This position requires a strategic mindset, strong analytical skills, and a deep understanding of multichannel marketing, technology trends, and SaaS.
Key Responsibilities:
Collaborate with clients to understand their business goals and develop customised strategies that drive growth, enhance visibility, and increase customer engagement.
Responsible for providing clear feedback from clients and partners to develop the product roadmap from a strategic perspective.
Working to develop and maintain strategic client accounts for AskBOSCO™.
Managing the on boarding process for retail and agency partners onto the AskBOSCO™ platform, including strategic workshops.
Identify opportunities for within client organisations and provide strategic guidance on leveraging our technology to streamline processes, improve efficiency, and drive innovation.
Stay updated on industry trends, conduct competitor analysis, and monitor emerging technologies to identify market opportunities and provide strategic recommendations.
Utilise analytics tools and data to monitor and analyse campaign performance, customer behaviour, and market trends, providing actionable insights and optimisation recommendations.
Work closely with internal teams, to ensure alignment and seamless execution of strategies.
Build strong relationships with key clients, and deliver exceptional customer service by providing strategic guidance, performance updates, and regular reporting.
Continuously expand your knowledge of digital marketing, SaaS platforms, emerging technologies, and industry best practices to maintain a competitive edge and provide thought leadership to clients and internal teams.
Requirements:
Minimum of 8 years of experience in digital marketing, digital strategy, or a related field, preferably within a SaaS/tech environment or agency setting.
Ability to think strategically, analyse complex problems, and develop innovative solutions to drive business growth and achieve client objectives.
Proficiency in data analysis, using tools such as Google Analytics, and the ability to derive actionable insights from data to optimise digital campaigns and strategies.
Strong understanding of SaaS platforms and emerging technologies, digital marketing tools, and cross-channel digital strategy experience, with the ability to leverage them effectively to drive results.
Strong verbal and written communication skills, with the ability to present complex ideas and concepts to both technical and non-technical stakeholders.
Proven experience in leading and managing teams, with the ability to motivate and inspire others to achieve goals and deliver exceptional results.
Demonstrated experience in building and maintaining strong client relationships, with a focus on delivering exceptional customer service and exceeding client expectations.
Join our team and play a pivotal role in shaping the digital future for our clients. If you are a strategic thinker and have a passion for driving client's growth through technology, we invite you to apply for this position.
In return, we can offer you a dynamic, friendly, forward-thinking work environment, a competitive salary, and great employee perks.
At Modo25/Ask BOSCO,  everybody is invited with open arms.
We believe that fostering an inclusive and fair work environment is at the heart of our mission. As an equal opportunity employer, we embrace individuals from all walks of life, irrespective of race, colour, nationality, ethnicity, religion, national origin, sexual orientation, age, marital or family status, disability, gender identity or expression or any other legally protected status.
We strive for a culture that celebrates and incorporates diverse backgrounds and experiences. To anyone who is reading this, regardless of who you are, we extend a warm and heartfelt welcome. We are thrilled to have you join us!
Back to Vacancies
Employee benefits
We want to attract the best people, so we're offering competitive salaries and excellent employee packages that include:
4-day week – we work smarter so that we can work a shorter week
23 days annual leave
Fantastic benefits package that includes health insurance, a discounted Apple Watch, discounted gym membership and retail/leisure savings (e.g. free Caffe Nero coffee, Amazon Prime membership, free Vue tickets, retail vouchers)
Flexible working
Central Leeds office
Electric Car Scheme
Office dog (you need to feel comfortable in the company of  our well behaved office dog, Roxy)
Apply Below
Why Modo25?
We believe that by investing in our people, our clients can only benefit.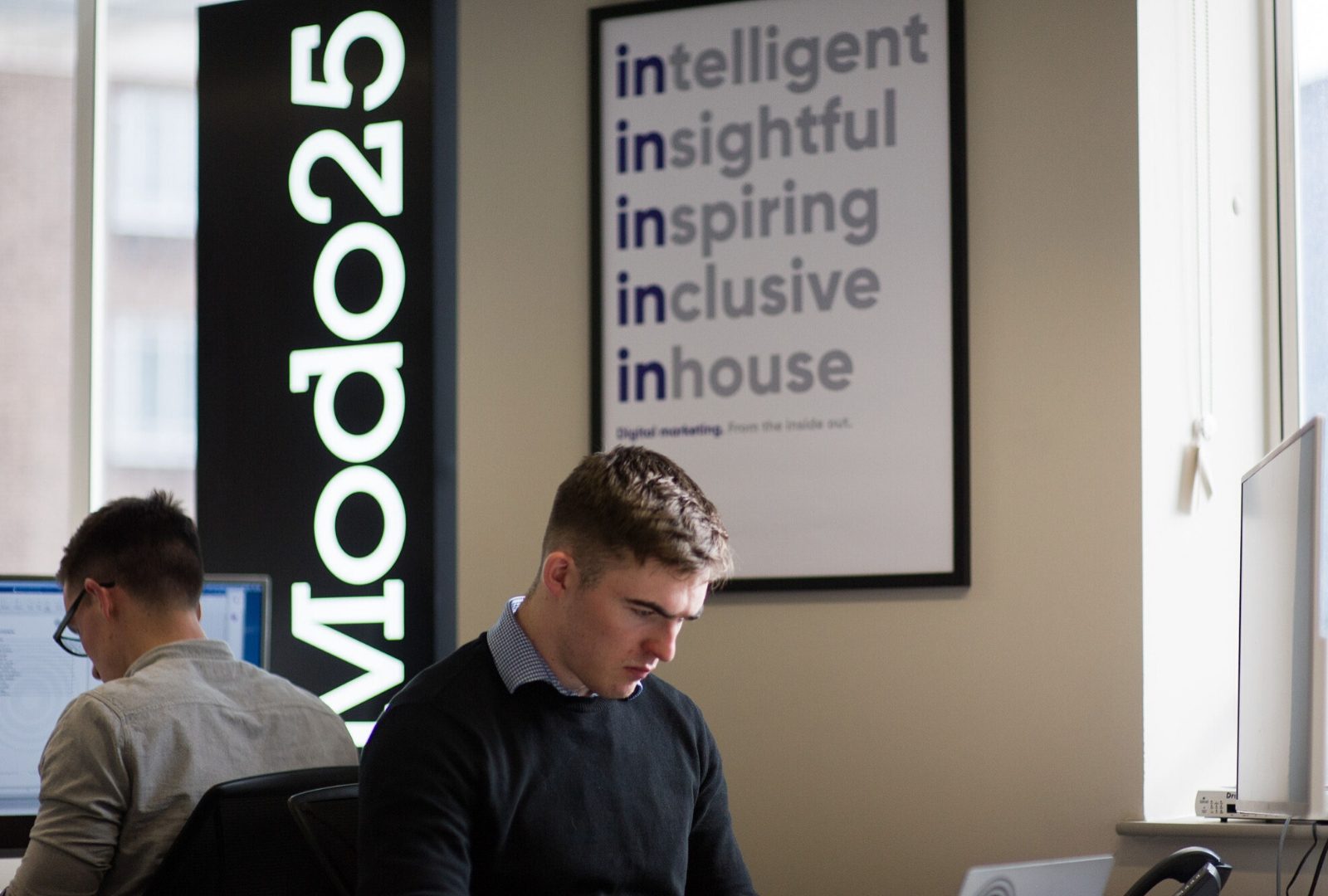 Modo25 newsletter Subscribe for news, jobs and more.