We are recruiting this role on behalf of our client. They help eCommerce businesses better understand where they stand in the ever-changing digital landscape. They discover new opportunities and implement a masterful digital strategy that is proven to increase client engagement and ROI for their clients.
They are committed to recruiting the best digital talent in the South West, and the successful candidate will join their elite team of data analysts, growth strategists, communications experts, search innovators and creative designers, who come together to help big brands maximise their performance and growth.
What the role entails…
The ideal candidate will be looking for a new challenge, helping their eCommerce clients to navigate and realise their growth targets.
With a solid understanding of digital channels, and critically the analytics that holds it all together, you will be able to appropriately identify the needs of both new and current customers and coordinate quarterly growth plans that realise these brands full potential. This will be done by developing excellent communication with clients and internal team members to identify opportunities for growth, from both new customer and existing customer recruitment channels.
Responsibilities
Work cross functionally within the company to communicate with all stakeholders in customers success
Create and maintain relationships with customers to better understand and achieve their growth aspirations
Support agency growth, by identifying upsell opportunities across our client base, that align with their goals
Manage all reporting and communication relating to channel performance
Support onboarding new clients as well as contributing to new business acquisition
Brief the delivery team and coordinate client workflow with the Account Executive
Candidate Requirements
You are data-driven, inquisitive and drive excellence in all you do for the team and clients.
You have experience analysing and interpreting datasets and telling a story from the numbers. You explain the what and the why to clients and ideally, you've worked client-side, at an e-commerce brand, or in a digital marketing agency. You are passionate about the ever-evolving world of digital marketing, with a curious mind and a get-stuff-done attitude.
3 years previous account management experience, ideally in an agency, or multi-faceted client-side role
Articulate and well accustomed to a client-facing role
Willingness and ability to travel to the office, to collaborate with colleagues 2 days a week
Ability to travel for events and meetings with clients as required
Back to Vacancies
Package and Benefits:
The successful candidate would be joining an award-winning, multi-channel growth partner. They act as a sat-nav for their clients, navigating them through the ever-changing world of digital marketing. Using a data-driven approach to take them on their journey using the most effective route possible. As a key part of the growing team you can expect:
A dedicated and tailored Personal Development Plan, we are committed to helping you grow within our business
Your personal development plan will include any training or courses that are applicable to your development
A Macbook or Windows Laptop – Your Choice
Invitations to company events – Including award ceremonies
Regular company social activities
22 days holiday (to start) – plus the usual bank holidays (pro rata'd for part time team members)
Additional holiday is provided after 2 years' service, to a maximum of 27 days per year + bank holidays
3 additional days are available to purchase for the Christmas shutdown
Perkbox (from join date) – which includes a free film to enjoy at home every month, as well as hundreds of online and in-store discounts
Amazon Prime which gives you free next day delivery, as well as access to box sets and movies, and music streaming.
Childcare vouchers
Workplace pension
Flexible working
Free parking
The company are currently working on a flexible Home/Office basis. They ask employees to be in the office two days per week, as this helps encourage teamship and collaboration.
Apply Below
Why Modo25?
We believe that by investing in our people, our clients can only benefit.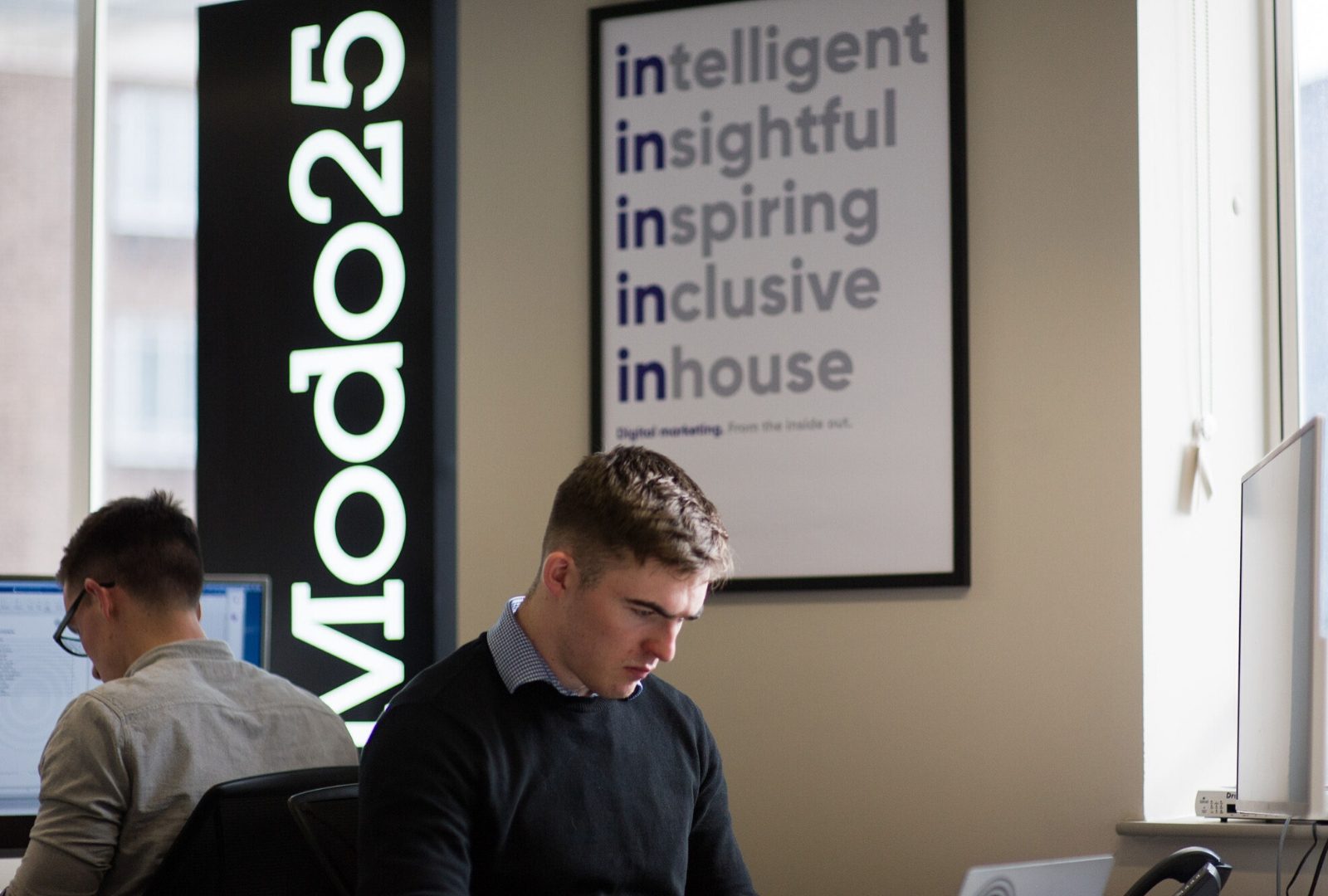 Modo25 newsletter Subscribe for news, jobs and more.