We are seeking a highly motivated, experienced Associate Director of Performance Marketing to join our clients in-house marketing team based in Newcastle. This role will see you responsible for the success of our clients digital marketing campaigns. This role will suit a strategic digital marketeer that has experience executing strategic multichannel campaigns whilst leading a team of marketing professionals to achieve outstanding results with a real technical understanding and commercial approach. This is a critical role in our clients growth, you will have the opportunity to shape our clients marketing efforts and drive the growth of the brand with a strong focus on lead generation.
Responsibilities:
Digital Strategy and Campaign Execution
Take overall responsibility for the development and implementation of comprehensive digital marketing strategies that align with overall business objectives.
Manage multichannel marketing campaigns across various platforms, such as Paid Media (PPC and Paid Social), SEO, Digital PR, Affiliates, and more.
Monitor campaign performance and optimise strategies to maximise ROI and achieve key performance indicators (KPIs).
Team Leadership and Management
Provide guidance, coaching, and support to team members to guide their professional growth and success.
Set clear goals and objectives for the team, monitor progress, and conduct regular performance evaluations. Guide a team culture that encourages creativity and continuous improvement.
Lead Generation Agency Management
Collaborate with the lead generation agency
Collaborate with external marketing agency
Data Analysis and Reporting
Utilise data-driven insights to measure campaign performance, identify areas for improvement, and make data-backed decisions to optimise marketing efforts.
Prepare regular reports on campaign performance, key metrics, and other relevant marketing insights to present to various stakeholders.
Requirements:
Minimum of 6-7 years of experience in performance marketing, with a track record of developing and executing successful multichannel marketing campaigns.
Demonstrated experience in growing and managing a marketing team, fostering a collaborative work environment, and achieving team objectives.
Extensive experience working with lead generation agencies, ensuring effective collaboration, and holding them accountable for performance.
Strong analytical skills, with the ability to interpret data and translate it into actionable marketing strategies.
Proficiency in using various marketing analytics tools such as Google, Bing  etc
Excellent communication and presentation skills, with the ability to communicate campaign performance and marketing insights to stakeholders and senior management team.
A passion for staying up to date with the latest marketing trends, tools, and industry best practices.
The ability to adapt quickly to changing market dynamics and business needs.
If you are a results-driven marketing leader with a proven track record in performance marketing, team management, and agency collaboration, we invite you to apply for this exciting opportunity to shape our marketing efforts and drive our brand's growth.
Back to Vacancies
Team member benefits:
1 day of fully remote working from home (or wherever you choose)
Second-to-none benefits: covering health care, pensions, and enhanced annual leave.
Employee assistant programme & 24hrs access to a GP
25 days holiday leave +8 days bank holidays
Ability to buy 3 more holidays and carry over to the following year
Company socials & wider incentive schemes
Breakfast foods and occasional sweet treats in the office kitchen
A personalised career path with a team that truly cares about your development
Apply Below
Why Modo25?
We believe that by investing in our people, our clients can only benefit.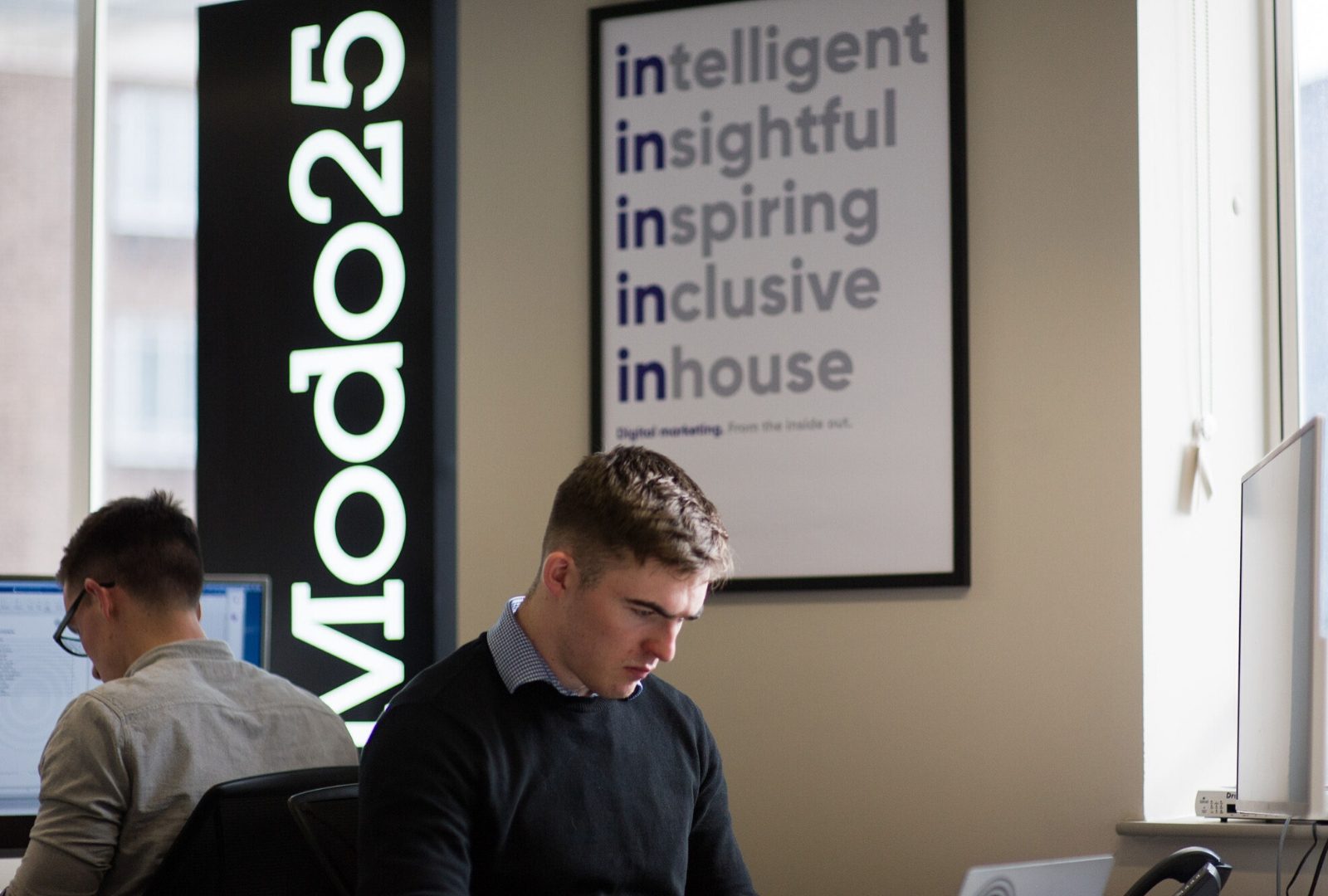 Modo25 newsletter Subscribe for news, jobs and more.