Our client is a dynamic and forward-thinking company that specialises in providing workspace solutions that bridge the gap between flexible offices and traditional leases. They are now looking for a Digital Trading Lead to guide their efforts in achieving sustainable and scalable growth.
As the Digital Trading Lead, you will be responsible for developing and executing our client's growth strategy, ensuring that their online presence and performance are optimised for success. This role will see you responsible for managing the change backlog and trading plans, working closely with stakeholder groups, and ensuring digital assets align with strategic goals.
The ideal candidate should possess expertise in digital trading, SEO, CRO, change backlog management, cost control, and 3rd-party performance. This role will collaborate with cross-functional teams and play a vital role in optimising trading performance while maintaining a competitive edge in the market. This role requires a mix of strategic thinking, hands-on execution, and leadership abilities.
Key Responsibilities:
Change Backlog and Trading Plans: Responsible for the change backlog and trading plans, ensuring that they are aligned with strategic objectives and customer experience goals.
Weekly Trading Meeting Leadership: Lead the weekly trading meetings, covering trading performance metrics such as traffic, leads, and revenue. Constantly optimise the balance between potential changes and customer experience, while also focusing on revenue outcomes.
Market Analysis: Maintain a well-informed view of the competition and market trends. Develop strategies to meet our strategic outcomes using existing digital assets effectively.
Digital Trading Expertise: Provide expertise in digital trading, including SEO, CRO, change backlog management, cost control, and third-party performance. Offer insights to enhance the company's digital trading capabilities.
Collaboration: Partner with key stakeholders, including the Chief Marketing Officer (CMO), Chief Technology Officer (CTO), Chief Financial Officer (CFO), Digital Sales Director, Clients and Insight Marketing Director, Product Owners, Delivery Director, and third-party providers. Ensure well-considered planning, insightful recommendations, and a balanced approach to risk and momentum.
Brand Acquisition Support: As we acquire digital platforms to run at arm's length, collaborate with the lead for these brands to ensure that best practices are implemented, and we act as additive owners.
Qualifications/Skills:
Proven experience in digital trading, change management, and optimising trading performance. With strong knowledge of SEO, CRO, and cost control in a digital trading context.
Excellent analytical skills and the ability to interpret data to make informed data driven decisions and enhance campaigns, focusing on both digital marketing and business operations.
Outstanding communication and collaboration skills. Collaborating effectively with the finance team, demonstrating commercial literacy to assist with forecasting, cost control.
Strong strategic thinking and problem-solving abilities.
Knowledge of market trends and the ability to adapt strategies accordingly.
Experience in working with cross-functional teams and third-party partners.
We are looking for a candidate who excels in data analysis and digital marketing, understands eCommerce intricacies, and possesses the financial acumen to liaise with the finance department for strategic planning and financial control. if this sounds like you we invite you to apply for the Digital Trading Lead.
Back to Vacancies
Team member benefits:
Competitive pay scales reviewed annually
Discretionary annual company bonus
Private healthcare and life cover
Hybrid working with a focus on connectivity, flexibility and bigger relationships as part of the workplace experience strategy
Flexible working options
Bespoke training programmes
Lots of learning and self-development opportunities on our bespoke 'Instant Learning' portal
Reward Gateway (discounts!)
Wellbeing Centre
Global Employee Assistance Programme
Brilliant colleague recognition scheme that leads to quarterly and annual 'let's celebrate' awards with great prizes
Generous referral scheme
Laptop / tech provided
Early finish on a Friday
Apply Below
Why Modo25?
We believe that by investing in our people, our clients can only benefit.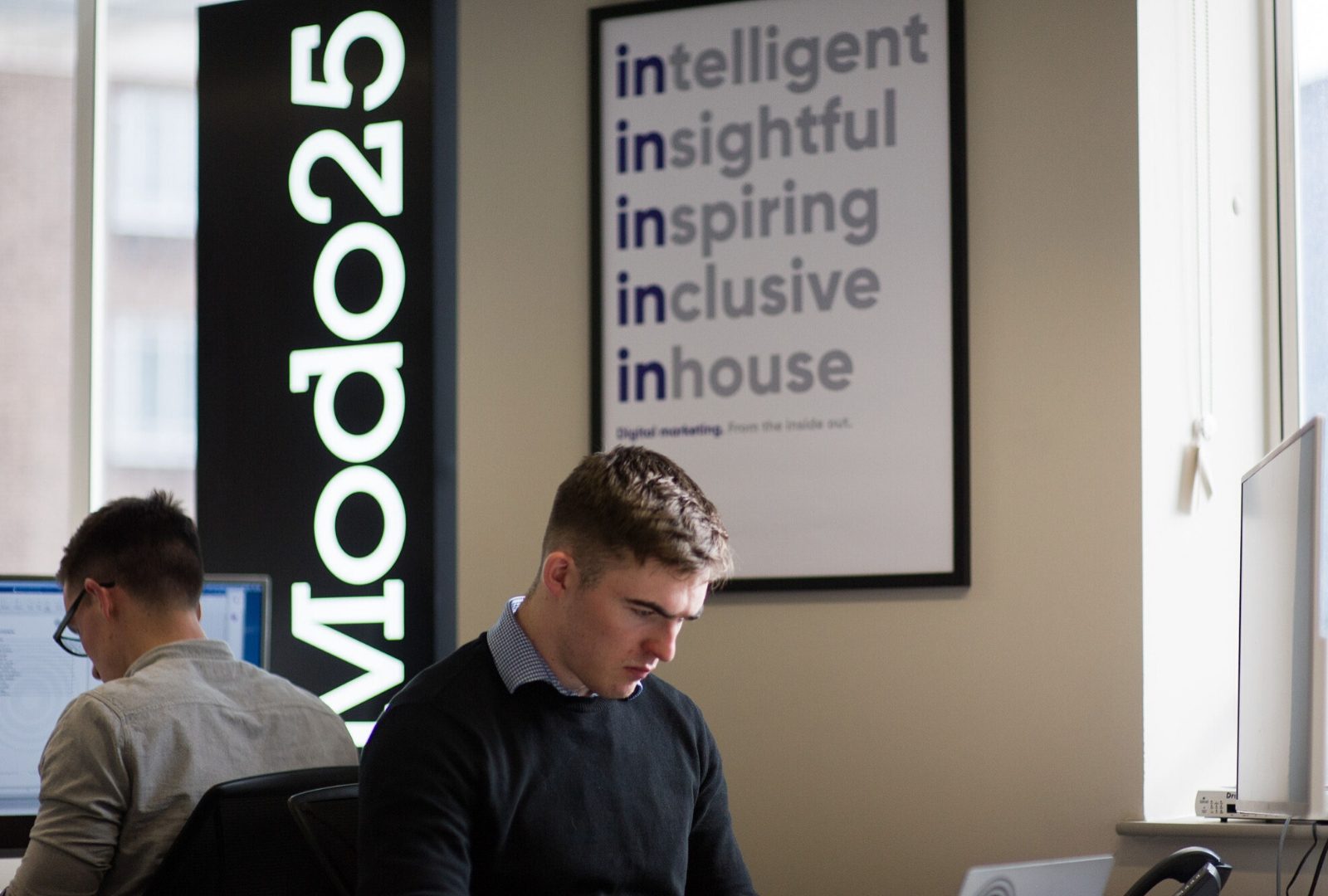 Modo25 newsletter Subscribe for news, jobs and more.