We're on the look-out for someone with a love of marketing and technology with extensive experience to join our clients established marketing department based out of their HQ in the US to lead projects, help in generating good quality content, organising campaigns and executing on our company's marketing strategy.
This post is crucial in the successful operation of the company's marketing activities across North America. It guarantees smooth operation of projects and ensures the attainment of key marketing goals, as well as direct contribution to the longer-term growth of the company.
The post holder should be experienced in the below, able to lead large projects, have the confidence to work individually, and be results-focussed. The ultimate goal of the post is to take ownership and deliver against KPI's to ensure lead generation efforts, are achieved. While working as a highly-effective, ROI-driven support function for the sales teams.
Key Responsibilities:
Support and assist the Heads of Marketing and Customer Success in the formulation and implementation of the marketing plan.
Effectively project manage assigned marketing campaigns & events in their entirety – from planning through to tracking and reporting on return on investment.
Liaise and build relationships with internal and external stakeholders, e.g. department heads, colleagues and customers; ensuring ongoing and continuous communication.
Assist in the formulation and implementation of digital marketing activities in line with the overall marketing strategy.
Develop and implement effective demand generation activities from conception to implementation.
Carry out research on market trends, market opportunity, and competitor and target customer analysis to inform future value propositions.
Manage the production of marketing communications and promotional materials in line with brand guidelines including writing, editing and proofreading copy, briefing and directing designers, copywriters and printers.
Contribute to the strategic process/thinking, suggesting new service offerings improvements etc.
Keep abreast of new and emerging marketing techniques and new channels.
Prepare content for social media, websites, email marketing and other marketing services
Work with the team, external designers and web developers to deliver brands' final content
Content Marketing – delivery against a content marketing strategy in:
Developing a diverse range of content assets using customer personas to attract, convert and retain customers including case studies, new stories, website content, e-books, whitepapers, videos, blog posts, press releases, customer presentations etc.
Generate compelling, imaginative, and original ideas and bring them to life with relevant objectives, conversion, sales or brand – tracked and measured.
Create, curate, manage and maintain content assets.
Create content which can be syndicated and shared.
Ensure all content is aligned to the brand look, feel and tone ensuring consistent experience.
Use and play a role in developing customer personas and identify the role of different content in the journeys of customers at different stages of their research and buying journeys.
Generate and develop content to work in line with the customer buying cycles
Ensure all content is edited, proof-read and fact checked before being published.
Track and understand the performance and role the content plays in successful customer journeys.
Hands on use of Google Analytics to identify strengths and weaknesses in customer journeys and where content can improve audience engagement. Measure performance and be measured against KPIs.
Events & Email Marketing
Shaping and executing email plans, building, optimising, and testing email campaigns and analysing their performance to ensure delivery of timely, accurate and effective email marketing.
Planning, creating, and managing delivery of timely and accurate emails & events
Implementing and maintaining e-marketing automation
Evaluate, test, report on and optimise emails using performance metrics turning insight into actionable recommendations.
Liaising with internal teams and being the champion and subject matter expert of email.
Other Aspects of the Role
Data Management of our CRM system – HubSpot
Be a key part in maintaining/managing cultural activities
Ensuring timely follow-up of leads by sales
Maintaining up-to-date customer, enquiry, and prospect contact database
Reporting on lead status
Devising and creating email marketing campaigns to customers and prospects
Creating and sending marketing emails to drive leads and conversion rates
Implementing and maintaining e-marketing automation
Populating content onto the company's website through the CMS platform
Requirements:
Bachelor's Degree in English, Business, Marketing, Communications, or similar
A t least 2 years' experience in a similar role
Excellent English writing skills
Experience using HubSpot
An understanding of SEO and an eye for detail
Proven ability in creating or commissioning compelling content
Knowledge of all relevant marketing tools is desirable (e.g., webinar software, landing page creators, social insight tools, web analytics, email marketing, automation, CRM & CMS etc.)
Top-notch communication (face-to-face, email, phone and Microsoft Teams)
A love of technology and the ability to understand technical details is essential
Forward-thinking and the confidence to suggest new ideas
Adobe
Back to Vacancies
Benefits:
Compensation & Benefits
Competitive base salary
Unlimited holiday
Employer-sponsored healthcare plan
Optional Vision, Dental, and supplemental insurances
Collaborative office space with free parking
Hybrid work schedule (3 days in office, 2 days WFH)
Free snacks, weekly catered lunch, and fun team outings!
Opportunities to travel
Apply Below
Why Modo25?
We believe that by investing in our people, our clients can only benefit.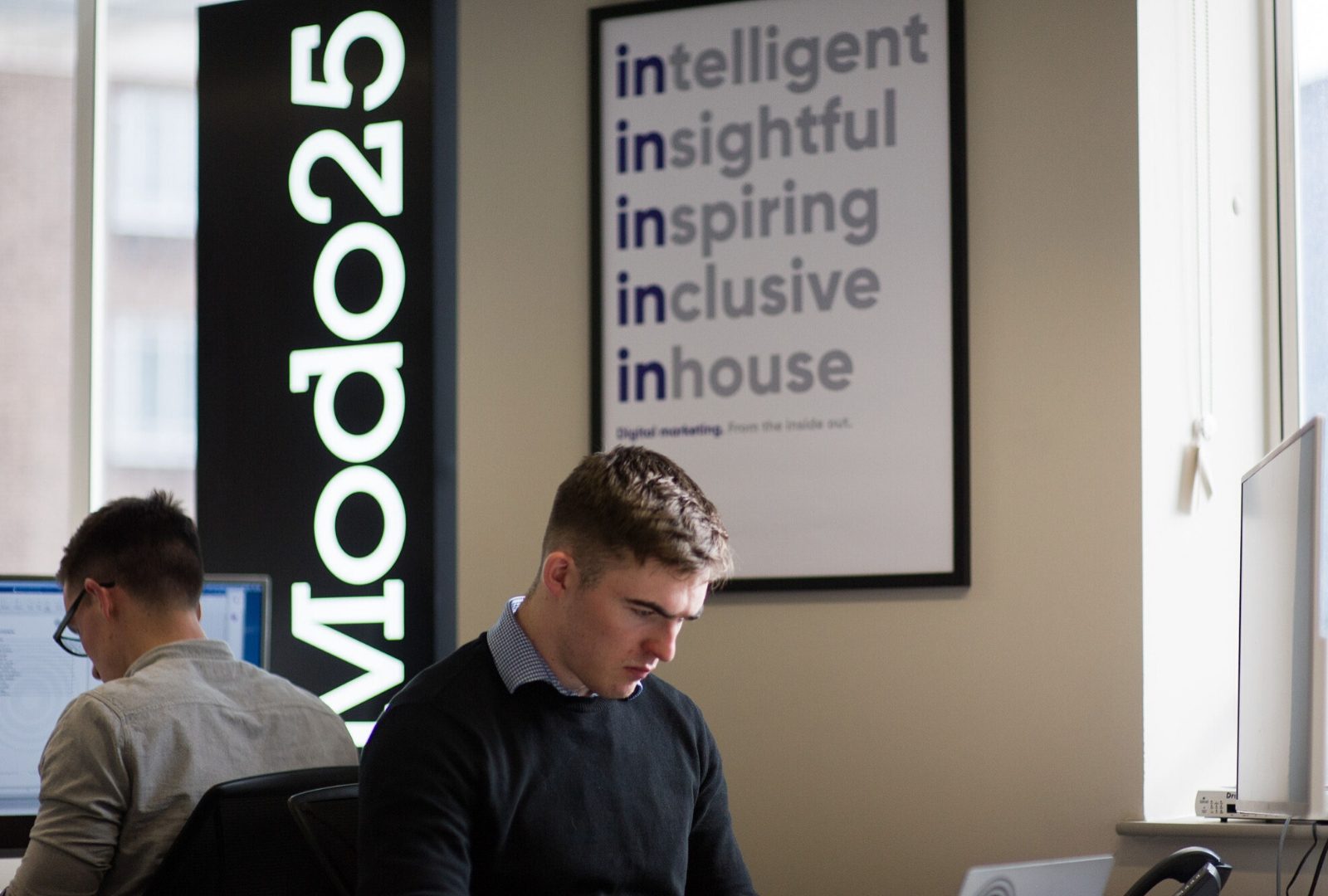 Modo25 newsletter Subscribe for news, jobs and more.