We're recruiting this role on behalf of our client. They help eCommerce businesses better understand where they stand in the ever-changing digital landscape. They discover new opportunities and implement a masterful digital strategy that is proven to increase client engagement and ROI for their clients.
They are committed to recruiting the best digital talent in the South West, and the successful candidate will join their elite team of data analysts, growth strategists, communications experts, search innovators and creative designers, who come together to help big brands maximise their performance & growth.
What the role entails…
As the agency's marketing manager your role is to generate leads that will convert to new customers alongside the senior leadership team and agency directors.
You will be championing lead-generation efforts by using a range of inbound and paid advertising tools as well as strategic partnerships. You know how to create catchy content and how to leverage social media to get the message out.
You understand the power of strategic partnerships and know how to craft win-win propositions with complementing partners.
The role can be full (40hrs/week) or part time and we offer flexible hours and home working on request.
Responsibilities
Social media content creation
Proof reading blogs and case studies
Uploading content to our website
Create and send marketing emails
Lead research and data entry
Calls to customers
Direct emails to customers
Video pitching
Candidate Requirements
You are data-driven, and you know how to build funnels, run campaigns, and measure results.
You have some experience in all the above activities, ideally worked in a digital marketing role in a tech company, an ecommerce business or a digital marketing agency. You are passionate about the ever-evolving world of digital marketing, with a curious mind and a get-stuff-done attitude.
Minimum 3 years in a digital marketing role
Working knowledge of running paid campaigns on Google and LinkedIn
You can create beautiful content and know your way around Indesign to curate marketing assets
Excellent written communication skills in English
Experience in using email marketing tools and CRM systems (zoho experience preferred)
Back to Vacancies
Package and Benefits:
The successful candidate would be joining an award-winning, multi-channel growth partner. They act as a sat-nav for their clients, navigating them through the ever-changing world of digital marketing. Using a data-driven approach to take them on their journey using the most effective route possible. As a key part of the growing team you can expect:
A dedicated and tailored Personal Development Plan, we are committed to helping you grow within our business
Your personal development plan will include any training or courses that are applicable to your development
A Macbook or Windows Laptop – Your Choice
Invitations to company events – Including award ceremonies
Regular company social activities
22 days holiday (to start) – plus the usual bank holidays (pro rata'd for part time team members)
Additional holiday is provided after 2 years' service, to a maximum of 27 days per year + bank holidays
3 additional days are available to purchase for the Christmas shutdown
Perkbox (from join date) – which includes a free film to enjoy at home every month, as well as hundreds of online and in-store discounts
Amazon Prime which gives you free next day delivery, as well as access to box sets and movies, and music streaming.
Childcare vouchers
Workplace pension
Flexible working
Free parking
The company are currently working on a flexible Home/Office basis. They ask employees to be in the office two days per week, as this helps encourage teamship and collaboration.
Apply Below
Why Modo25?
We believe that by investing in our people, our clients can only benefit.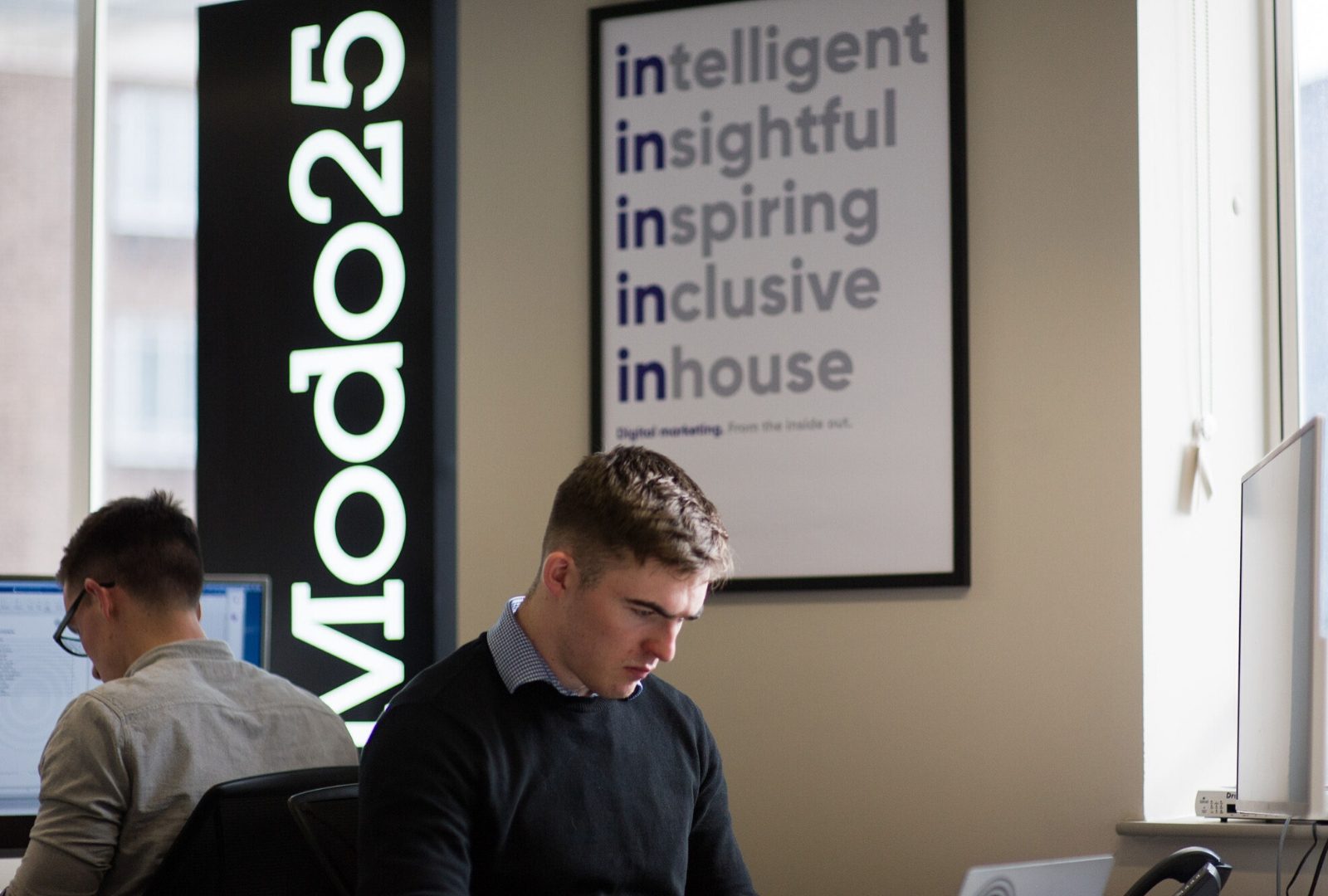 Modo25 newsletter Subscribe for news, jobs and more.