We are currently recruiting a PR Senior Account Manager to join our client's expanding internal team. This is a full time role for our London based client and is hybrid working.
This role will see you:
Manage a portfolio of client accounts working closely with the AE's and AM's
Providing strategic counsel to clients to aid their PR campaigns
Proactively identify ways to add value to existing to existing clients
Providing innovative and creative ideas to clients
Building relationships with existing and new clients
Proactively seek opportunities for the client to drive revenue within the business
Interpret and respond to client briefs and develops effective communication strategies and advice for the benefit of the client
Demonstrate creative thinking to develop relevant and impactful stories for clients, that meet objective and deliver coverage
Act as the primary contact to clients, continually fostering the client-agency relationship to build trust and become a valuable resource to clients
Resolve client issues and have clarity about desired outcomes, escalating as appropriate and recommending best approach to senior account lead
Media work:
Monitor the media landscape for new opportunities to sell in additional services to clients to enhance revenue and profitability
Have strong media contacts where they come to you for stories
Briefing clients and spokespeople and updating them on campaigns
Analysing PR coverage and providing written reports
Leadership and growth:
Write engaging thought leadership articles
Identify and flag resource issues to line manager and head of resource
Anticipate issues and create action plans to solve them
Drive revenue through upselling tactics, repeat business and cultivate opportunities
Take a leadership role in delivering new business, leading new business initiatives and driving pipeline growth by proactively identifying and delivering opportunities for growth
Manage personal and team time meticulously, as well as assisting junior staff in managing their workloads
Manage and develop AE's & SAE's, resolving issues promptly and fairly, and celebrating successes
Develop a personal network of internal and external industry contacts, identifying new business opportunities resulting from these contacts to the benefit of the business
Develop new business leads and assists in the negotiation process with prospective and existing clients and suppliers.
Be seen as a peer mentor that colleagues can turn to advice
Support the senior directors in delivering the new business process, leveraging the skills and experience of the wider team
Being a line manager for an AM – this will require little or no guidance from own line manager and seniors with dealing with issues
Run broadcast workshops and broadcast surgeries
Prior experience of running and managing a marketing team.
Back to Vacancies
Benefits:
Thursdays finish at 16:30 for team time
Flexible working. 3 days in the office and 2 at home
Up to 2-week extended Christmas period on top of 25 day holiday
Personalised training programme, where we identify what we can do to help you grow and evolve in your career
Giving back to the community through the company initiative
Private Medical Insurance (after probation is passed)
Apply Below
Why Modo25?
We believe that by investing in our people, our clients can only benefit.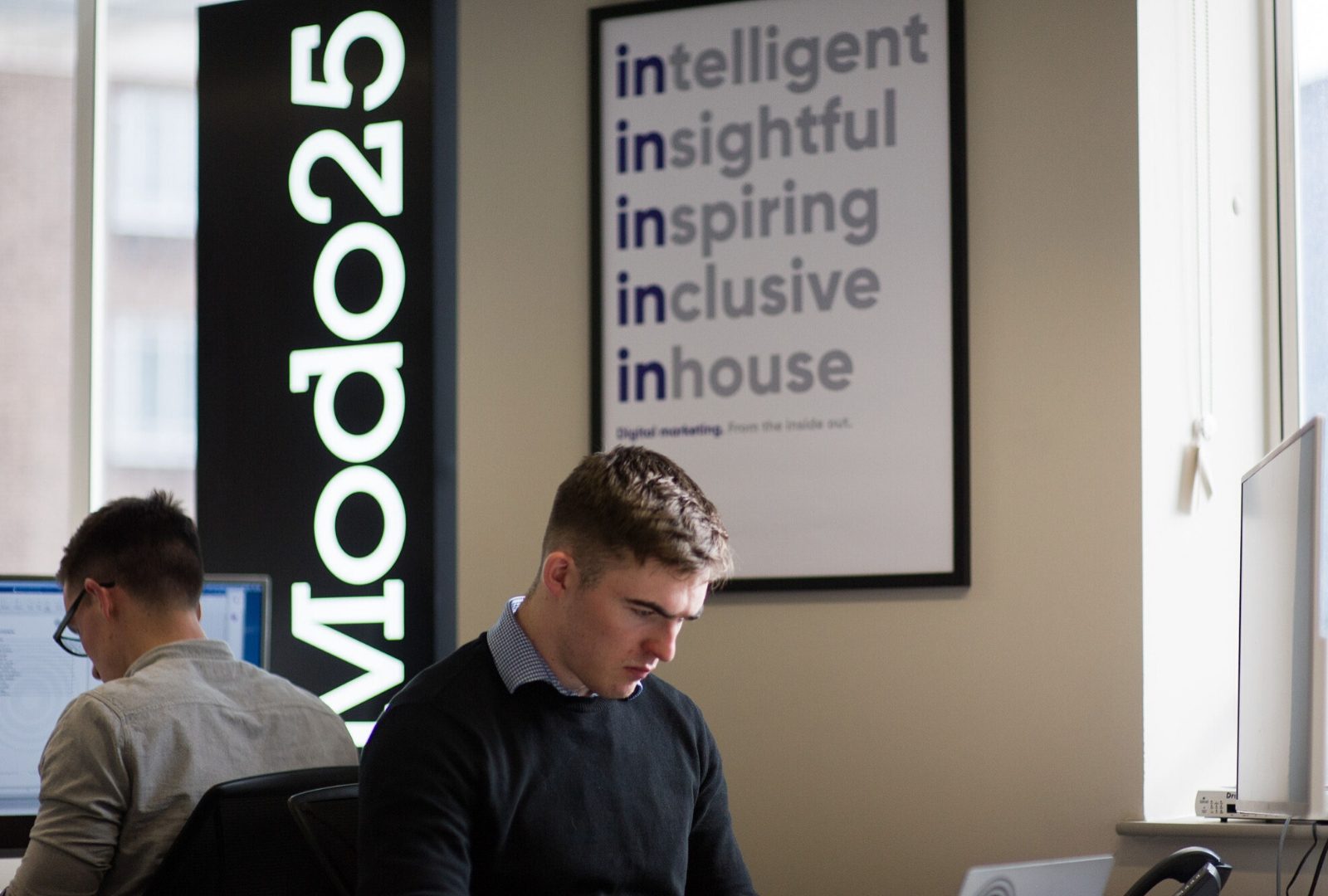 Modo25 newsletter Subscribe for news, jobs and more.