Our client is looking for a Senior Ecommerce Trading Executive to join their internal team on a full-time basis.
As a Senior Ecommerce Trading Executive, you'll be responsible for delivering, alongside your team, the day-to-day running of our online businesses in line with our long-term commercial strategy and growth plan. The role will report into our Senior Ecommerce Trading Manager and be based at our head office in but can include an element of home working and flexible hours.
The main focus of the role is to maximise performance of our largest ecommerce channels, You will be tasked with maximising online sales and profitability and will need to work diligently to optimise on-site conversion (site merchandising, CRO, stock visibility, customer experience, ecom development) with the relevant internal teams, as well as coordinate traffic acquisition (PPC, SEO, social, direct mail, OTP) with both internal and external partners.  Your ability to coordinate, persuade and influence will be key in ensuring stakeholders are motivated to prioritise their workload to maximise the site's profitability. You will be leading a small team in this position, so the ideal candidate will have experience of nurturing colleagues and encouraging personal development.
Main duties of the Senior Ecommerce Trading Executive:
Identify and deliver website content requirements, customer journey improvement, and commercial performance
Work with the wider Marketing team, Customer Service, Buying, Merchandising, IT, and Ops to drive site performance, segmentation and personalisation
Utilise web analytics to ensure improved business performance and full-funnel KPI improvement
Develop and manage the website trading calendar and activity plan to maximise conversion and sales
Produce ecommerce trading reports including sales, KPIs and stock performance
To fully optimise UX best practises across the website with concentrated efforts on user flow using heatmapping to direct decisions
Take a lead on campaign strategy, development and implementation working closely with internal departments for a collaborative output and acquisition team to drive traffic
Work closely with CRO specialist to identity opportunities for A/B testing across the website
Diligently monitor and improve on-site merchandising, working alongside buying and merchandising to ensure there is optimal availability at the correct price point to ensure maximised sales opportunities
Optimise product ranges to drive customer engagement and sales with a focus on upsell and cross sell
Identify/review slow-moving products with HS Merchandiser/CRO specialist and make decisions on how to handle these
Work closely with the Head of CRM to Monitor/report trading patterns, customer trends, researching product categories, key competitors, and appropriate technologies including Google Analytics
Research and deploy best-practice methods to help reduce online returns
Develop and manage your immediate team with clear commercial objectives and deliverables
Requirements to be our Senior Ecommerce Trading Executive:
Be a seasoned Ecommerce professional preferably from a Retail Trading background with experience working in a fast-paced online trading environment
Online merchandising experience would be beneficial
Be an expert in developing commercial websites with a track record of improving online sales performance, conversion, UPT, AOV, and minimising customer drop-off
A self-starter, be able to work at a fast pace and adapt to an ever-changing retail environment with excellent communication skills
Have great stakeholder management skills across different departments, and ability to work cross functionally with excellent communications skills
Have a passion for innovation and trying new ideas to improve sales opportunities
Be a strong team manager and have experience of managing ecommerce teams previously
Have an understanding of up-to-date retail and ecommerce technology including Google Analytics
Be proactive and supportive of the wider Marketing teams and provide subject matter expertise
Able to demonstrate strong technical knowledge and the ability to change tack in an agile way, depending on the needs of the business
Have a trading mentality constantly refining and honing for weekly trade
Back to Vacancies
Benefits:
Flexible set working hours – core hours 9.30am-3.30pm
Hybrid working 1 day per week from home (once up to speed with everything)
Generous Staff Discount
Free onsite parking at our York Office
Discretionary Bonus
Holiday Entitlement (Increases with service)
Company Contribution Pension
Access to RetailTRUST (Financial & Wellbeing Support)
Access to the employee-led grant application and charitable giving scheme
Apply Below
Why Modo25?
We believe that by investing in our people, our clients can only benefit.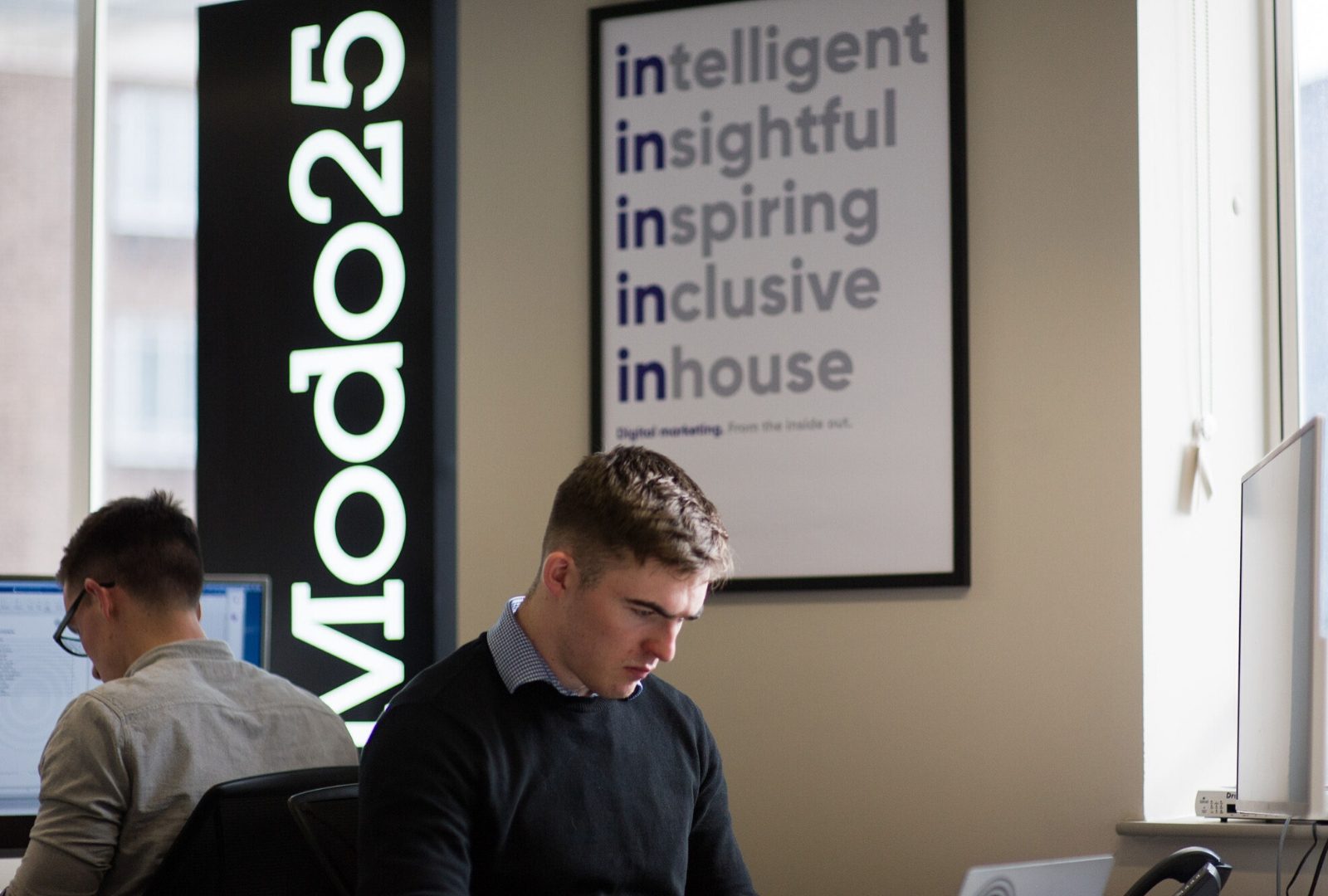 Modo25 newsletter Subscribe for news, jobs and more.