Description of Role:
The Senior Marketing Executive will work with the Head of Marketing and Digital Graphic Designer to provide clear and consistent messaging for all aspects of the marketing mix, both internally and externally. There will be a heavy focus on communications and the role will require excellent organisation and creativity, with up-to-date knowledge of marketing strategy.
The day-to-day role will involve managing the content marketing plan, with extensive copywriting required in many forms, including PR, blogging, social media, news. The Marketing Team provides support to all areas of the  business and it is imperative that we provide concise communications for customers, prospects and staff. The Senior Marketing Executive will be comfortable with changing priorities and evolving as the Company scales up, in line with the current growth strategy.
This role will have a significant amount of responsibility in planning and managing all aspects of the marketing mix for targeted campaigns, with a focus on lead generation.
Primary Responsibilities
Managing PR outreach. Distributing content to interested media parties and maintaining strong relationships to drive positive coverage for the business.
Content strategy, planning and execution, writing for various platforms. Leading on content generation for the whole Group.
Assisting the Head of Marketing with the achievement of set marketing goals and KPIs.
Planning and implementing customer and prospect communications for lead generation.
Building strong working relationships with all departments.
Managing third parties as and when required, working closely with their digital marketing agency.
Attending meetings on behalf of the Head of Marketing as needed.
Managing exhibitions and organising customer events – creating a feedback loop with focus groups.
Campaign planning and management with a strong focus on email marketing strategy. The successful candidate will have full ownership of email marketing and be heavily involved in all campaign planning.
Maintaining a consistent brand and offering insight into improvements.
Implementing a new social media strategy based on research and extensive experience of social reach.
Website management and technical SEO implementation.
Qualifications/Competencies Required for role
Marketing or related degree
At least 2 years' of experience in a senior marketing role
Demonstrable achievements in social media growth strategy and a good understanding of how to make the most out of limited resources for the biggest impact
Excellent written and verbal skills
Strong knowledge of the ever changing marketing environment and a desire to progress and grow within the role
The ability to contribute to high-level strategic discussions with support of Head of Marketing.
Excellent people management skills – there will be a future requirement to manage and develop a Marketing Apprentice with potential to grow the team in line with business growth.
Back to Vacancies
Apply Below
Why Modo25?
We believe that by investing in our people, our clients can only benefit.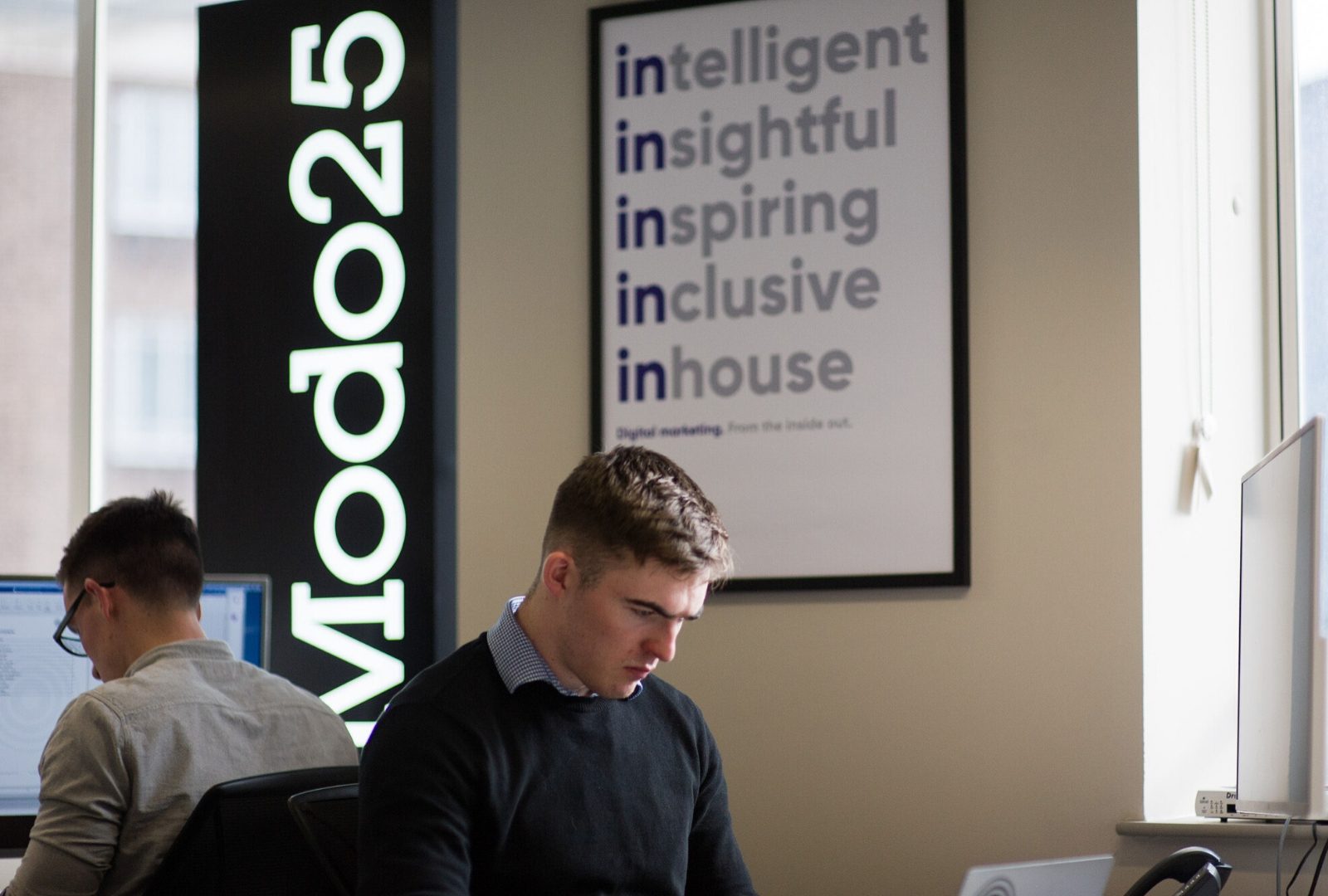 Modo25 newsletter Subscribe for news, jobs and more.