We are currently recruiting a Senior Social Media Manager to join our clients team.
As Senior Social Media Manager, you take charge on the day-to-day management of a division within the Social Team, working closely with team members to ensure the smooth running of your account portfolio. Reporting into the Social and Influencer Director, you'll be responsible for a sub-team, looking after a range of B2B and B2C clients.
You ensure your team are creating and executing social content that is in line with the brand, the strategy, and any campaigns, providing expert direction as necessary. Beyond this, you also lead in the development of what we do for your clients and the development of your team members, becoming a line manager to junior staff.
As one of the most senior members of the team, you always champion social best practice internally and with clients; defending and challenging work to create best-in-class social content that delivers outstanding brand communication results.
Client service and support
Taking charge of ensuring all aspects of social media retainers for clients, ensuring they are actioned in line with the strategy and social best practice;
Knowing the clients' 'big picture' inside out – their objectives, the wider market context, competitor activity, campaigns;
Owning your client relationships through developing and executing great social media content, and building strong rapport;
Confidently presenting work in a way that excites and engages not just clients but your team too;
Defending our work and best practice in the face of any challenges; providing senior client counsel and rationale using our expert knowledge;
Reporting on activity to champion our successes with clients – and identifying insights to further drive the brand forward;
Developing your clients within and outside of social media, collaborating with other teams to consider upselling opportunities;
Leading in the creation of client social roadmaps, with support from the Social Strategist;
Leading the charge on creating proposals for your clients, and seeing these through to close with your Client Services lead;
Maintaining an up-to-date knowledge of the social landscape, sharing this internally and externally;
Fulfilling the role of Channel Champion for your assigned social channel;
Creating content to promote the agency digitally;
Always bringing new, fresh thinking and making the most of any opportunities;
Processing and progressing work
Confidently identifying chargeable work and bringing opportunities for this, writing proposals and overseeing the delivery of the work;
Being diligent in knowing the status of client work across your team, following up on detail and keeping the client team and your line manager informed;
Facilitating collaboration with teams from across the business to ensure the best outcome for all clients;
Providing clear briefs to the Creative teams, and ensuring your team do the same;
Accounts and administration
Driving the delivery of financial targets for your clients and delivering content, campaigns and proposals which allow us to achieve these;
Accurately scope out work when it comes to budgets and team resource;
Being proactive in the execution of administrative tasks.
People management
Having regular 1:1s with those you line manage, providing clear and constructure feedback in a regular manner;
Ongoing team management , confidently delegating tasks;
Giving direction to the team by clearly defining and setting expectations;
Ensuring all work produced is in line with expectations;
Reviewing team and individual performance to encourage improvement and potential;
Encouraging and motivating people to deliver best-in-class work;
Passing on skills and experience to help others to develop and progress;
Managing and resolving issues professionally using the appropriate processes;
Facilitating collaboration within the team and across teams in the agency;
Ensuring team members are aware of and adhering to all processes and systems;
Communicating progress to encourage continuous business improvement;
Utilising all available opportunities to personally develop in the role.
Back to Vacancies
Benefits:
Hybrid working
Early Friday finishes
Quarterly bonus scheme
23 days holiday + your birthday off + bank holidays
A contributory pension plan
Perkbox membership
A healthcare cash plan membership
A discounted and supported travel scheme
Childcare voucher salary sacrifice scheme
Regular performance reviews and feedback
Social events and activities during the year
Apply Below
Why Modo25?
We believe that by investing in our people, our clients can only benefit.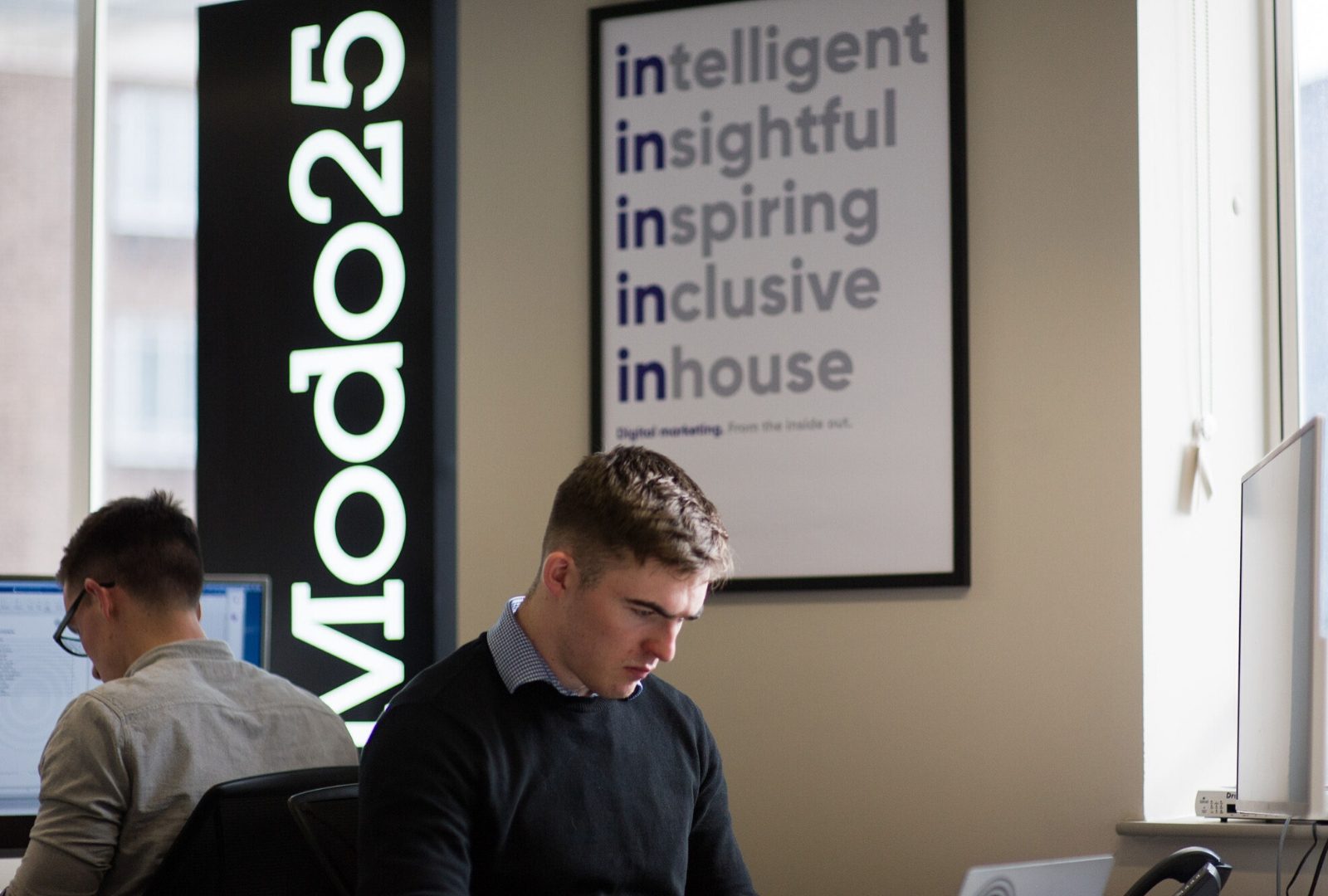 Modo25 newsletter Subscribe for news, jobs and more.