About us
Our client helps eCommerce businesses better understand where they stand in the ever-changing digital landscape. We discover new opportunities and implement masterful digital strategies that have been proven maximise our clients' performance and growth.
We are looking to recruit the best digital talent in the South West. A successful candidate will join an elite team of passionate search engine marketeers, growth strategists and consultants. You'll play and integral part in innovating new strategies, techniques and tactics to help  clients achieve and exceed their business growth aspirations.
The Role
You'll be working as part of the SEO team but also part of the wider SEM Team. Working collaboratively with teamship in everything we do, making sure you are fully immersed and integrated in the company values and would look for your willingness to be a key contributor to the team.
Responsibilities
Devise & execute SEO strategies and campaigns inline with the client's overall business objectives
Utilise the hours available to carry out strategies agreed with clients
Provide data and insights for pitches, strategies and meetings for new and existing clients
Conduct extensive SEO audits, providing actionable insights for new and existing clients
Report on client results with effective data analysis
Build strong relationships within the team and the company as a whole
Adhere SEO best practices, challenge and champion improvements to these
Keep up to date with SEO news, technical developments and integrate any developments into client campaigns and strategies
Review & audit online content, with a data driven approach, to deliver actionable recommendations
Perform effective content gap analysis & keyword research to identify opportunities for furthering the growth of our clients
Carry out detailed competitor backlink analysis and research to identify outreach prospects for our clients including the creation of supporting strategies
Writing engaging, high-quality copy from an SEO point of view for a wide variety of content including landing pages, marketing campaigns, product & category pages, and blog articles
Planning and executing content roadmaps in collaboration with SEO team
Ensure our clients have a robust technical strategy in place and be able to effectively communicate required technical improvements
Freely share knowledge, insight, best practice, tactics and ideas
Successfully hit weekly, monthly, quarterly & annual targets provide by line manager
Candidate Requirements
Experience in a dedicated SEO role at a similar level, preferably in an e-commerce setting
Strong, up-to-date and demonstrable SEO knowledge
Experience in a dedicated SEO role at a similar level
Experience of SEO in an e-commerce setting preferred
Demonstrable & practical knowledge of On-Site, Off-Site & Technical SEO practices and techniques
Experience of creative writing and blog content generation ideal
Self-starter who demonstrates a passion to learn and willingly refines their own processes to constantly improve
A positive and proactive attitude
Passion for SEO and a drive for results
A creative thinker with great written and verbal communication skills
Understanding of how SEO can work and align with a wider digital marketing strategy
Experience in using SEO software tools, including: Screaming Frog, SEM Rush, ahrefs and Search Console
Comfortable working in a fast-paced environment and working across multiple brands
Demonstrates ability for effective time management
Demonstrates a desire and ability to work as part of the wider SEM team
Be able to analyse client results using Google Analytics and other major 3rd party analytics platforms
Can quickly adapt to understand client sector and industry to write effective and on-brand content
Back to Vacancies
Benefits:
A dedicated and tailored Personal Development Plan, we are committed to helping you grow within our business
Your personal development plan will include any training or courses that are applicable to your development
A new Macbook or Windows Laptop – Your Choice
Invitations to company events – Including award ceremonies
Regular company social activities
We've got free on-site parking at our beautiful countryside offices
A free company wellness programme
Access to the Infinity Nation book collection – there's some good reads in there
Perkbox Membership
Paid Amazon Prime Subscription
Apply Below
Why Modo25?
We believe that by investing in our people, our clients can only benefit.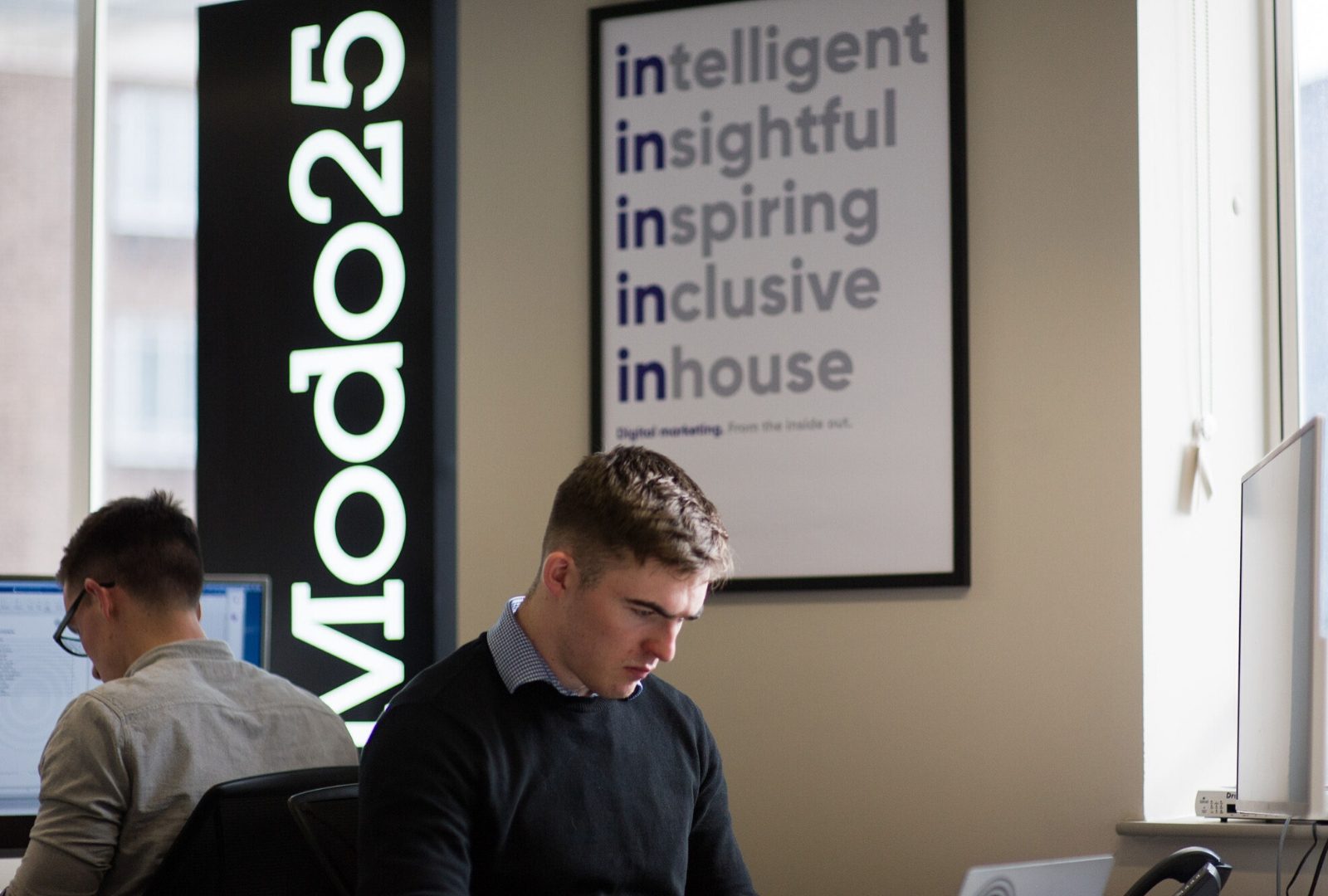 Modo25 newsletter Subscribe for news, jobs and more.