Our client is currently looking for a new Head of Marketing and Direct to drive the growth and join their successful, family owned-and-run retail business.  This role will be based at their head office in York but can include an element of home working, flexible hours, and/or working from their Leeds City Centre satellite office if desired. Over the past 24 months our clients ecommerce and home shopping revenue has quadrupled, expanding at a much faster pace than their retail estate. They are on a rapid journey to earn more than 50% of our revenue from Direct channels and are looking for an ambitious individual to continue driving this growth.
They continue to invest heavily in their marketing team and are in the middle of integrating a Snowflake/Tableau-based CDP, have been recruiting heavily, and have just commissioned a headless digital architecture and associated CMS.  They believe their £75m+ Direct revenue goal is realistic if they focus on improving customer acquisition, retention, and re-activation efforts; implement technology improvements; and enhance their analytics capabilities. The ambition and financial support for change exists within the business and they now need someone to drive this both strategically and operationally. You will have full P&L responsibility, own the online and offline marketing channels and their trading performance, and be expected to define a strategy, articulate a vision, and engage a rapidly expanding team of over 30 colleagues.  will give you the trust and autonomy to succeed. For the right person there is real opportunity to take ownership of the department and thrive.
As their most senior marketeer you will sit on the Senior Operating Group. You will be responsible for guiding all Brand Marketing and Direct trading activities as well as facilitating the growth and profitability sought by the family shareholders. You will report directly to the ambitious Managing Director, a 3rd generation member of the family. You will have responsibility for a large and growing marketing team that includes Performance Marketing (Ecom Trading/CRO/CRM/Paid Digital/Print/Paid Social/Marketplaces) and Brand Marketing (Creative/Content/Social/PR/Brand liaison), as well as being supported by dedicated Ecom IT resources and a Data & Insight team. Managing these talented colleagues in a supportive, familial, and effective way will be a fundamental requirement of the role.
They are also in the process of in-housing their digital marketing activity.  Therefore, whilst brand marketing experience would be helpful, it is crucial you come from a performance marketing background with a deep working knowledge of acquisition (RoAS/LTV), retention, and reactivation to oversee this.
Key responsibilities:
Defining and leading the long-term marketing strategy (both domestically and internationally), hitting sales & profit targets in line with our 5-year growth plan
Driving the team to hit project delivery deadlines and communicating progress in the appropriate senior forums
Setting budgets, maximising P&L, defining objectives, monitoring workflow, identifying and filling resource gaps, and implementing and refining processes as required
Ensuring excellent customer experience, maximised conversion to purchase, and exceptional after-sales support
Establishing and monitoring key metrics, spend, placement and channel mix maximising conversion of shoppers to purchase throughout the funnel
Provide relevant and timely reporting to stakeholders on measurement and key metrics, identifying trends and insights, and optimising spend and performance-based analytics
Lead, alongside the Head of IT, the integration of an industry leading CDP and associated CRM in the immediate term, then work in partnership to define our future martech and ecommerce development roadmap and strategy
Advancing our use of personalisation and customer journeys across all channels
Driving the personal and operational relationships necessary to accelerate our 3rd party marketplace offering
Bringing external best practice into the business and team
Ideal candidate:
Is a performance and analytics marketing expert with experience leading successful marketing teams
Has experience operating at pace within a rapid growth environment
Possesses a deep understanding of all digital communication channels, e-commerce platforms, and database management tools
Has a working understanding of print (direct/OTP/inserts/partnerships) and video / social marketing opportunities
Shares a vision of setting CoS/RoAS budgets based on LTV by channel
Has a relentless focus on driving performance and metrics with a trading mentality and the commercial ability to identify and create growth opportunities for the business
Can generate customer insights from analytics and translate them into successful brand strategy and executions
Has a successful track record of coordinating and directing international expansion
Drives process and has the confidence to challenge the way things are done
Is detail focussed and has excellent project management skills
Knows when to delegate, and when to get intimately involved in the detail
Has experience in brand marketing, delivering impactful and visually attractive campaigns across touchpoints to drive purchase behaviour
Has experience in Retail environments, supporting our network of 170+ retail locations through campaigns designed to maximise visibility and customer attention
Has experience working in a family business
Is thoughtful & collaborative with strong communication skills and a passion for learning
Has the ability to influence others and drive their team's development by helping them achieve more than they thought possible
Is gritty, resilient, and operates with honesty, integrity, and a willingness to share learning and knowledge
Is a strong advocate for personal and team development
Adapts quickly to change and juggles conflicting demands calmly when under pressure
Has a passion for footwear, a sense of humour, and a general drive to just get things done!
About Us
As one of the UK's leading retailers. Established in 1971 we remain family owned-and-run, we have over 170 stores in the UK and Ireland, and over 1,500 people in our ever-expanding family. In 2021 we were voted one of the Top 10 Retailers in the country to work for (Best Companies), and in 2020 were recognised in the Sunday Times' Top Track 250.
We are passionate about providing comfort and happiness to our customers, and we make sure to employ people who are as passionate as we are. We always look for happy, confident, upbeat people, and we provide great jobs in a supportive family environment for them. We know that without our colleagues there is no business, and so the better we look after you the better service you will provide our customers. We always try and do the right thing by our people.
We strive for diversity of thinking across the business and believe strongly in supporting our local communities. In terms of the environment, we are constantly seeking to reduce our impact. Since 2020 we have been fully carbon neutral, and we also have one of the largest solar arrays in the North-East of England on our warehouse generating clean energy. Because every year we give a percentage of our annual profits to our Foundation, our overarching aim is to be financially successful, but to achieve this in an environmentally and socially responsible manner.
If this sounds like the kind of business you'd like to know more about, we'd love to hear from you – please apply today for the role of Head of Marketing and Direct.
Back to Vacancies
Bonus and benefits:
Benefits/Package for the Head of Marketing and Direct:
Salary: £Generous plus LTIP, annual profit related bonus scheme, PMI cover, death in service plus:
Generous Staff Discount
Holiday Entitlement (Increases with service)
Company Contribution Pension
Access to RetailTRUST (Wellbeing Support)
Access to RetailCURE (Financial Support)
Access to our employee-led grant application and charitable giving scheme
Apply Below
Why Modo25?
We believe that by investing in our people, our clients can only benefit.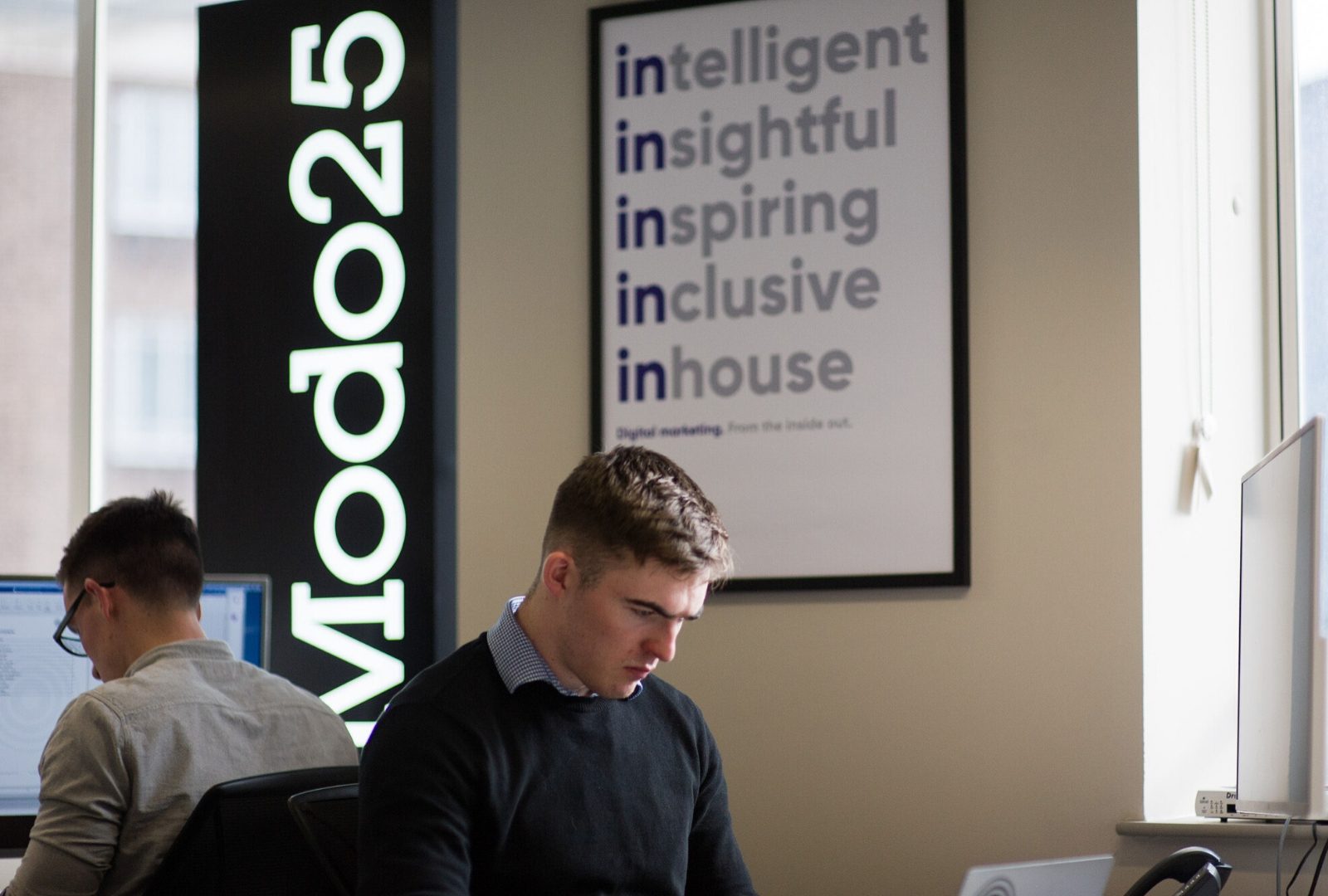 Modo25 newsletter Subscribe for news, jobs and more.