We are presently looking for an experienced PPC Executive /Paid Digital Executive to join our clients Digital Marketing team.  This role can either be in the clients York or Leeds office.
This position is a full time (39.5 hours per week) permanent role, responsible for helping to drive customer acquisition and customer retention for this successful family owned and run retail business that is in a huge period of growth. Our client also offers flexible start and end times to the working day and the option of 1 day per week working from home once probation is complete.
Our client is currently in the process of moving their digital advertising from agency to inhouse and this role will be fundamental in this transition.
The ideal candidate will be responsible for over £2m of digital marketing budget, however with ambitious plans to more than quadruple turnover in the next 5 years, they envisage this budget growing very quickly.
The ideal candidate will be ambitious individual and have at least 1 to 2 years' hands-on experience running PPC/Paid Search campaigns (ideally in the retail/fashion sectors) and managing budget exceeding £2m p/a. The role has great potential for personal career growth as the department grows and would suit an ambitious person with willingness and aptitude to expand their knowledge in the wider marketing channels.
Main duties of our PPC/Paid Digital Executive in the Digital Marketing Team:
PPC campaign management across the brands across UK and international territories – maintaining google ads campaigns, keyword research, campaign set up with daily monitoring, efficiency and conversion focus
Optimise shopping, keyword and video (YouTube) based campaign types
Assist with the management Social Media advertising campaigns (UK & international) – including campaign creation and optimisation, retargeting and asset optimisation.
Reporting to the Snr Digital Marketing Exec. You will liaise with and help develop the wider paid media strategy.
Have a proactive test and learn philosophy.
Experience of optimising campaigns to keen business KPIs
Experience implementing the latest optimisation technologies and techniques to optimise channel performance.
Reporting of campaign/channel performance to senior stakeholders on a weekly/adhoc basis
Briefing requirements for online advertising assets with product and seasonal updates in line with best practices
Monitor and report on online activity and recommend changes to the paid activity
Identify new and innovative ways to market to new customer groups, identifying new customer recruitment/customer acquisition opportunities. Investment for new ideas is actively encouraged and significant funds are available to support this. Ideas are the constraint not the investment.
Requirements to be our PPC/Paid Digital Executive in the Digital Marketing Team:
A strong working knowledge of PPC/Paid Search, specifically Google Ads, Shopping, Microsoft Advertising & YouTube
A solid working knowledge of paid social media platforms (Facebook, Twitter & Pinterest) would also be highly desirable
A good working knowledge of the major analytics programs – specifically Google Analytics
Minimum of 1 to 2 years' experience working in digital marketing (Agency or client-side) running PPC/Paid Search campaigns
Google Ads certification is a must and Google Analytics certification is ideal, but not essential
Excellent time management and highly organised
Be open minded, adaptable, intelligent, and open to change
Display a 'can do' attitude and be willing to help the wider marketing teams
Be proactive and be constantly learning new technologies and marketing methodologies
Strong stakeholder management skills
Willingness to share knowledge and expertise with the wider marketing team
Display personality and humour, with a professional and positive attitude
A second language would be beneficial but is not essential
High attention to detail
Advanced MS Office skills
About Us
As one of the UK's leading retailers. Established in 1971 we remain family owned-and-run, we have over 170 stores in the UK and Ireland, and over 1,500 people in our ever-expanding family. In 2021 we were voted one of the Top 10 Retailers in the country to work for (Best Companies), and in 2020 were recognised in the Sunday Times' Top Track 250.
We are passionate about providing comfort and happiness to our customers, and we make sure to employ people who are as passionate as we are. We always look for happy, confident, upbeat people, and we provide great jobs in a supportive family environment for them. We know that without our colleagues there is no business, and so the better we look after you the better service you will provide our customers. We always try and do the right thing by our people.
We strive for diversity of thinking across the business and believe strongly in supporting our local communities. In terms of the environment, we are constantly seeking to reduce our impact. Since 2020 we have been fully carbon neutral, and we also have one of the largest solar arrays in the North-East of England on our warehouse generating clean energy. Because every year we give a percentage of our annual profits to our Foundation, our overarching aim is to be financially successful, but to achieve this in an environmentally and socially responsible manner.
If this sounds like the kind of business you'd like to know more about, we'd love to hear from you – please apply today for the role of PPC/Paid Digital Executive!
Back to Vacancies
Bonus and benefits:
Flexible start and end times (core hours 9.30am-3.30pm)
1 day per week working from home (once probation passed)
Generous Staff Discount
Discretionary Bonus
Holiday Entitlement (Increases with service)
Company Contribution Pension
Access to RetailTRUST (Wellbeing Support)
Access to RetailCURE (Financial Support)
Access to our employee-led grant application and charitable giving scheme
Apply Below
Why Modo25?
We believe that by investing in our people, our clients can only benefit.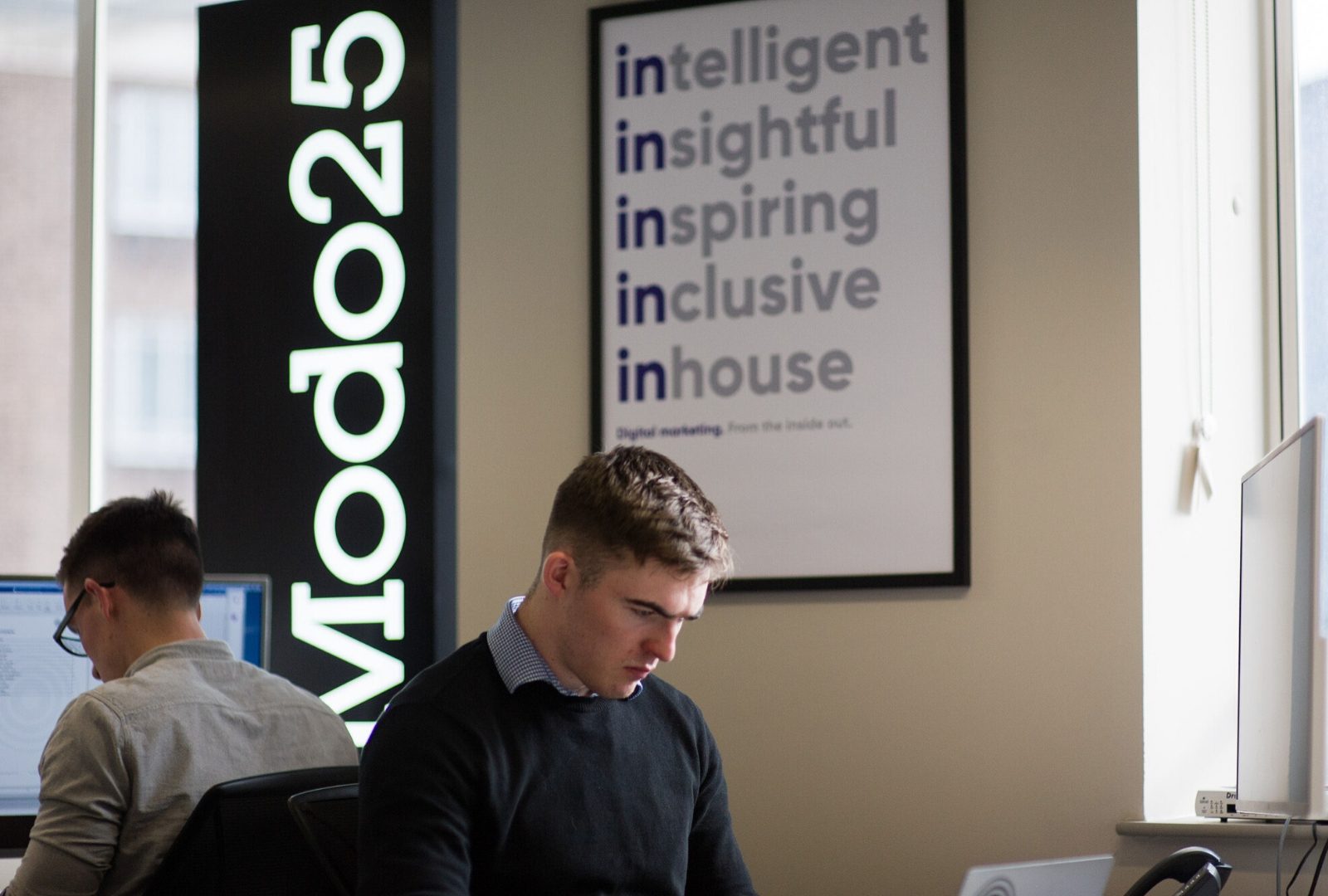 Modo25 newsletter Subscribe for news, jobs and more.