At Modo25 we are passionate about helping our clients optimise their websites to improve user experiences, to achieve their online goals. As we continue to expand, we're looking for a talented CRO Executive to join our team and take our Conversion Rate Optimisation efforts to the next level.
Key Responsibilities:
CRO Strategy Development: Work with the Head of CRO to develop and execute comprehensive CRO strategies to improve website performance, conversion rates, and user experiences for our clients.
Data Analysis: Utilise analytics tools to gather insights, track user behaviour, and identify areas for improvement. Translate data into actionable recommendations.
A/B Testing: Assist with the planning, implementation, and management of A/B and multivariate testing to optimise website elements such as landing pages, CTAs, forms, and content.
User Experience Optimisation: Collaborate with designers and developers to enhance website usability and user interface for improved conversions.
Client Communication: Providing regular updates on project progress and results. Clearly communicate the value of CRO efforts to clients.
Continuous Learning: Stay up to date with industry trends, emerging tools, and best practices in CRO, and implement these insights into client projects.
Qualifications:
Analytical skills and an interest to learn/some experience of web analytics tools (e.g., Google Analytics, Hotjar).
An interest to learn/some experience of A/B testing expertise and knowledge of testing platforms (e.g., Optimizely, VWO).
Good communication skills.
Problem-solving abilities and attention to detail.
Wider digital marketing experience is a plus.
If you're ready to make a significant impact on our clients' online success and be part of an innovative and collaborative team, we encourage you to apply for the CRO Executive role.
At Modo25/Ask BOSCO,  everybody is invited with open arms.
We believe that fostering an inclusive and fair work environment is at the heart of our mission. As an equal opportunity employer, we embrace individuals from all walks of life, irrespective of race, colour, nationality, ethnicity, religion, national origin, sexual orientation, age, marital or family status, disability, gender identity or expression or any other legally protected status.
We strive for a culture that celebrates and incorporates diverse backgrounds and experiences. To anyone who is reading this, regardless of who you are, we extend a warm and heartfelt welcome. We are thrilled to have you join us!
Back to Vacancies
Team member benefits:
We want to attract the best people, so we're offering competitive salaries and excellent employee packages that include:
4-day week – we work smarter so that we can work a shorter week
23 days annual leave
Fantastic benefits package that includes health insurance, a discounted Apple Watch, discounted gym membership and retail/leisure savings (e.g. free Caffe Nero coffee, Amazon Prime membership, free Vue tickets, retail vouchers)
Flexible working
Central Leeds office
Electric Car Scheme
Office dog (you need to feel comfortable in the company of  our well behaved office dog, Roxy)
Apply Below
Why Modo25?
We believe that by investing in our people, our clients can only benefit.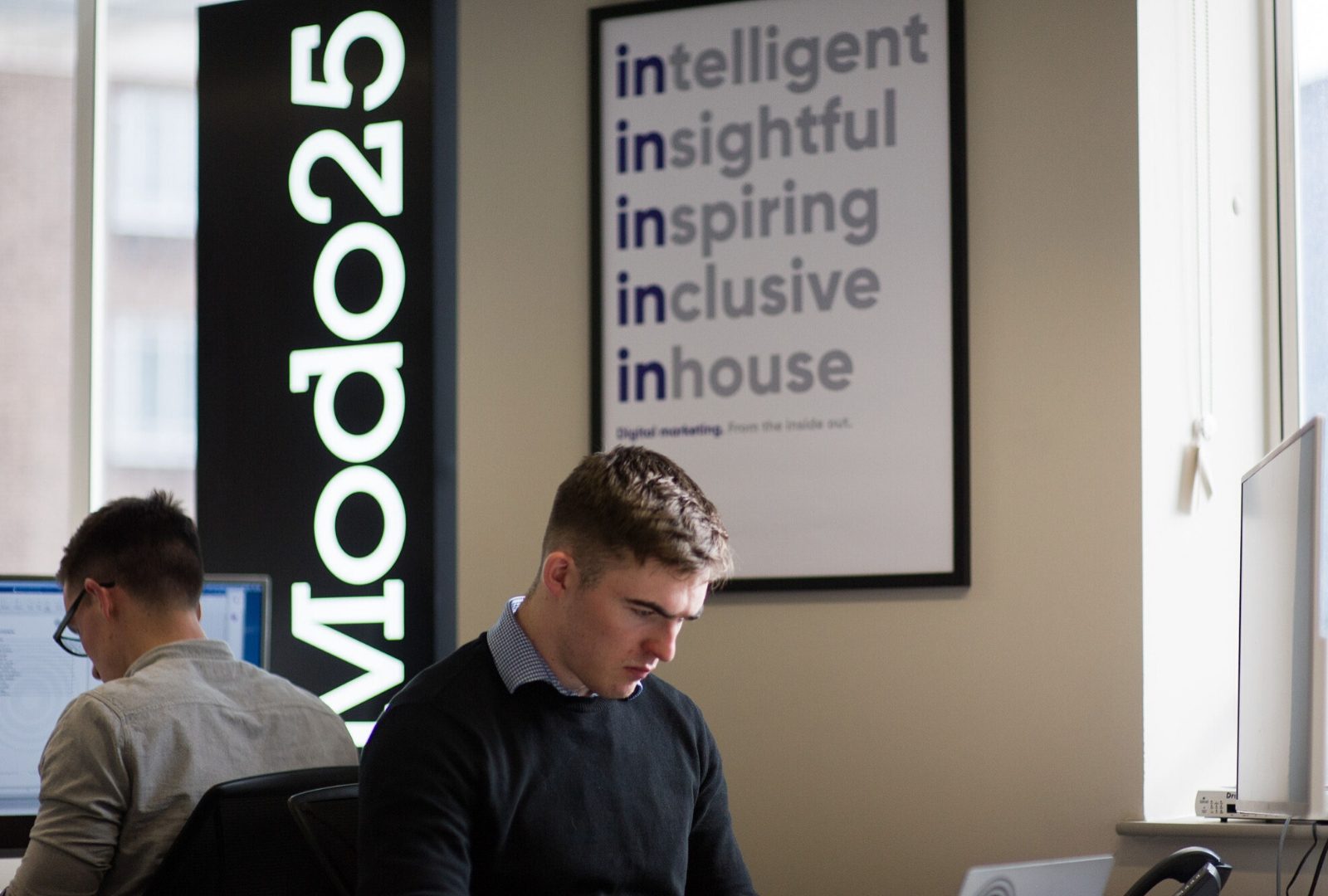 Modo25 newsletter Subscribe for news, jobs and more.