At Modo25 we are passionate about helping our clients optimise their websites to improve user experiences, boost conversions, and drive business growth. As a CRO Front End Developer at Modo25, you will play a pivotal role in creating user-centric and conversion-focused web experiences.
We are seeking a talented and creative CRO Front End Developer to join our team and contribute to our mission of enhancing our clients' digital presence. As a CRO Front End Developer, you will collaborate closely with our team of CRO specialists, designers, and content creators to implement front-end optimizations and A/B tests that drive conversions and improve user satisfaction.
Key Responsibilities:
Front-End Development: Develop and maintain responsive and visually appealing web pages, landing pages, and user interfaces that align with CRO best practices.
A/B Testing: Collaborate with CRO specialists to create and implement A/B and multivariate tests using testing tools like Optimizely, Google Optimize, or similar platforms.
Optimisation Strategies: Work closely with the CRO team to identify areas for improvement on client websites and contribute to the development of optimisation strategies.
Code Quality: Ensure the codebase is clean, well-documented, and optimised for performance, adhering to web development best practices and SEO guidelines.
Cross-Browser Compatibility: Ensure that web applications and pages work seamlessly across various browsers and devices.
Mobile Optimisation: Optimise web experiences for mobile devices, ensuring a consistent and user-friendly experience on all screen sizes.
Performance Optimisation: Monitor website performance and make necessary improvements to enhance page load times and overall user experience.
Collaboration: Collaborate with designers, content creators, and back-end developers to ensure the successful implementation of CRO initiatives.
Testing and Debugging: Conduct thorough testing and debugging to identify and resolve issues and ensure the reliability of web applications.
Qualifications:
3-4 years proven experience as a Front End Developer, with a strong portfolio showcasing CRO-focused projects.
Proficiency in HTML, CSS, JavaScript, and responsive web design.
Experience with A/B testing and CRO tools (e.g., Optimizely, Google Optimize, VWO).
Familiarity with version control systems (e.g., Git) is a plus.
Strong problem-solving skills and attention to detail.
Ability to work effectively in a collaborative team environment.
Excellent communication skills to effectively convey technical information to non-technical team members and clients.
If you are a talented Front-End Developer who is passionate about optimising user experiences and driving conversions, we encourage you to apply for this role.
At Modo25/Ask BOSCO,  everybody is invited with open arms.
We believe that fostering an inclusive and fair work environment is at the heart of our mission. As an equal opportunity employer, we embrace individuals from all walks of life, irrespective of race, colour, nationality, ethnicity, religion, national origin, sexual orientation, age, marital or family status, disability, gender identity or expression or any other legally protected status.
We strive for a culture that celebrates and incorporates diverse backgrounds and experiences. To anyone who is reading this, regardless of who you are, we extend a warm and heartfelt welcome. We are thrilled to have you join us!
Back to Vacancies
Team member benefits:
We want to attract the best people, so we're offering competitive salaries and excellent employee packages that include:
4-day week – we work smarter so that we can work a shorter week
23 days annual leave
Fantastic benefits package that includes health insurance, a discounted Apple Watch, discounted gym membership and retail/leisure savings (e.g. free Caffe Nero coffee, Amazon Prime membership, free Vue tickets, retail vouchers)
Flexible working
Central Leeds office
Electric Car Scheme
Office dog (you need to feel comfortable in the company of  our well behaved office dog, Roxy)
Apply Below
Why Modo25?
We believe that by investing in our people, our clients can only benefit.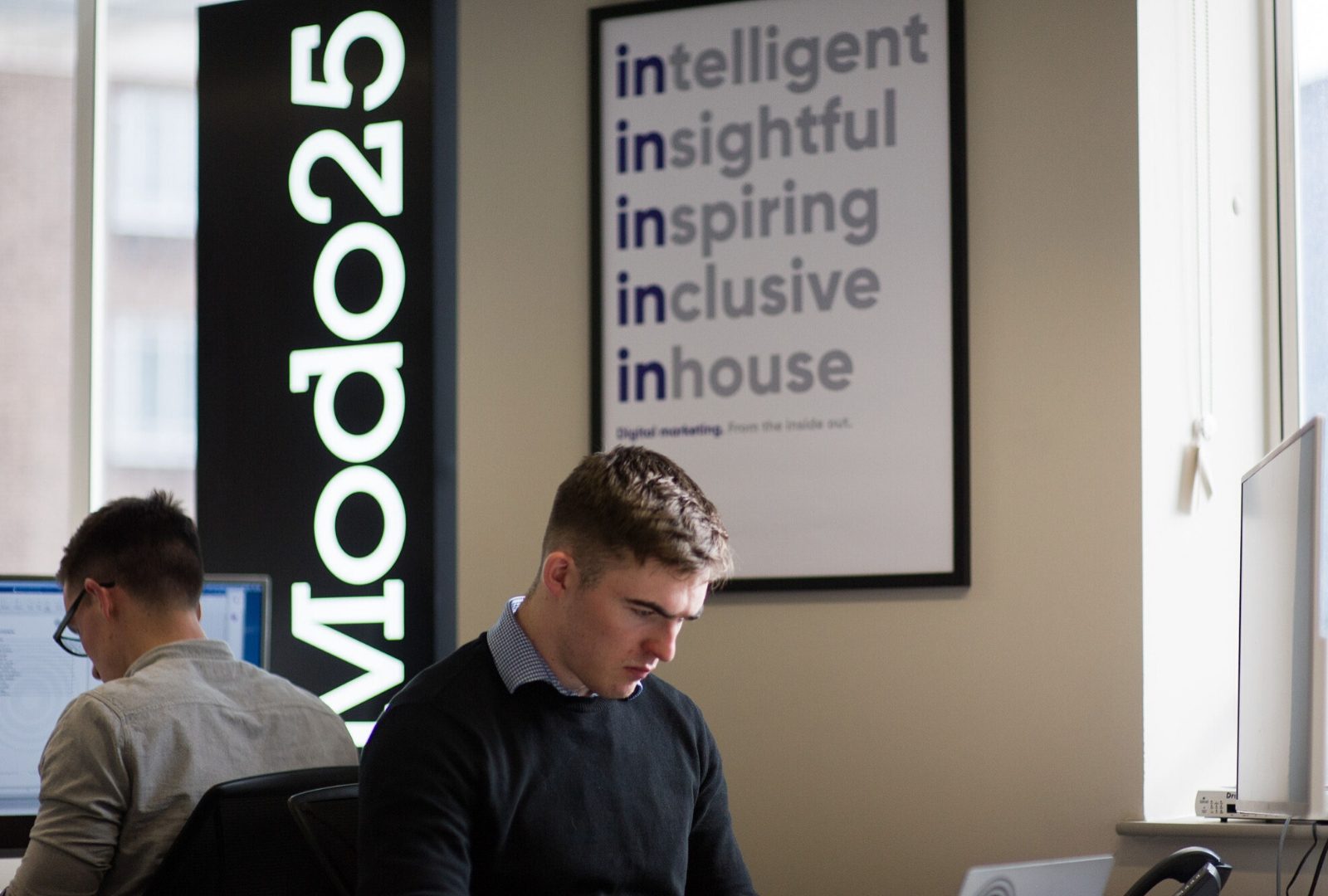 Modo25 newsletter Subscribe for news, jobs and more.