As a fast growing, technology business based in central Leeds, we are receiving an incredible amount of demand for our services as we help companies bring their digital marketing activities inhouse. To support these fast growing clients we are building  pioneering data analytics platforms with ground-breaking technology, with some of the most experienced engineers in the industry.
We are looking to bring together the smartest community of developers in Leeds and create some of the most cutting-edge technology ever used in digital marketing.
You will above all be an enthusiastic, output driven, self-starter looking to build, shape and lead our industry-leading team. You have a hands-on approach with a background in TCP/IP technology and agile, web-based application development.
We are excited to meet you and discuss the opportunities ahead.
We are looking for someone with the skills & experience to do the following:
Hands-on developer working in Agile, Sprint-based project approach
Leading the build and development of new products across the Modo25 product range
Reviewing systems / processes, in order to streamline / automate where necessary
Supporting junior colleagues and managing client customisations where necessary
You will have experience of all of the following:
Google/BigQuery
HTML / CSS
Python
Java
Angular
JavaScript
API Integration
Strong Agile/Scrum experience
JIRA/GIT Source Control
You will have a strong background in the following:
Strong coding experience in C#, Python and Java
Experience of server-side technologies C ASP.NET, MVC, Entity Framework or equivalent ORM solution
Ability to deliver high quality; low maintenance working solutions.
Server-side technical design
Knowledge of modern development techniques such as TDD, Continuous integration and related tools
Passion for emerging web trends and technologies
We are underpinned by our values of transparency, transformation and teamwork and we are in this for the long haul – which means finding the right people to join our team on a long term basis.
Please upload your CV and covering letter and tell us why we need you as part of the Modo25 team.
Back to Vacancies
Team member benefits:
We want to attract the best people, so we're offering competitive salaries and excellent employee packages that include:
4 day working week (that's a 3 day weekend)
23 days annual leave (plus every Friday because it's a 4 day week!)
Fantastic benefits package that includes healthcare plan, a discounted Apple Watch, discounted gym membership and retail/leisure savings (eg Vue cinema tickets, Amazon Prime membership and Starbucks coffee)
Employee social events
Flexible working
Office dog (you need to feel comfortable in the company of our well behaved office dog, Roxy)
Apply Below
Why Modo25?
We believe that by investing in our people, our clients can only benefit.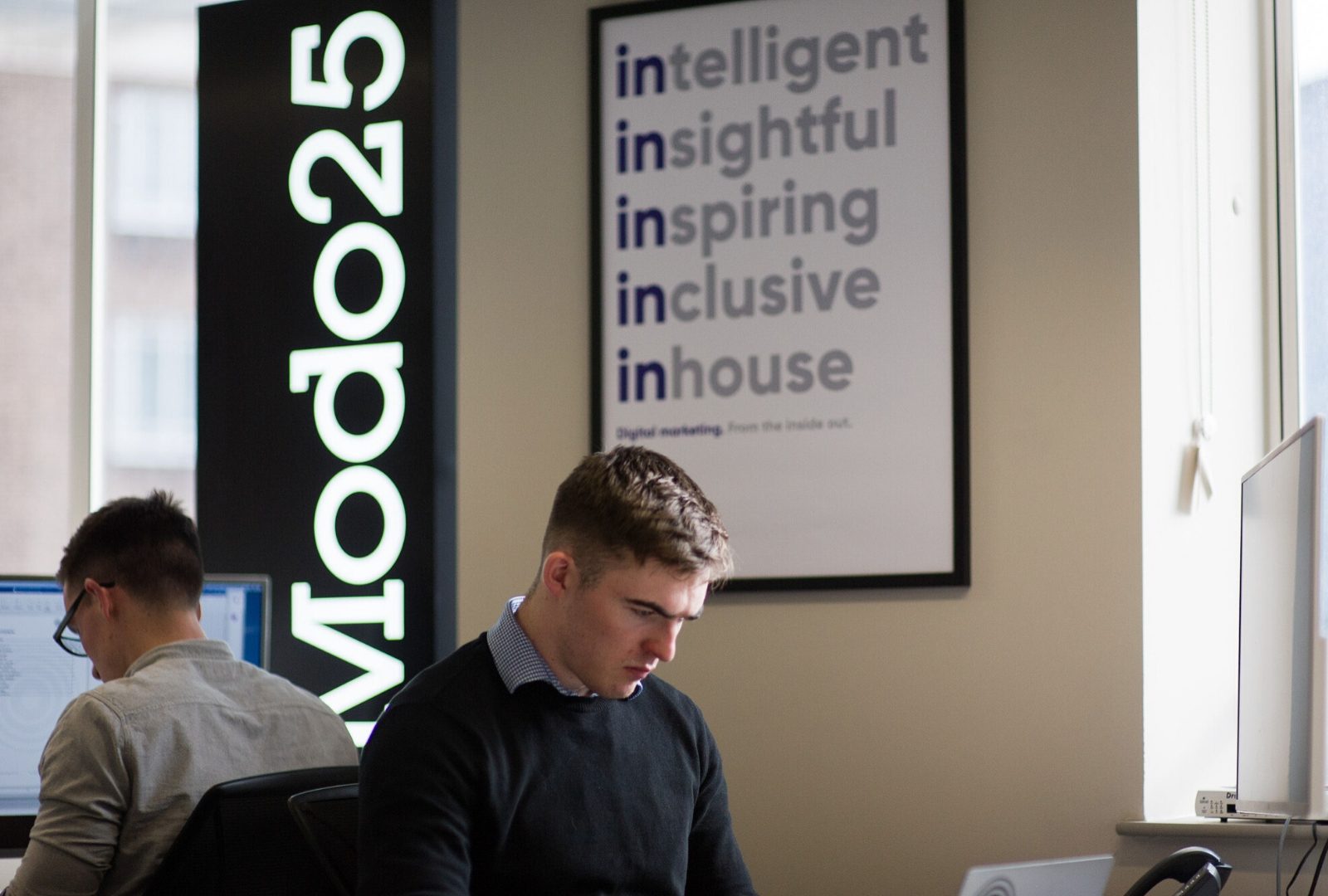 Modo25 newsletter Subscribe for news, jobs and more.