We are looking for an experienced Sales and Marketing Professional to oversee our sales and marketing operations for Modo25 and AskBosco.  This is a unique opportunity to further develop our marketing strategy and vision. You will be responsible for a leading and growing team of enthusiastic marketing professionals, guiding them whilst managing our sales team efforts towards great success.
The ideal candidate for this position is passionate about their profession and have great knowledge for all things sales and marketing ideally within SaaS/software/digital agency. Proven experience of scaling a global SaaS business in recent years is desirable.
You will need to balance a practical yet creative mindset alongside strong business acumen, that can lead people through complex marketing operations smoothly.  As well as having the hands-on skills necessary to execute on certain tasks if required.
Responsibilities
Working with the CEO and leadership team to define the global sales and marketing strategy and support the company's overall strategies and objectives
Develop a feasible global sales and marketing plan for the department and oversee its day-to-day implementation
Planning and organisation of the Modo25 and AskBOSCO marketing functions and operations (encompassing product development, branding, communications etc) and ensuring they project the company's unique "vision and voice"
Create a solid network of strategic partnerships
Requirements
Proven experience as Sales and Marketing director or similar role
Demonstrable experience in developing efficient strategies and business plans for all marketing aspects.
Solid understanding of market research and data analysis methods
Ability to apply marketing techniques across digital marketing to deliver leads for your sales team
Strong knowledge or experience working with SaaS
Strong understanding of the sales and marketing funnel / flywheel
Expert knowledge of CRM (ideally Hubspot)
A leader with both creative and analytical capabilities
Responsibilities include:
Create a standardised outreach for current and future clients and coordinate its implementation across sales channels, client management, and marketing and communications
Develop growth strategies with the leadership team and board of directors
Create accountability within the company by developing appropriate metrics and coordinating compensation and promotions with these metrics
Prospect and close relationships with key target clients – supporting the sales team
Monitor the revenue pipeline and leads, adjusting as necessary to create sustainable growth
Establish both short-term results and long-term strategy, including revenue forecasting
Monitor the strategies and processes across the revenue cycle from customer acquisition to engagement to success
Fill management gaps by building and training individuals and teams in Sales and Marketing
Develop and implement robust sales management processes – prospecting, lead nurturing, pipeline, demos, and proposals
Oversee all Channel/Partner Development — adding new sales channels and 3rd party resellers and partners
Drive a "lean startup" style environment of constant experimentation and learning
Leverage customer research (quantity and quality) to provide strategic leadership for brand architecture and positioning
Back to Vacancies
Team member benefits:
Work/life balance is incredibly important to us here at Modo25. We believe in working smarter, not harder. That's why we all work a 4-day week, every week, on a full-time salary. Our team are also entitled to 23 days of annual leave a year (plus your extra one day a week off).   
We have always believed in flexible working. So, whether you want to work from home, in the office or a bit of both – you have the freedom to choose. On top of all of that, we also offer a whole host of other fantastic benefits including health insurance, a discounted Apple Watch, discounted gym membership and retail/leisure savings. One more thing, we have an office dog, Roxy, so you must be comfortable with a little four-legged friend.   
4-day week – we work smarter so that we can work a shorter week
23 days annual leave
Fantastic benefits package that includes health insurance, a discounted Apple Watch, discounted gym membership and retail/leisure savings (e.g. free Caffe Nero coffee, Amazon Prime membership, free Vue tickets, retail vouchers)
Flexible working
Central Leeds office
Cycle to work scheme
Office dog (you need to feel comfortable in the company of  our well behaved office dog, Roxy)
Apply Below
Why Modo25?
We believe that by investing in our people, our clients can only benefit.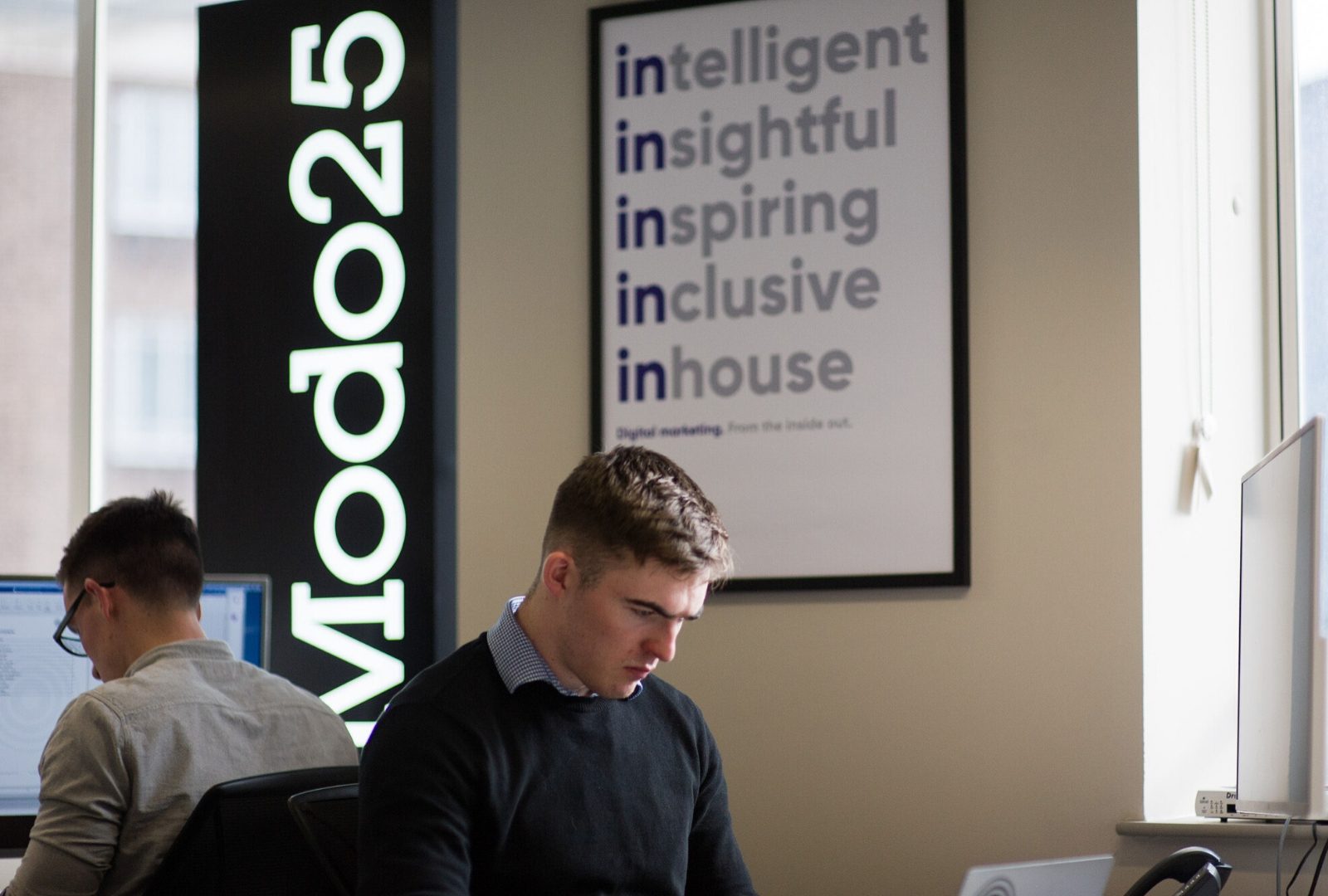 Modo25 newsletter Subscribe for news, jobs and more.