We're currently looking for an ambitious and energetic Growth Manager to join us as at Modo25's and BOSCO™.   The ideal candidate will have a strong background in sales enablement, will be marketing-savvy, and will have worked within a fast-moving SaaS environment. Key to success will be bringing knowledge of CRM (HupSpot), the latest martech and sales outreach automation to drive good engagement for BOSCO™.
Day-to-day, you will be working with our internal sales and marketing team to generate quality sales leads for our talented business development team to nurture and convert into sales. Drawing on your demand gen experience and analytical skills, you will work closely with business development and marketing teams to develop and execute on lead generation and growth strategies. With a keen eye on SaaS sales and marketing tactics, you will also be tasked with bringing new growth ideas into the business.
You will be strong with processes, well organised, a great communicator and a people person at your core. Well-versed in sales outreach communications, you will help shape outbound campaigns that excite and engage.
This role would suit someone who is used to working in a fast-paced role, for an ambitious business ready to scale at pace. In this role, you will drive strategic process enhancements with a focus on generating and improving the quality of leads entering at the top of the funnel. Monitoring and managing the sources of leads and constantly striving to improve the sales and marketing processes for maximum outreach. We are looking for someone who is savvy with sales tech – such as Sales Navigator, Lusher, Apollo, Refract – and someone who is a power user  of HubSpot and is a specialist in the world of sales and marketing automation.
Responsibilities
Partner with cross functional teams across sales and marketing
Design and execute on growth strategies for engagement and lead generation
Drive the strategy, coordination, and execution of personalised, scaled campaigns across the customer journey
Lead acquisition, engagement, growth strategy and planning – setting core goals, priorities, and targets
Support international scale and ideally have a strong network Within SaaS, martech and sales
Report regularly on performance
Delivering strategic growth recommendations to the management team.
Experience
5+ years of experience collaborating with sales and marketing
Experience working within a SaaS company
Knowledge of scaling up a SaaS company in the US market
Experience with various outbound marketing strategies that drive lead generation
CRM management – experience with automation, CRM data, management, and reporting – 5+ years HubSpot experience
Experience with supporting lead management and integration from multiple lead sources and processes related to events and campaigns
Excellent communication skills, both verbal and written, at all levels
Ability to tell data driven stories in a clear and concise narrative
Demonstrated success in fast paced, complex, and dynamic environments, rapidly anticipating and adapting to shifting priorities.
Preferred Qualifications
Bachelor's degree in business, or marketing or relevant degree or equivalent career experience
Certifications in HubSpot required
In-depth understanding of the relationship between Leads, Contacts, Accounts and Campaigns and how to manage and report on them within a SaaS business.
Back to Vacancies
Team member benefits:
We want to attract the best people, so we're offering competitive salaries and excellent employee packages that include:
4-day week – we work smarter so that we can work a shorter week
23 days annual leave
Fantastic benefits package that includes health insurance, a discounted Apple Watch, discounted gym membership and retail/leisure savings (e.g. free Caffe Nero coffee, Amazon Prime membership, free Vue tickets, retail vouchers)
Flexible working
Central Leeds office
Cycle to work scheme
Office dog (you need to feel comfortable in the company of  our well behaved office dog, Roxy)
Apply Below
Why Modo25?
We believe that by investing in our people, our clients can only benefit.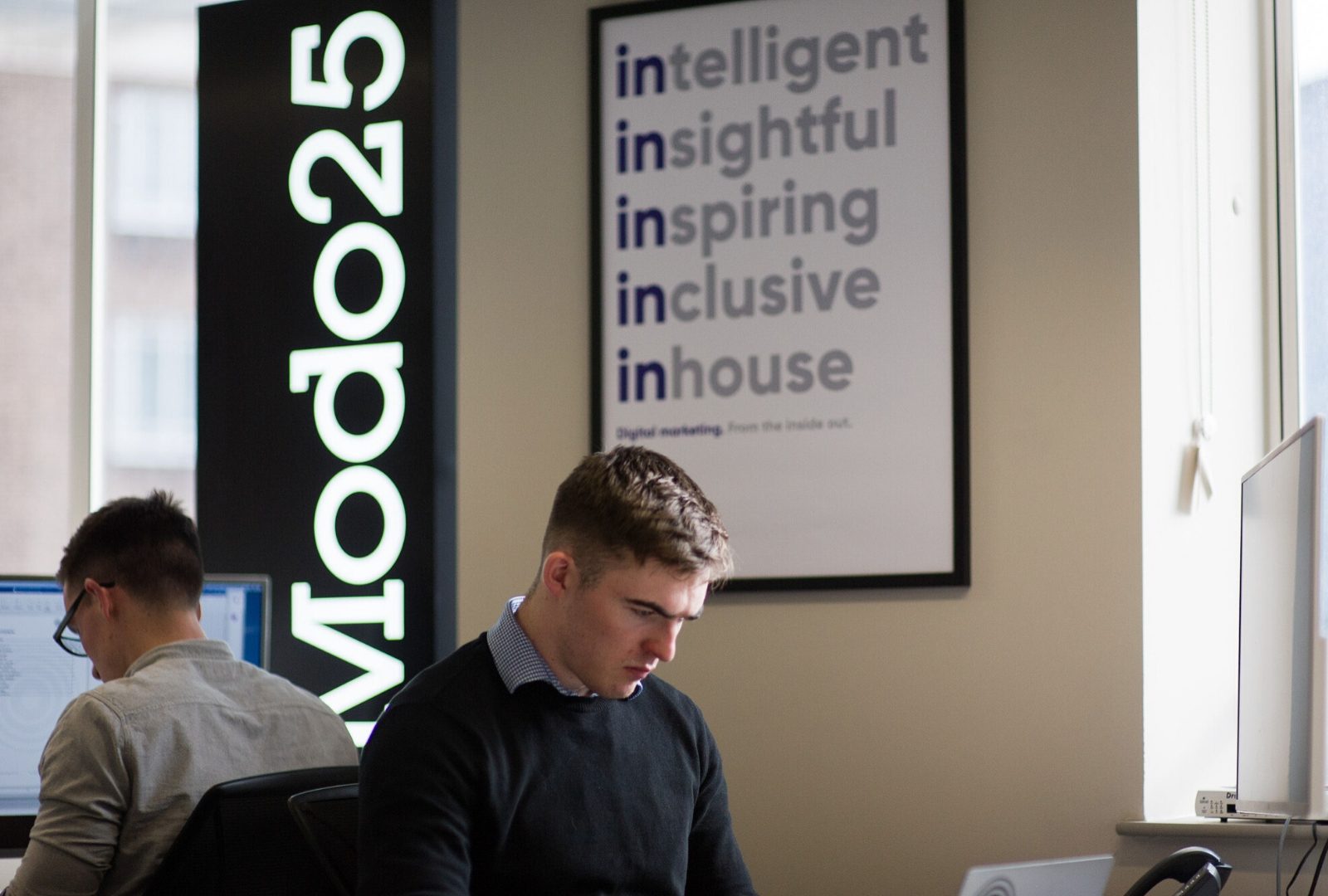 Modo25 newsletter Subscribe for news, jobs and more.