We're looking for an experienced Partner Manager to work alongside our marketing and sales team for our new technology platform, BOSCO™.  
Using cutting edge data science, BOSCO™ takes basic inputs which collect data from trusted data partners and a list of competitors based on a retailer's category. The machine learning then creates a portfolio of keywords that can make paid media channel budget recommendations.   
As Partner Sales Manager, you will be working with an ecosystem of existing partnerships as well as identifying and delivering new partnerships for long-term success. You will be working closely with senior management and the broader sales teams to own and drive business growth.  
Day-to-day, you will assist in building and maintaining strong, long-lasting partner relationships that drive brand growth. You will also be working hand-in-hand with the sales, marketing, product, professional services and technology teams to deliver partnership goals. So, communication skills are essential for this role.  
What we're looking for
3–5 years experience in managing partner programmes, sales or strategic client services/relationship management

 .
 Improvement and growth are the cornerstones of Modo25. So, the ideal candidate will be:    
A confident team player

  

 

 

A proactive and ambitious self-starter

  

 

 

Highly motivated to run their own team

  

 

 

Hands-on wherever necessary

  

 

 

Always keen to learn more

    

 

 

Eager to become an expert in an ever-changing industry
Back to Vacancies
Team member benefits:
Work/life balance is incredibly important to us here at Modo25. We believe in working smarter, not harder. That's why we all work a 4-day week, every week, on a full-time salary. Our team are also entitled to 23 days of annual leave a year (plus your extra one day a week off).   
We have always believed in flexible working. So, whether you want to work from home, in the office or a bit of both – you have the freedom to choose. On top of all of that, we also offer a whole host of other fantastic benefits including health insurance, a discounted Apple Watch, discounted gym membership and retail/leisure savings. One more thing, we have an office dog, Roxy, so you must be comfortable with a little four-legged friend.   
4-day week – we work smarter so that we can work a shorter week
23 days annual leave
Fantastic benefits package that includes health insurance, a discounted Apple Watch, discounted gym membership and retail/leisure savings (e.g. free Caffe Nero coffee, Amazon Prime membership, free Vue tickets, retail vouchers)
Flexible working
Central Leeds office
Cycle to work scheme
Office dog (you need to feel comfortable in the company of  our well behaved office dog, Roxy)
Apply Below
Why Modo25?
We believe that by investing in our people, our clients can only benefit.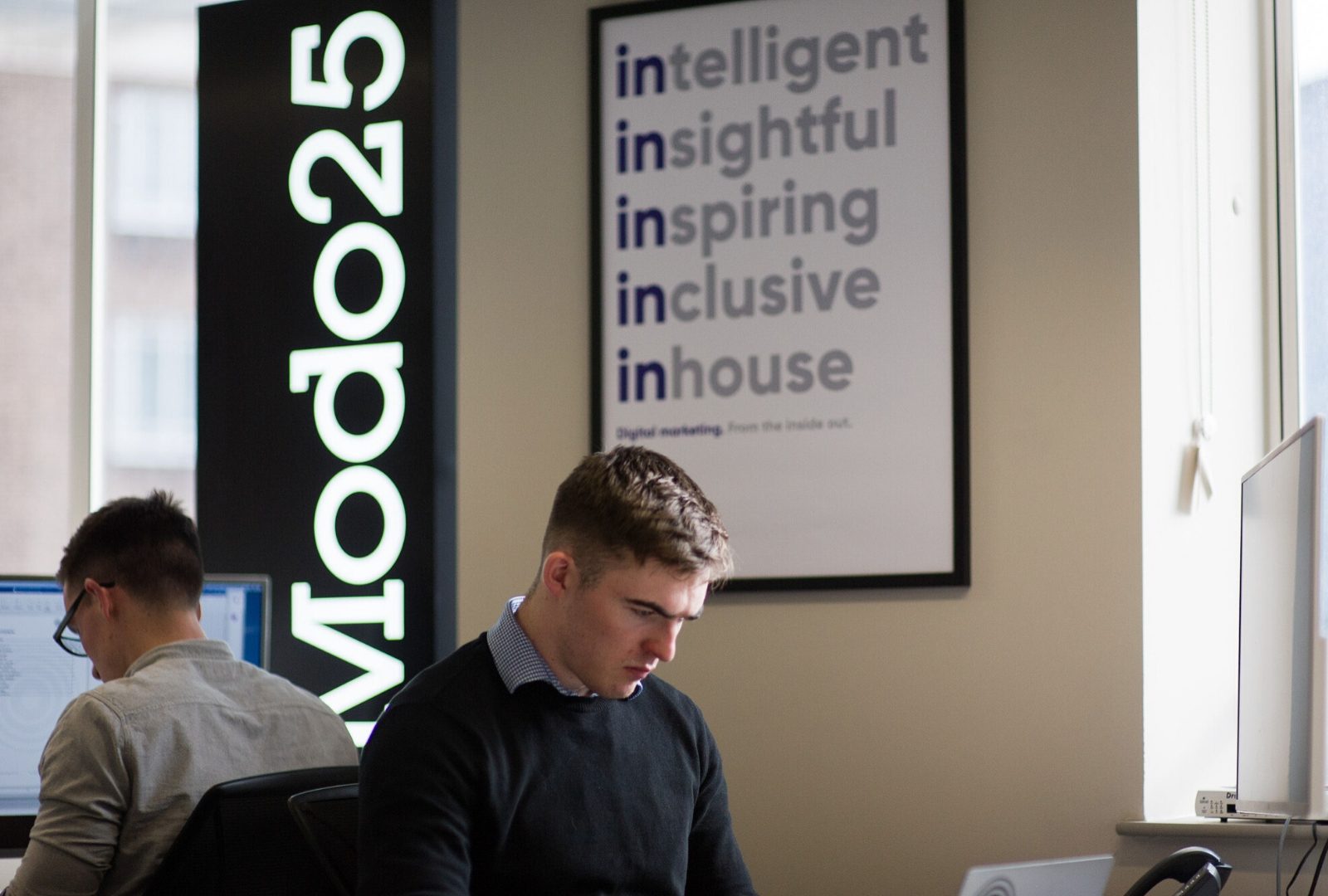 Modo25 newsletter Subscribe for news, jobs and more.