We're looking for an enthusiastic and driven SEO professional to join our fast-growing team.
Based in the heart of Leeds, Modo25 can offer a generous benefits package and a competitive salary. We can either be a full time or part time role with minimum of 16 hours per week – to be agreed at interview and job offer stage.
Successful candidates will work on our digital campaigns, helping clients maximise their return from organic search.
We're looking for an experienced candidate who can hit the ground running, with 2-3 years SEO experience in an agency or inhouse role. Salary band will be dependent upon experience.
You should have solid experience in, and the ability to demonstrate:
Delivery of SEO activities and exceptional results for clients
An understanding of complex SEO industry concepts, including enterprise site migrations, search engine penalties and over-optimisation, javascript crawlability and enterprise log file analysis
Experience utilising third-party industry tools
Analytical skills including the ability to work with complex data and utilise spreadsheets to solve problems
Client management skills; the ability to build rapport and become a trusted partner
Excellent communication skills, including the ability to communicate effectively through presentations, meetings and day-to-day contact
Strong time management skills; the ability to plan your week and prioritise tasks
A driven, positive attitude with problem-solving skills and strong attention-to-detail
Experience with Conversion Rate Optimisation is desired but not essential
Day-to-day responsibilities will include:
Project Scopes: working with the Performance Marketing Associate Director to set the project strategy and scope of work
Deliverables: production of the client deliverables from the project scope in a high-quality and timely manner
Implementation: direct implementation of our recommendations via client CMS (where required)
Project Management: coordination of multiple internal and external stakeholders on the campaign
Reporting: monthly and quarterly reporting of results
Client Liaison: scheduled calls, meetings and new business presentations with clients
In return, we offer you a dynamic, friendly, forward-thinking work environment, a competitive salary and some great perks.
We believe that if we invest in talented people and leading technology then we can, along with a network of digital experts, provide bespoke insight and solutions for our clients.
We are underpinned by our values of transparency, transformation and teamwork and we are in this for the long haul – which means finding the right people to join our team on a long-term basis.
Back to Vacancies
Employee Benefits
We want to attract the best people, so we're offering competitive salaries and excellent employee packages that include:
23 days annual leave
4 day week – we've temporarily had to pause this due to current circumstances, but it will be reinstated
Fantastic benefits package that includes health insurance, a discounted Apple Watch, discounted gym membership and retail/leisure savings (eg Amazon Prime membership, free Vue/Cineworld tickets, retail vouchers)
Flexible working
Central Leeds office
Cycle to work scheme
Office dog (you need to feel comfortable in the company of  our well behaved office dog, Roxy)
Apply Below
Why Modo25?
We believe that by investing in our people, our clients can only benefit.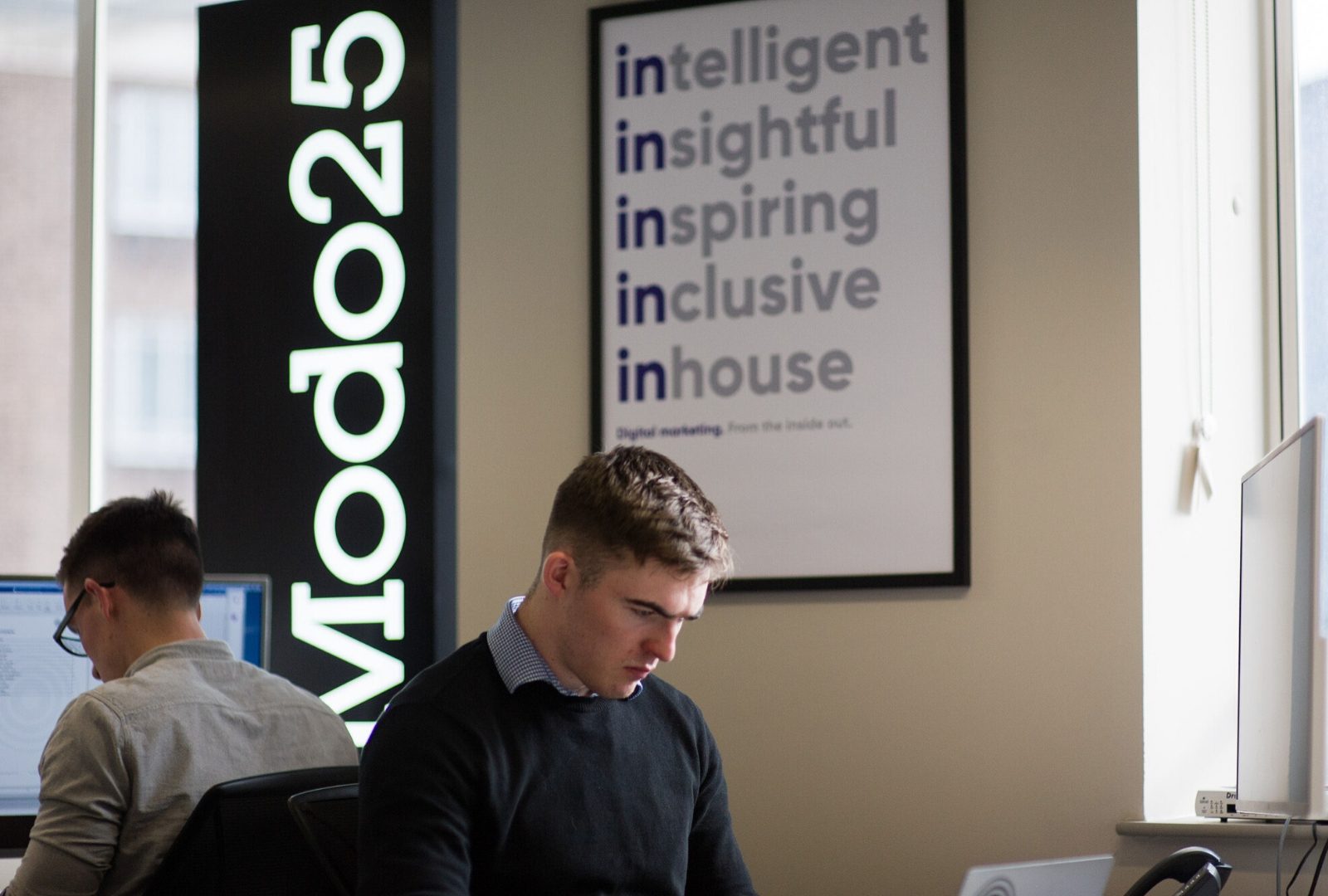 Modo25 newsletter Subscribe for news, jobs and more.