We're looking for a bright, ambitious Paid Affiliates Account Manager to join our growing team. You should have experience in affiliate marketing, alongside broader performance marketing knowledge.
Based in the heart of Leeds, but with the ability to work flexibly and remotely, Modo25 can offer a 4 day week, a generous benefits package and a competitive salary. We're looking for a candidate with more than 2 years' Affiliates experience in an agency or inhouse role.
You'll be digitally savvy and a good communicator, with the ability to deliver clear, insightful reports and solutions to our clients.
The salary will be dependent upon experience.
You should have solid experience in, and the ability to demonstrate the following:
Reporting, management and strategy planning of an affiliate campaign
The ability to outreach and build relationships and rapport with a variety of affiliates
Experience using affiliate networks (eg AWIN, Webgains, Commission Junction)
Analysing performance data and developing actionable insights from Google Analytics
Analytical skills including the ability to work with complex data and utilise spreadsheets to solve problems
Client management skills; the ability to build rapport and become a trusted partner
Excellent communication skills, including the ability to communicate effectively through presentations, meetings and day-to-day contact
Strong time management skills; the ability to plan your week and prioritise tasks
A driven, positive attitude with problem-solving skills and strong attention-to-detail
Prior experience of third-party tracking implementation, and associated tracking platforms, such as DCM (DoubleClick Campaign Manager)
An understanding of attribution and the different models that can be used
Good understanding of paid media, SEO and social media marketing
Day-to-day responsibilities will include:
Project Scopes: working to deliver affiliate campaigns for clients, and working with the Performance Marketing Associate Director to set and align with broader strategies
Management: managing Performance Marketing Executives with their campaign management, as well as their personal development
Deliverables: production of the client deliverables from the project scope in a high-quality and timely manner
Project Management: coordination of multiple internal and external stakeholders on the campaign
Reporting: weekly, monthly and quarterly reporting of results
Client Liaison: scheduled calls and meetings with clients, as well as ad hoc communication
What we're looking for:
The enthusiasm to "get involved" and work with senior management, as well as clients, to deliver outstanding Affiliate campaigns that drive real commercial value.
Excellent communication, presentation, and process skills
A clear understanding of how to develop a fully integrated 'adaptive' approach to marketing – one that is grounded in meeting the commercial and strategic objectives of our clients
Progressive mindset – you will share your clients' goals, challenge and validate plans and help them make more informed decisions
In return, we can offer you a dynamic, friendly, forward-thinking work environment, a competitive salary, and great employee perks.
At Modo25/Ask BOSCO,  everybody is invited with open arms.
We believe that fostering an inclusive and fair work environment is at the heart of our mission. As an equal opportunity employer, we embrace individuals from all walks of life, irrespective of race, colour, nationality, ethnicity, religion, national origin, sexual orientation, age, marital or family status, disability, gender identity or expression or any other legally protected status.
We strive for a culture that celebrates and incorporates diverse backgrounds and experiences. To anyone who is reading this, regardless of who you are, we extend a warm and heartfelt welcome. We are thrilled to have you join us!
Back to Vacancies
Team member benefits:
We want to attract the best people, so we're offering competitive salaries and excellent employee packages that include:
4-day week – we work smarter so that we can work a shorter week
23 days annual leave
Fantastic benefits package that includes health insurance, a discounted Apple Watch, discounted gym membership and retail/leisure savings (e.g. free Caffe Nero coffee, Amazon Prime membership, free Vue tickets, retail vouchers)
Flexible working
Central Leeds office
Electric Car scheme
Office dog (you need to feel comfortable in the company of  our well behaved office dog, Roxy
Apply Below
Why Modo25?
We believe that by investing in our people, our clients can only benefit.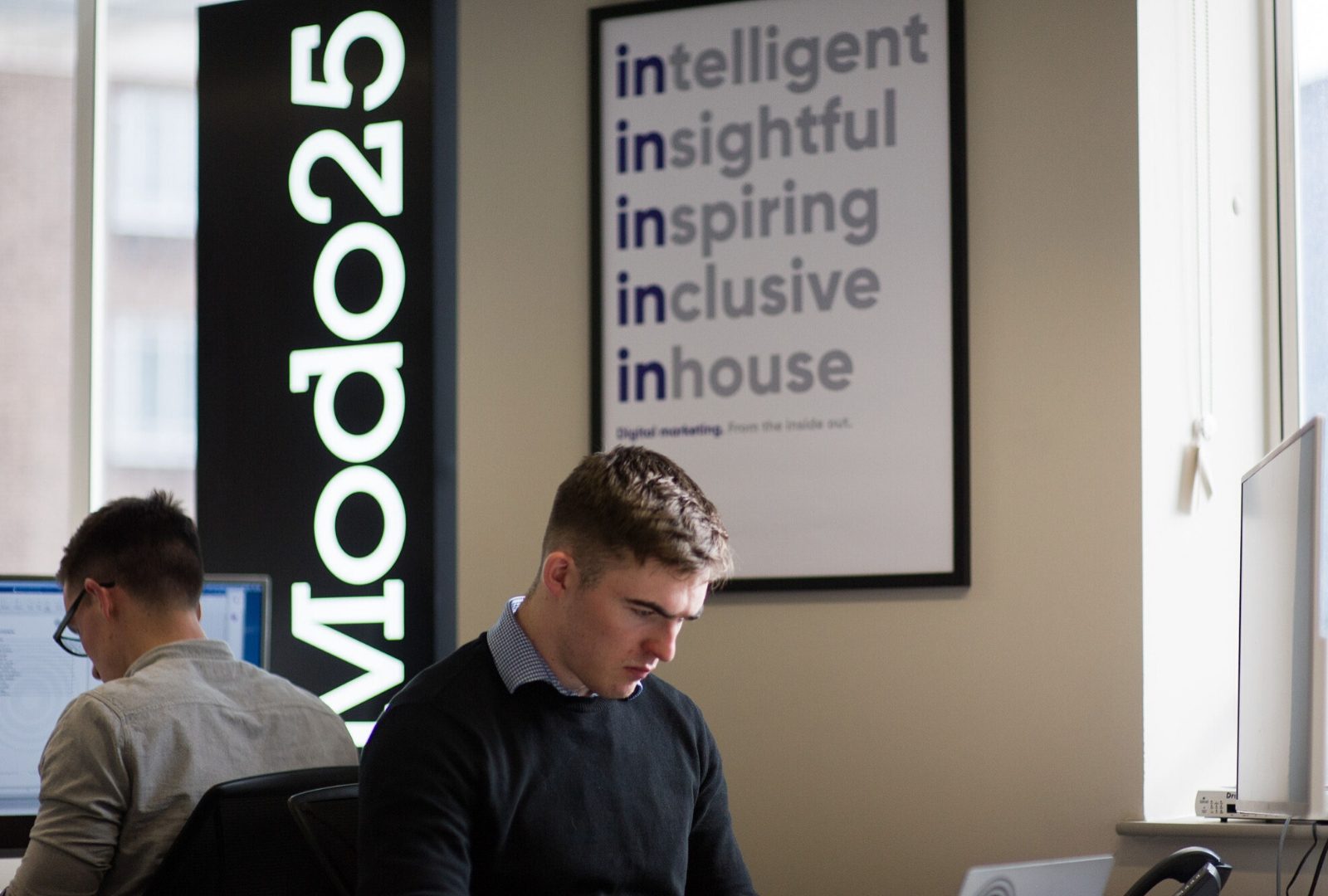 Modo25 newsletter Subscribe for news, jobs and more.