It was an interesting weekend on the social media front for brands. On one hand, there is Aldi coming in hot with the viral content for the #freecuthbert cake war with M&S. And then there is Dulux who tried to make a joke about their new sponsor, Tottenham Hotspur F.C., which massively backfired.
Here are Jamie and Tom's opinions on this weeks top digital news headlines.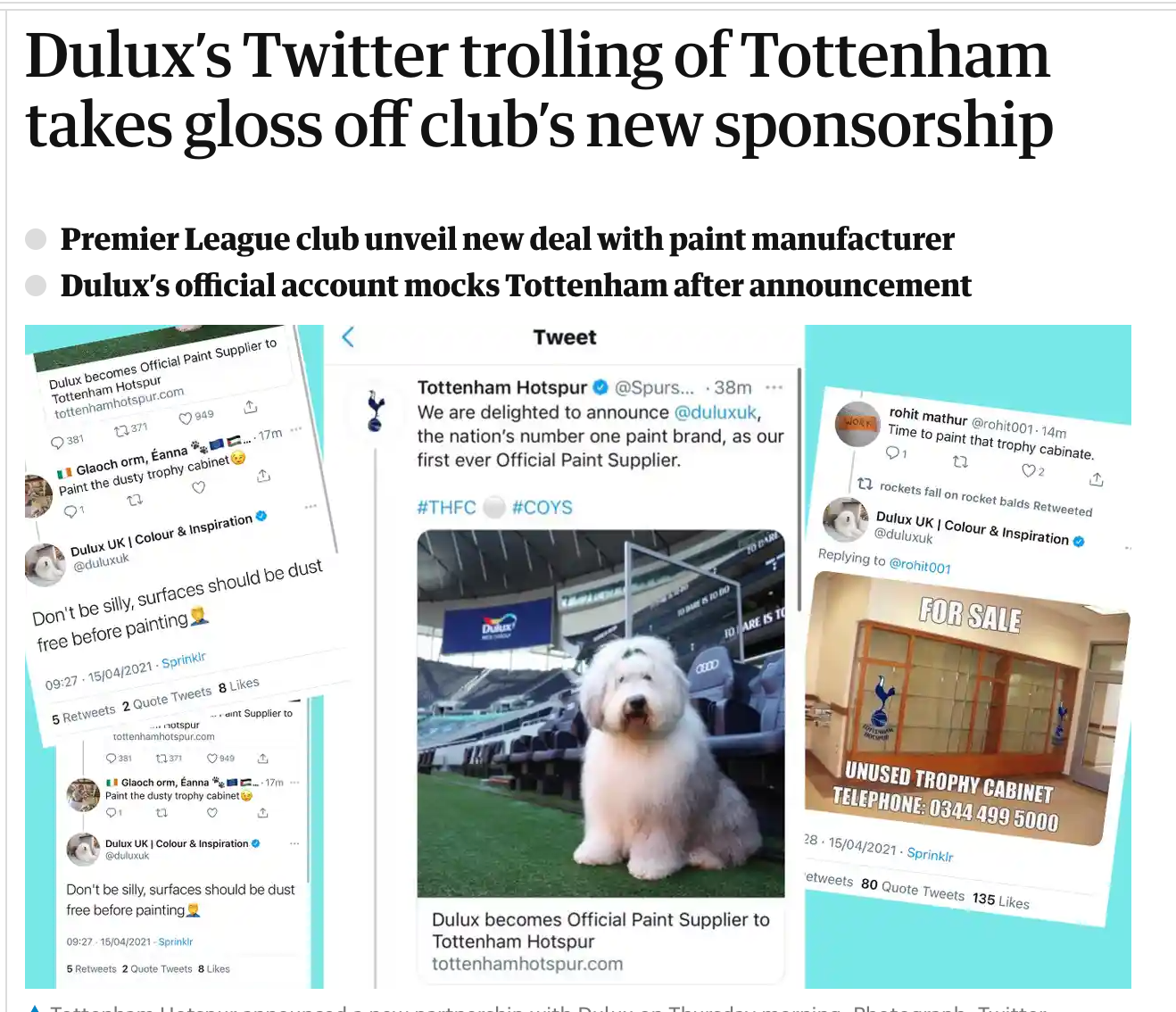 Search ad spending is set to continue to grow in the US for the next 4 years
Tom: Despite being one of the more mature digital channel searches, ad spend is set to double from its 2019 level by 2024. Interestingly, a recent report indicates Google will continue to lose market share of search to Amazon over the next 4 years. We already know many customers start their search on Amazon and eMarketer is predicting this will increase to 23% by the end of 2024.
Google confirms that Page Experience algorithm won't be updated in real-time
Jamie: The Page Experience update (aka Core Web Vitals update) is due to launch in the coming weeks – at some point in May – and John Mueller at Google has confirmed that it won't be rolled out in real-time. There is a 28-day delay in gathering the core web vitals data. So, this will take time to process and have an effect on the ranking performance of any affected sites.
Dulux's huge social media blunder that backfired
Tom: Social media is tough at the best of times. Trying to strike a balance between humour and professionalism is hard for many brands. By trying to add a human element to the mix, things can go wrong quickly.  As we saw over the weekend, some brands get their humour right (Aldi) and some brands get it dead wrong (Dulux). Just moments after announcing their partnership mid-table premier league side Tottenham Hotspur F.C., Dulux sparked outrage from their fans by tweeting pictures of an empty trophy cabinet. An apology has been issued and the tweets have been deleted. But as with most things on the internet, the screenshots will be around forever.
Big impact is seen from the Product Review update.
Jamie: Around 9th April Google started rolling out the Product Review update. The update specifically looks at content that provides in-depth (or not so in-depth!) reviews of products, for example, Top 10s. Initial data from this update suggests that it has been quite impactful, with a number of sites seeing traffic drops of greater than 50%. Many of the sites affected are affiliate websites.
Apple CEO claims to "not be against digital advertising"
Apple CEO Tim Cook has recently been quoted as saying he's "not against digital advertising". This comes after repeated attacks from Facebook over tracking changes coming in Apple's latest update. Instead, Apple wants customers to be in control of their data and have the option to share with other businesses as and when they want to. We believe this change is only going to make advertisers work harder, which isn't a bad thing. Without the granular data, they have now advertisers will need to be smarter and better moving forward.
Are you looking for support with your digital marketing? Our team of inhousing specialists can help. Get in touch with us via email at team@modo25.com for an informal chat about working together.