Our Senior Performance Marketing Manager, Tom and Senior Performance Marketing Executive, Kylie discuss this week's top five digital marketing headlines.
There have been changes to title tags on results pages, despite no official update from Google. It's proven that increasing ad spend during the pandemic has benefitted retailers, and meme marketing is becoming a popular strategy for brands on social media.
Last week, the SEO community took to Twitter after seeing several changes to their title tags on SERPs (Search Engine Results Pages). Although this isn't a confirmed update yet, it seems that Google are replacing what they deem to be irrelevant titles, with alternative relevant text from the page. In a lot of cases, Google seems to be showing H1 tags in place of the Titles.
Google's Danny Sullivan has since proposed that there should be an update to Search Console to manage this change on pages where the site owner is unhappy with the title change Google has made. However, this is unlikely to be a large scale solution, it would only be for a few pages.
As with all the recent updates, Google seems to be focusing on providing the most relevant content for users. So, if you're seeing that the titles displayed on the SERPs for your brand aren't what you have set, we would suggest revisiting these to make sure they are relevant for the page. Read more.
Google's John Mueller answered a vital question last week on why 20% of a site was being discovered, but not crawled. 
Whilst Mueller said that crawl budget could be the answer for larger sites, he said that for smaller sites, this is unlikely to be the case. Instead, the reason that some pages are not indexed is likely to be that the site is of lower quality overall. Therefore, he recommends that site owners experiencing this focus on the overall quality of their site and not so much the technical issues.
Mueller then went on to reassure that it is, in fact, normal for 20% of a site to not be indexed and that fluctuations in the amount of pages indexed happen as more pages are added to a site. Read more.
Marketing Week shared an interesting comparison of results from two diametrically opposed marketing strategies during the pandemic. In the last 16 months, Coca-Cola cut their marketing spend and P&G accelerated theirs.
The results clearly show that spending more during the pandemic has helped boost performance significantly for P&G, which is similar to what we've seen with our clients at Modo25. Those that weathered the storm early on found that spending more was gaining them better results than pre-pandemic.
Meme marketing has become increasingly popular over the last few years with brands gaining their own online personalities and personas. It's clear that staying on top of the latest social media trends and memes have been a big part of this, with data showing that memes receive 10x more reach than standard posts.
American food brand Ruffles often use memes in their social media strategy, using both popular culture and reinventing old images. Read more.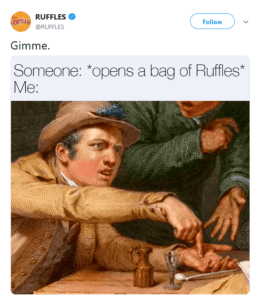 With the acceleration of digitisation during the pandemic, car brands are looking for ways to bring the showroom to customers. With new car sales having slumped, digital options such as AR, YouTube and influencers are all playing a bigger role in getting customers engaged with new cars again. As we've seen with shops it will be interesting to see how the automotive sector pivots to a more digital focus. Read more.
If you would like digital marketing help and guidance, our team of specialists are more than happy to help. Whether it's PPC, SEO or affiliates support, drop us an email to team@modo25.com