This week, Modo25 has been nominated for the Best Wellbeing in the Workplace Strategy with The Great British Workplace Wellbeing Awards!
The Great British Workplace Wellbeing Awards recognises the efforts that organisations undertake to ensure health and wellbeing in the workplace.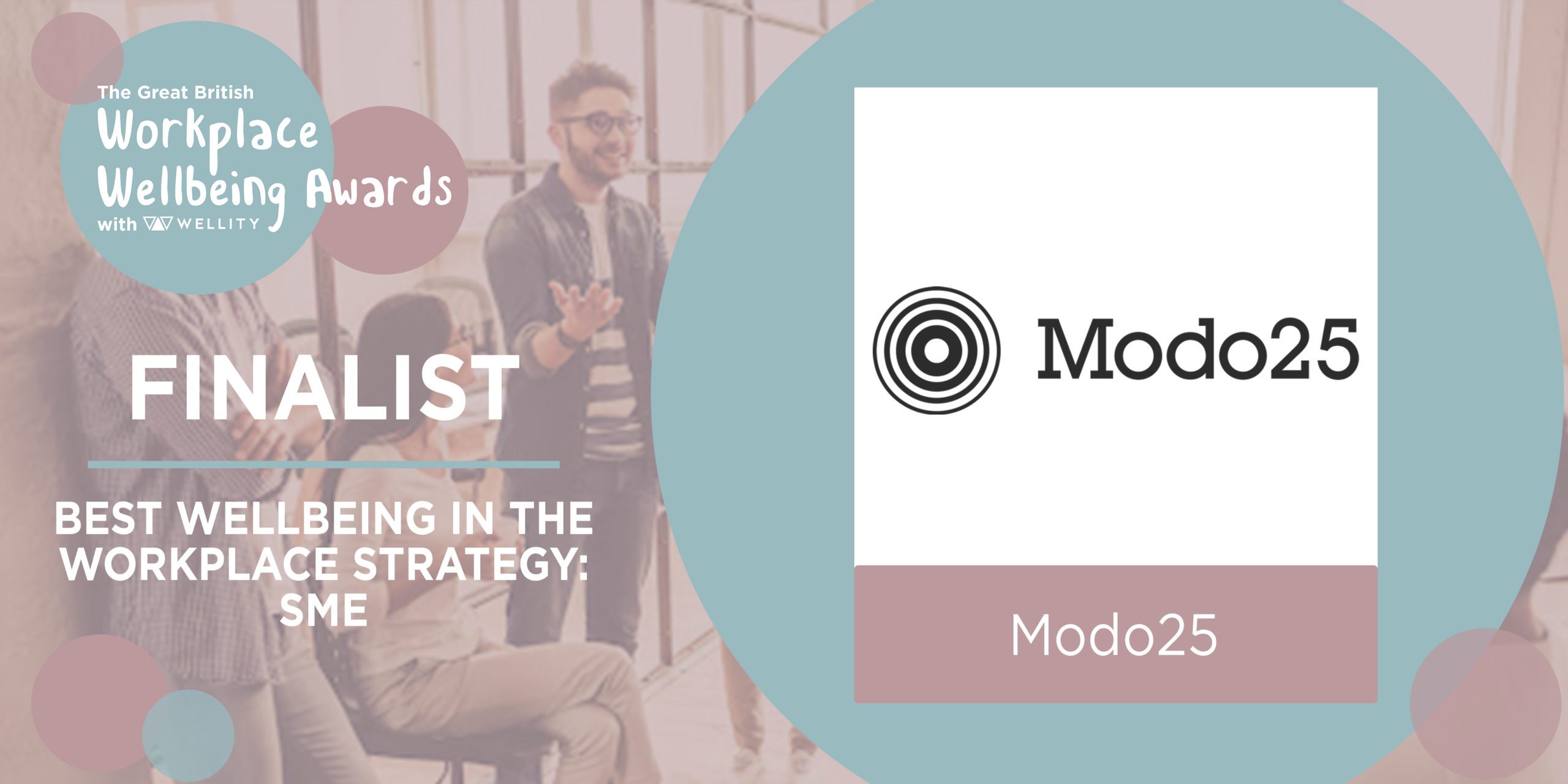 We were shortlisted for this award due to our flexibility and work-life balance. We are a fully transparent company, and when our CEO,  John, founded Modo25, his vision was to create a working environment that people genuinely wanted to work for. He did this by looking into what motivates people and keeps them happy at work. From the very beginning, everyone at Modo25 worked a 4-day week and that is a key part of Modo25's values.
John said, "The 4-day week was something I'd been aware of and hadn't really seen many businesses trailing – despite the obvious wellbeing benefits for employees". And the Modo25 team agrees. Recently, we were placed within Flexa's top 50 flexible companies to work for based on feedback from our entire team.
Here at Modo25, our colleagues have the choice of where and how they want to work. This has even enabled some people to move to other countries now that they can work remotely. Everyone at Mood25 is offered huge benefits, such as a competitive salary for a 4-day working week, life insurance, health care and so much more.
We were also nominated for this award in recognition of our immense support to those less fortunate than us. The name 'Modo' was inspired by one of the girls within the 1moreChild program in Jinga. We have ambitious plans to donate annual profits to the charity every year and even open an office in Jinja to support digital careers around the world.
Abi Liddle, Chief Operations Officer, says, "We are absolutely thrilled to be shortlisted for The Best Wellbeing in the Workplace Strategy award with The Great British Wellbeing Awards. We truly believe this reflects our hard work and efforts taken to make our teams feel truly valued and appreciated, whilst getting the most out of what we do."