It's been a busy start to the year at Modo25 and BOSCO™. We've welcomed three new team members already and have plans to keep on growing. We caught up with our two new Junior Marketing Data Analysts, Gleb and Jonny, to find out a bit more about them.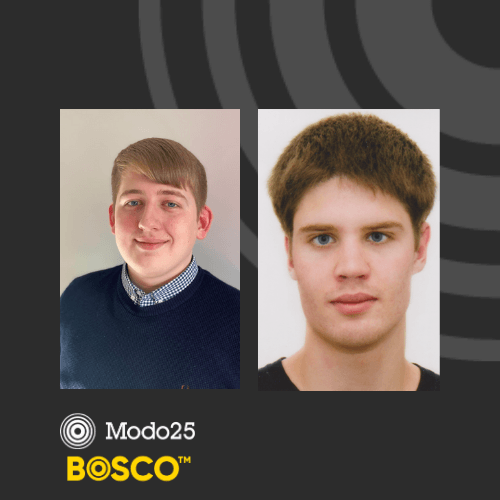 What made you want to become part of the Modo25/BOSCO family?
Gleb: I was attracted to Modo25's vision of what a workplace should be like. They strongly invest in the idea that a job ought to be an enjoyable experience within a supportive, close-knit group of dedicated people. That's exactly what they've delivered and I'm happy with my choice. Their benefits package is the icing on the cake that shows the level of support and care they have for their colleagues.
Jonny: I wanted to become part of the Modo25/BOSCO™ team to begin my career in data analysis and digital marketing. It's great that I'm surrounded by a team of passionate experts in both areas. I also believe in the potential of BOSCO™. In particular as a SaaS which can be pivotal to driving the marketing efforts of a wide range of companies. The opportunity to work on it was very important in my desire to join Modo25/BOSCO™.
What is your background in terms of digital marketing?
Gleb: I've run a personal online store in the past, so I know how difficult and important it is to be able to execute a successful digital marketing campaign. However, my main skill set is geared more towards data analysis, as I have a degree in mathematics and physics. This skill set helps me to determine which marketing campaigns would be more effective in a specific given situation and allows me to propose tangible actions for their improvement.
Jonny: My background in digital marketing before I joined Modo25/Bosco was limited to a consumer's perspective. However, this is quickly changing. Working as a Junior Marketing Data Analyst in a team of industry experts is making me more knowledgeable about digital marketing day by day and I'm excited to keep learning.
How is Modo25 different to places you've worked before?
Gleb: Modo25 fully embraces remote flexible working, which I enjoy. It's quite relaxing compared to other positions I've held, and the lack of commute gives me more time to spend on things that really matter. We also work a four-day week, which adds to that sentiment.
Jonny: Modo25 is my first office job since graduating from university last year. But I can already tell from the limited exposure that I've had that Modo25 is a very inclusive and friendly place to work. So, I believe I have been very lucky.
What are you looking forward to in terms of your future at Modo25 & BOSCO™?
Gleb: I look forward to developing myself as a person in many areas, both personally and professionally. I'm eager to develop my skills so that I can take on tougher and more complex problems. I find it fulfilling and satisfying to be challenged intellectually. So, the more difficult of a puzzle I can work on, the better!
Jonny: I am excited to work on BOSCO™. Especially as I think it is a really interesting piece of technology with a great team behind it. So, any experience I can get working on BOSCO™ is going to be really exciting. I am also looking forward to working with the rest of the Modo25 team to help offer valuable information to our clients.
How would you describe your job to a 10-year-old?
Gleb: I help people make good decisions about their businesses by analysing the situation using mathematics. Then I explain to them exactly why I think that decision would be a good one.
Jonny: I help businesses sell people things they want to buy even if they don't know they want to buy it yet.
What do you like to do in your spare time?
Gleb: Most of all, I enjoy spending time with my friends and family. Other than that, I like reading, staying fit, watching movies and hiking (if the lockdown allows it).
Jonny: In my spare time I like to play tennis and football, go on runs and spend time with my friends and family. When it is possible, I would like to start coaching tennis at my local club.
Decision time: tea or coffee?
Gleb: I usually drink tea at home, but I'll pick a nice coffee as a treat.
Jonny: If I had to choose, I would definitely lean more towards tea but most days I stick with boring old water.
Do you want to be the next Modo25 team member? We're always on the lookout for ambitious and driven new colleagues. Check out our careers page for our latest vacancies. If you can't see what you're looking for, drop us an email and let us know what you can bring to the table!