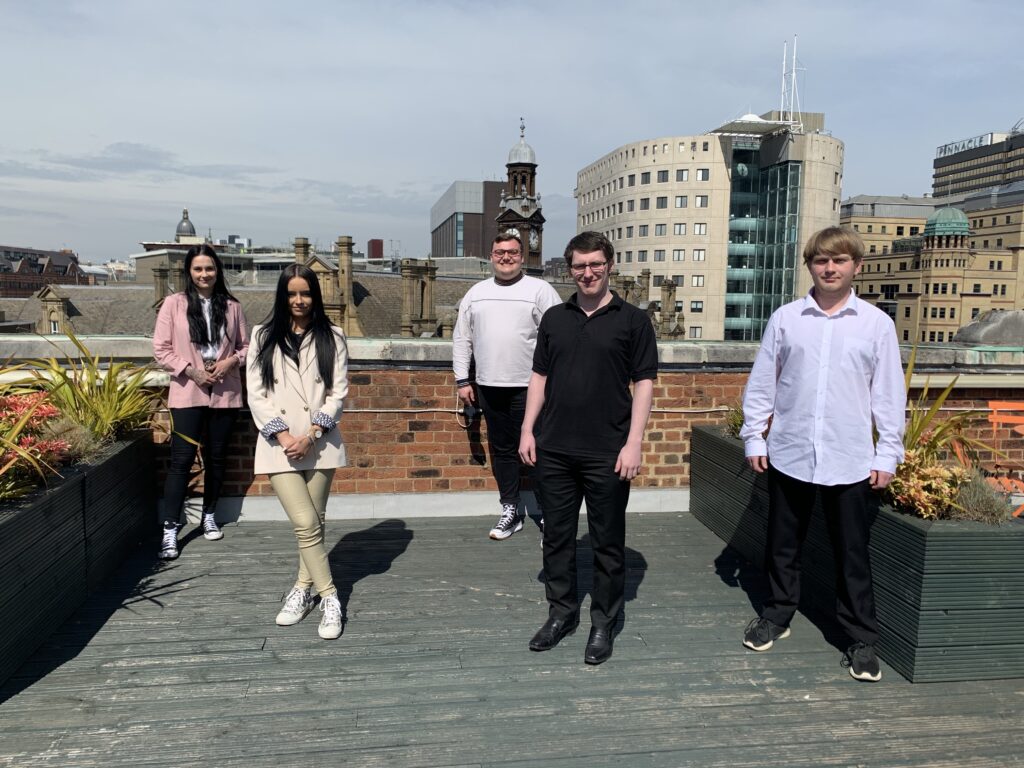 Modo25 recently welcomed five new starters as part of the government Kickstart Scheme.
We have Jordan Jackson and Brad Coulson joining the marketing team as a Junior Graphic Designer & Videographer and a Junior Content Writer, respectively. We have Helena Knapp joining as a Junior Executive Assistant and Admin to our senior management team. Grace Goddard is joining the sales team as a Junior Sales and Business Development Executive, and Euan Black is joining the technical team as a Junior Programmer.
We put several questions to the Kickstart Scheme team, in order to get to know them better…
Who are you and what is your role here at Modo25?
Brad: "Hi, I'm Brad and I'm a Junior Content Writer."
Euan: "I'm Euan Black and I am a Junior Programmer."
Grace: "I'm Grace. I support the sales and business development team."
Jordan: "I'm Jordan Jackson. Graphic Designer, Videographer and also an animator."
Helena: "I'm Helena. I'm an Executive Assistant."
What attracted you to this job in the first place?
Brad: "I'd previously come from an inhouse marketing background, but I'd always wanted to join a digital marketing agency. So I felt Modo25 was the perfect place for this. I enjoy working on various projects in a range of areas."
Jordan: "Being able to do a job that's more of a creative outlet. Modo25 is much better than just the standard office marketing job."
Euan: "I always had an interest in computing. It was the career I wanted to get into and Modo25 seemed like that the perfect place to get my foot indoor within the industry."
Helena: "I wanted an opportunity to start working in a marketing-related business. I feel like this position will allow me to progress in my career."
Grace: "I was interested in getting into digital marketing and with this role I could get a start in the industry with ongoing support and guidance." 
What were you doing before you joined Modo25?
Brad: "I did a creative writing degree, so had covered copywriting as part of that. However, most recently, I was working in an inhouse marketing team for a retailer." 
Jordan: "I have recently graduated to Middlesbrough University, where I studied 3D animation, and I graduated with a Master's. I have hands-on experience with 3D animation and video editing software."
Euan: "I studied at college and then I went on to do two years at university studying Applied Computing."
Helena: "Customer service, retail, and hospitality. Nothing related specifically to marketing but I have a lot of transferable skills like organisation."
Grace: "I don't have any background in digital marketing, so this is all new for me – I'm excited to be getting started." 
How is working here different from anywhere else you have worked?
Brad: "It's a very supportive company and a nice environment to work in. The 4 day week is amazing too."
Jordan: "It's a much more trusting environment. Modo25 really want their staff and their company to thrive."
Euan: "My last workplace was a lot of outdoor, manual labour and not in the job sector I wanted to work in. Modo25 is office-based, the people are really friendly and it's in the industry I want to work in."
Helena: "It's definitely a different environment. It's an office-based job where people are relaxed and friendly."
Grace: "I've never worked in an office environment before. So, the 4-day week is new to me too."
How do you describe your job to a 10-year-old?
Brad: "I write words."
Jordan: "I film, edit, and make videos and illustrations for Modo25."
Euan: "I tell a machine what to do."
Helena: "Sit in the office and play mum to senior management."
Grace: "Research people and speak to them about Modo25 services."
What do you like to do in your free time?
Brad: "I watch an obscene number of films and tv shows. I write film reviews and screenplays. I also like meeting up with friends, eating at restaurants, and cooking."
Jordan: "When I'm not 3D modelling and animating, I like going out with my friends from university."
Euan: "I enjoy PC gaming and I have been practicing taekwondo for about 10 years. I used to do Airsoft, but COVID-19 has put a stop to that, unfortunately."
Helena: "See friends, go to the gym, and tend to my house plants."
Grace: "Watch Netflix and go to the pub."
Are you wanting to join the Modo25 team? Check out our careers page to see our latest vacancies or ask us about Kickstart Scheme opportunities. If you can't see what you're looking for, drop us an email on team@modo25.com and say hello. We love to hear from ambitious talent!