On Tuesday 2 March, we went live with an expert panel to discuss whether or not paid social marketing is saturated.
Hosted by our CEO John Readman, the panel included Paul Brown, CEO of Baked Bean Media; Jennifer Spivak, The Facebook Ads Girl; Dan Spicer, Performance Marketing Director at Ventura Agency and Alex Jackson, Performance Marketing Manager at Modo25.
You can watch the full webinar online but here are some of the key takeaways from the session: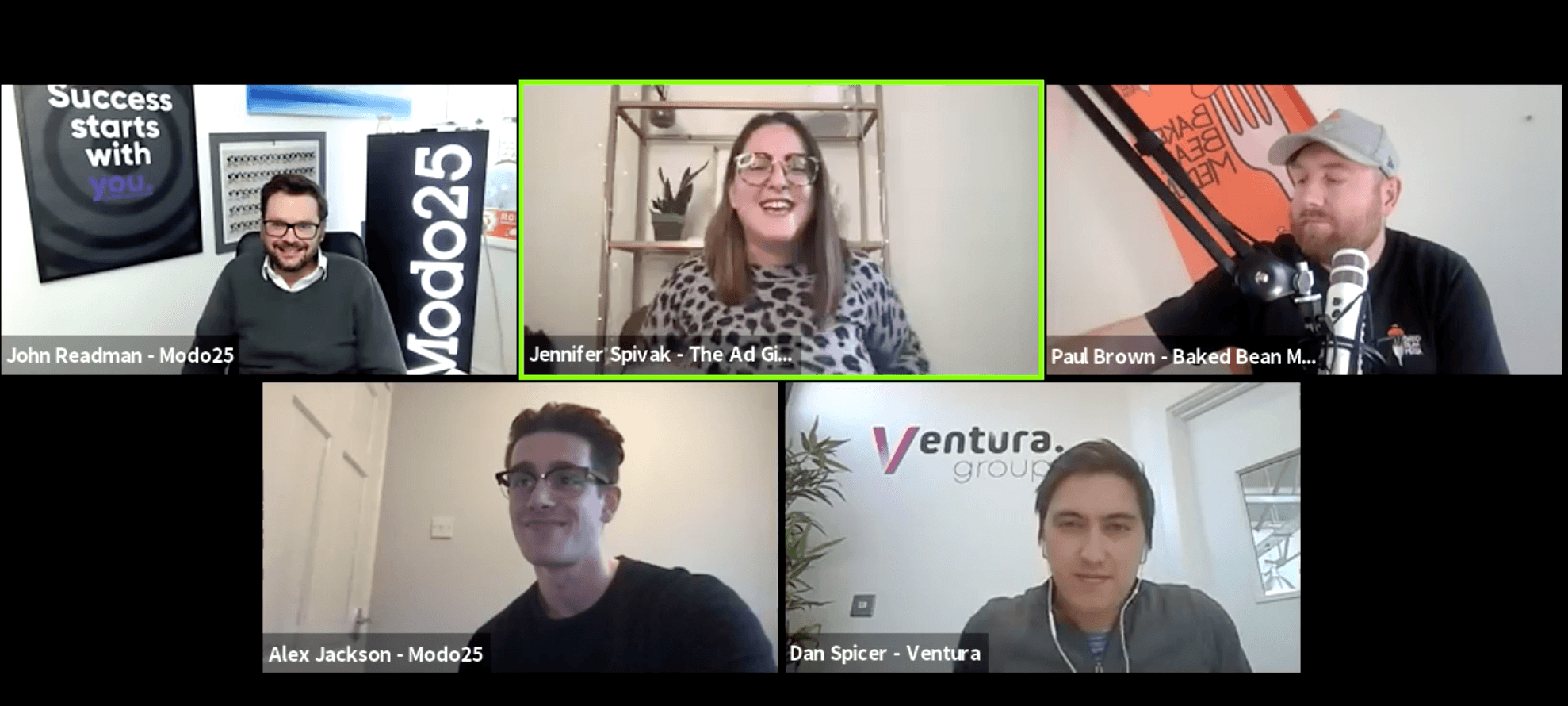 Have you noticed a change in customer behaviour?
Jennifer: The way we look at things at my agency is that there's is always going to be some outside circumstance influencing things. COVID was simply just another circumstance. Sure, certain behaviours may change. But overall those tried and true tactics that we've always used we are still using – they are still working. One thing we've been getting a lot of are prospects coming to us who used to own a brick-and-mortar business. So, we've got a lot of clients who are now looking at how to bring their business online by creating funnels to mirror what they were doing in person.
Dan: It's very hard not to miss that social media engagement at a consumer level is up YOY. Fundamentally, that does come full circle back to the opportunity for brands to capitalise on increased engagements to put more content and activity through those platforms. There has been a shift in an increase of demands, reduce in ad inventory and costs are still going up.
 Alex: Because of how retail and eCommerce has had to change over the past 12 months, it means that a lot more brands are trying to be active in the space. Off the back of that, ultimately, pushing costs up. So, I think there is good and bad to that. The good is that a lot of smaller brands that may not necessarily have originally been on the platforms are seeing a more level playing field as everyone is hopping online. The problem is because they don't know how to implement those tried and tested methods that Jennifer mentioned, they think they are doing really well. But they could be pushing it further – especially those in their infancy of paid or organic social strategies.
How can brands cut through the competition with content?
Paul: I definitely think, especially at the moment, the three key players that are actually helping businesses to grow their accounts are Instagram Reels, TikTok and Clubhouse. With TikTok, you don't need to do the dances. You can grow it by doing whatever it is you want to do. Whether it be talking about business, adding value or talking about what your product does. There are lots and lots of ways to use TikTok – it is a big player at the moment. In terms of LinkedIn, this corporate barrier of working from home has really dropped that level of professionalism. LinkedIn has become a social media platform for like-minded people. I've stopped posting about work and I'm getting better engagement and views.
Jennifer: Right along with what Paul was saying, the personal brand is absolutely something that is working. It's about being an authentic and transparent marketer or business and that is what has other human beings feel that connection that ultimately makes them buy. When I look at my own newsfeed, in 30 seconds I can probably find five ads. So, we can say that that market is incredibly saturated.
How do you measure success from paid social marketing?
Alex: It's a good question. Measurement and true measurement are very difficult to define. I think a lot of people still don't understand the differences between what they see on individual social platforms vs what they ultimately see in the backend of their CRM. If we're looking at organic and paid content, you need to measure the two very differently. I think you need to understand at a top level what you want from something before you start. So, do you want to tailor something exclusively to sales? Do you want to increase brand awareness? Do you want more people to engage with your page? I think you need to measure each on a different basis. Yes, you can measure sales in GA, but you need to look at sales from your backend – what profit are you making?
Check out the full discussion for further insights.
Are you looking for support with your paid social marketing? Drop us an email at team@modo25.com to find out how we could work together.