PPC ad copy isn't just simply putting text together, it involves strategic decisions behind every word to ensure your potential customer notices your brand, considers your offering and takes an action. In this article, we'll discuss different variations of ad copy, and the best practices to ensure your ads convert.
What is PPC ad copy?
PPC ad copy refers to the copywriting of advertisements. A combination of headline, main body, and call to action is written to form an ad which is shown on search engines.
These ads aim to bring potential customers to your business and implementing best practices on ad copy alongside ongoing testing to create and improve messages will help you drive more qualified traffic.
PPC ad copy example
There are four main components of a PPC text ad:
Headlines
Descriptions
Display URL
Ad Extensions
Following is an example of what an ad could look like: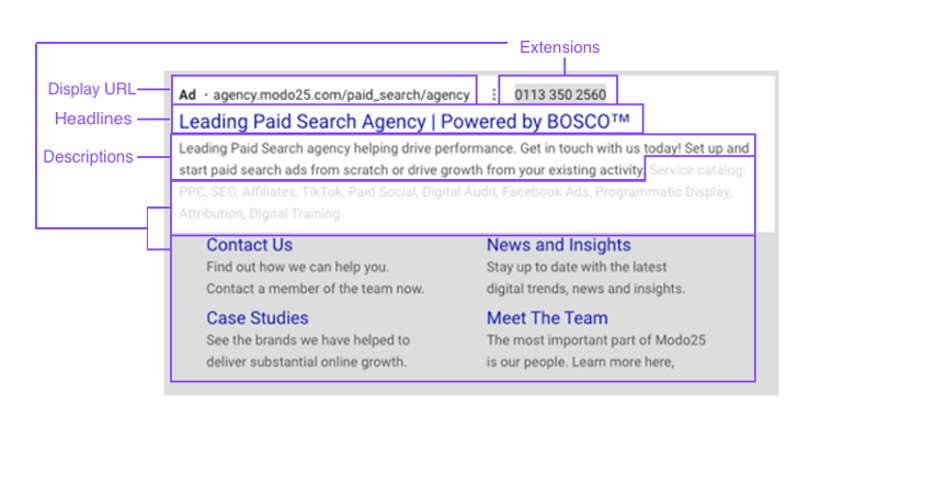 PPC ad copy best practices
Include your keywords
Including keywords in your ad text could make it more relevant to what your potential customers are searching for e.g. you include 'black trainer' as a keyword, in your ad headline or even incorporate it in description.
If you have a huge list of keywords to manage, keyword insertion could help speed things up as it automatically updates your ads with keywords in your ad group and make your ads more relevant at the same time. However, have to bear in mind when using keyword insertion with broader keywords as it could make the ad become less relevant to the search terms.
Paths
Even though the path fields on the display URL do not always show on your ads when it does show, it could reinforce the messaging of your ads. It serves the function of giving searchers more information about the ads and what to expect on the landing page. There's a key difference between a Display URL and a destination URL as the former appears in the ads and the latter is the actual page of the website where visitors will land after they click on the ad.
Include ads extensions
Ad extensions are additional pieces of information about your business that you can include in your ads on the SERP to influence customer engagement and purchase decisions. When enabling all extensions that are relevant to your business, you can see a 20% increase in click-through rate (CTR) when you have optimised them.
Doing this takes up more space on the search results, which makes your ads more prominent and provides more information about your business,
Include USPs & promotions
In your ad copy, highlight what is unique to your business and what makes you stand out from your competitors. Anything from free delivery, 24/7 customer service to eco-friendly products. Whenever there is a promotion, ensure they are shown in your ads as people are more incentivised to convert. If it's on for a limited time, mention it, as this gives people a sense of urgency to take action.
Tailor to your campaign goal
Understanding who you are talking to and tailoring your ads to your target audience is a key part of converting ad copy. For example, you don't want your ads to be too aggressive when you're speaking to a colder audience at the start of the funnel when you simply want to drive awareness.
Call to action
A call to action is a line of text that prompts your target audience to take an action. The term you use is closely related to what marketing goal you would like to achieve. If you are driving upper funnel traffic, you may want to use e.g. learn more, find out more. Lower funnel activity could be more aggressive e.g. book a demo, buy now.
PPC ad copy character limit
Advertising platforms are moving away from Expanded Text Ads (ETAs) and adopting Responsive Search Ads (RSAs). Google Ads had phased out ETAs, which is happening with Microsoft Advertising on 1 February 2023. Existing ETAs will continue to serve, and advertisers will still be able to view their performance, so we'll go through both types of ads key features and limits:
Expanded Text Ads
ETAs have 3 headlines, first 2 headlines are required while the 3rd headline is optional. They also have 2 descriptions and a display URL.
Responsive Search Ads
You can add up to 15 headlines and 4 descriptions with a display URL on your RSAs where Google Ads automatically tests different combinations and learns which combinations perform best.
This is the character limit for each ad type headlines and descriptions:
Headlines: Maximum of 30 characters
Descriptions: Maximum of 90 characters
PPC ad copy testing
Ad copy testing gives you more informed decisions to optimise your ad messaging with data to back your decisions and to further improve the effectiveness of ads. As adverting platforms are moving away from ETA and adopting RSA ads, we'll focus on topics on RSA testing.
Test by Theme
Grouping RSA ads into themes and testing between themes is one of the ways to test how each theme performs. For example, it can be ads themed based on the season (e.g. summer) vs generic (e.g. with no season-related text mentioned in ads) or can be themed by the tone of voice e.g. friendly vs professional.
Test by Headlines/ Descriptions
Due to the nature of RSA ads, if would like to test the existing headline/description against the other variation, there's no guarantee that the copies will compete against each other without pinning the copy in the same position.
However, pinning could limit Google Ads to fully optimise your RSA ads by testing the best combinations. This can be overcome by applying a 50:50 split test on Google Ads ad variations experiment which allows Google to run one variation of that exact headline to another and the RSA ads combinations will not be limited.
Test by Pin
You can also do tests on pinning your RSA ads when you want one of your ad copy variations to be more prominent e.g. promotions, UPS, etc against the same ad copy with no pinning. This can be done by creating two sets of ads or even testing through the Ad Variations experiment.
Test within RSA Ads
In RSAs, you can add up to 15 headlines and 4 descriptions within an ad, you can evaluate the performance of each headline and description ad copy from the assets report. Continuing testing and replacing assets with low-performance ratings will help improve ad performance.
If you need any support with your paid search activity, our team of specialists can help you to set up and start paid search ads as well as grow and manage any existing campaigns. Our goal is to help businesses take their marketing in-house and to own their marketing success.  Therefore, we also provide you and your team with ongoing training and development