Link building is one of the three core pillars of SEO which all contribute towards organic success. In this blog, we discuss what link building is, how it helps SEO, as well as how and why to build links for your own site.
What is link building?
Link building is the process of acquiring backlinks that point from an external domain to your own. The number and quality of backlinks a site has, helps to build the site's authority and therefore helps with organic visibility.
What is a backlink?
A backlink is a hyperlink that sits on one website and points to another.
A backlink is considered to act as an external source of validation, or vote, that your website is trustworthy and contains quality and helpful content. By having multiple votes of confidence, Google recognises that other sites trust you and therefore know that they can too.
Is link building still relevant to SEO?
Yes, as site authority is considered to be one of the most influential factors in Google's algorithm for determining where sites rank organically, and link building is required to improve this, link building is still very relevant to SEO.
How does link building work?
Gaining high-quality links to your site can benefit your site's overall organic performance by boosting your site's authority.
To increase your site's authority, you need to increase both the quantity and quality of links in your backlink profile. Although having more links is desirable, if these are all from sites with low authority themselves, these aren't going to improve your site authority as much as getting links from those with a high authority would.
Once you have secured a backlink to your site from another domain, this link will pass link equity through to your site, in turn, boosting your own site authority.
How to measure the authority of a website?
Websites are often measured in terms of their authority which is measured at domain level. Whilst there is no single measurement for this, several well-known SEO tools have come up with their own metrics to help you measure this. Whilst Ahrefs measures your 'Doman Rating', SEMrush refers to this as your 'Authority Score' and Moz describes this as 'Domain Authority'.
Whichever you use, if you compare your own site's authority metric to that of your competitors, you can get an idea of how authoritative your site is considered to be in comparison with your competitors.
These metrics are generally a figure between 0 – 100, with 100 being a perfect domain with the highest authority possible and 0 being a domain with no authority at all.
To give you an idea of the range of authoritativeness, you can see in the image below how authority increases as you move up the hierarchy.
For the top-tier nationals (such as The Guardian) these domains' authority metrics would be well in the 80s and 90s, industry-relevant publications (such as Home & Garden) are generally between 50s and 70s and your industry-specific bloggers could be in the 20s and 30s. However, links from across the hierarchy are needed to include both the highest authority and the most relevant sites in your backlink profile, as you can see that relevance and traffic increase down the authority scale.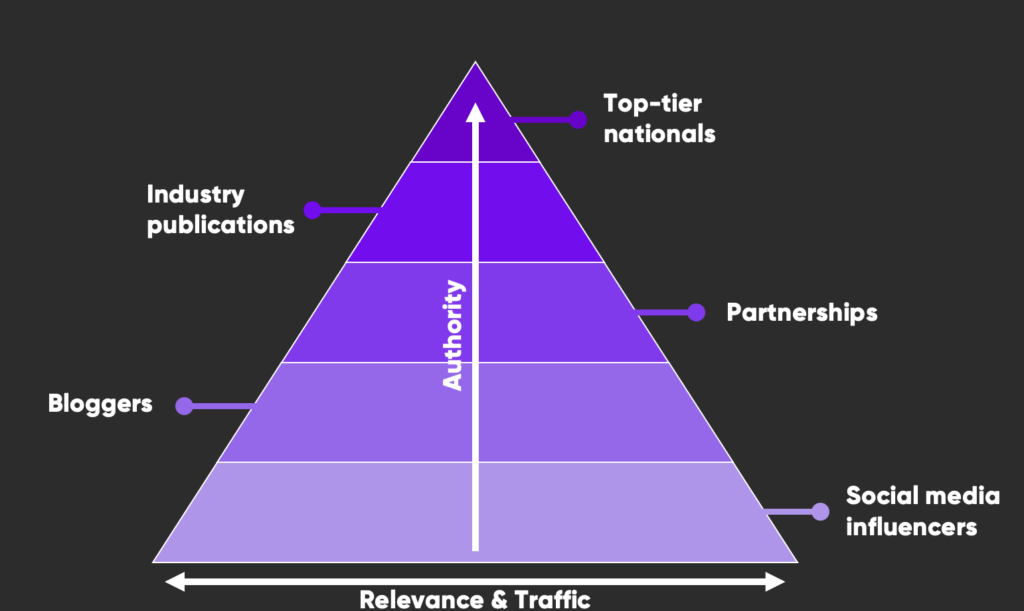 What links do I need for SEO?
To increase your domain's authority, you need to increase both the quantity and quality of links in your backlink profile. Although having more links is desirable, if these are all from sites with low domain authority themselves, these aren't going to improve your domain authority as much as getting links from those with a high authority would.
You do require links from across the hierarchy in order to build up a solid and natural backlink profile. Whilst having links from top-tier nationals is great for your overall domain authority, links from bloggers and influencers that are much lower authority but much more relevant to your niche can be just as useful for indicating to Google the relevance of your site.
Therefore, these lower authority but more relevant links can help more with increasing the rankings of specific pages and keywords, rather than the overall website.
What makes a good link? 
A good link has a few qualities that work together to make the link desirable:
Authority:
The link source should have good authority themselves – that way, the link can pass on more authority to your site. Not all links have to have an authority in the 80s though, you could find some highly relevant domains with an authority in the 30s which could be just as useful. What we mean is, don't aim to gain links from domains with authority metrics of 0.
Relevance:
The link source should be as relevant to your website as possible. If you're selling home furniture, you want to gain links from home bloggers and social influencers, home industry publications and DIY magazines.
Anchor text:
The anchor text is the actual text used in the hyperlink which contains the link. This should be as relevant as possible to the page that the link is pointing to. A lot of the time, when linking to the home page or just mentioning the website overall, the anchor text is the brand name of the site the link is pointing to. When running a targeted campaign to boost certain keywords, the anchor text normally includes the keyword you're targeting to improve.
Nofollow vs Follow:
Links generally have a directive on them to tell Google to 'follow' or 'nofollow' the link. If the directive is 'nofollow', it is telling Google that it shouldn't follow the link or pass on any SEO value to the linked site. Therefore, it is best for link building to gain 'follow' links. However, this isn't as important as it used to be, as Google has revealed that they treat nofollow directives as a hint rather than an absolute directive, so they may choose to ignore the instruction given.
Placement:
Links placed within the actual body of content on a page are the best. This indicates to Google that the link has been built more naturally as it actually adds some value to the content by being there, rather than just being added as a button at the end, purely for link-building purposes. 
How to build links for SEO:
To build links for SEO you must first analyse what links you need to build and how you can build them. This will likely come from competitor analysis.
Using a tool, such as Ahrefs, not only can you compare your own key metrics to theirs, but you can see every single site they have a backlink from. Looking at your own backlink profile in comparison with theirs', you will be able to identify sites that your competitors have links from which you don't.
From this, you can identify:
What links you need to build – do your competitors generally have links from high DR & national publications or mid-authority, but highly relevant publications? Or, if you're interested in increasing your local rankings, do you need more local links from regional publications?
How best to build them – did your competitor gain this link from a blog post or a piece of data? Can you replicate what they have done, but improve on it?
6 Link-building tactics  
When people think of link-building, they immediately think of big, expensive digital PR campaigns that take a lot of money and time but there are a range of link building tactics that can be used to suit different levels of budget and resource.
Existing unlinked mentions  
Existing unlinked mentions are where your site name is already mentioned somewhere across the internet, but it does not contain a link.
You can identify these by running a Google search for your brand name but removing your own website from the search. This will mean that the results show any page in Google's index that mentions your brand name outside of your own website.

Once you've removed all the internal sites you need to (you may also need to remove relevant social media as we have done above), you will be left with a list of other web pages that mention your brand name.
You can then work through the search results to identify those that do link and those that do not. With the list of sites that contain unlinked mentions, you can then begin the process of finding a contact at that business to reach out to and asking for a link to be added in. Chances are, they will add the link in as they're already mentioning you, so this is a fairly easy way to gain some extra links.
Once you have capitalised on all the existing mentions currently out there, you can keep an eye on this on an ongoing basis by setting up Google Alerts to alert you any time there is a new piece of coverage your brand name features in.
Journalist requests
Journalist requests are sent out by journalists when they require an expert comment, quote, or interview for their article. In return for your comment, the journalist will often include a link back to your website.
You can track journalist requests using a tool such as Help A Reporter Out (HARO) or by searching on Twitter using relevant hashtags (e.g. #journorequest).
These can often be a good source of link building as, although the links gained are not always necessarily the highest authority, they will be from highly relevant websites in your industry for you to comment on as an expert. Journalist requests do usually require a fairly quick turnaround time though, due to their own deadlines.
Alumni profiles 
Alumni profile submissions are another fairly quick and easy link-building tactic to build some very high-quality domains.
This would involve asking members of your team which universities they attended and reaching out to the relevant institutions to ask if you could add them an alumni profile on their site. Most universities are up for this as they always like to highlight what their students have gone on to do and will often link back to a site of choice when mentioning the student.
University websites have some of the highest domain authorities across the internet, so a link from one of these sites is like gold.
Directory Listings
Getting your site details listed in some relevant directories can not only be useful for getting your business details out there and helping with your brand presence but is also another fairly easy way to gain some extra links.
You should aim for some big, well-known directories that will likely have high authority metrics, but also some lesser authority, more relevant to your niche directories that may be more local, which can help to boost your local organic presence too.
The main benefit of a directory listing is that you're pretty much guaranteed the link if you submit the form. There's no email back and forth required to secure these once you've submitted your relevant information.
Guest blogging  
Guest blogging is a great way to build links to your website that can often come with reciprocal benefits.
Once you've identified a relevant site in the same industry as you, you can offer to write an article for them, to sit on their site, with a link pointing back to your own.  The other benefit is that sites will often do the same in return, so you will also get a guest blog from another site to host on your own.
Digital PR 
Last but not least, the big one, Digital PR. Running a full digital PR campaign involves much more investment than a lot of the other link-building tactics previously mentioned, however, can also offer a lot more reward.
Although not solely used for link building, alongside other benefits such as increasing brand awareness and online presence, digital PR can often secure high-quality backlinks to your site when done right.
A digital PR campaign involves creating a piece of content that can be pushed out to relevant media encouraging them to add a link on their site pointing to it. To grab attention, the best content pieces are often data-led and highly creative to give journalists a real reason to include a link from their site pointing to it.
Now you know all the ins and outs of link-building if you need help creating and executing a link-building strategy for your business, get in touch with our digital PR and SEO experts.