Google announced last Thursday (18th August) that they are rolling out a new algorithm update, entitled the Helpful Content Update. The exact date is unconfirmed, but it's likely going to start this week and take two weeks to roll out in full. The broad update, which is going to affect all sites, is aimed at serving helpful content to users, rather than content that has been written solely to appease search engines.
This is nothing new really, Google have been telling us that they want to serve better content to users for a long time, but this update suggests that Google are now taking a broader approach to rewarding sites that provide people-first content and devaluing ones that are not doing this. The fact that Google have pre-announced the update also suggests that this could be a big one.
What do we know?
In Google's own words, "the helpful content update aims to better reward content where visitors feel they've had a satisfying experience, while content that doesn't meet a visitor's expectations won't perform as well."
The update will look at content site-wide, rather than page by page, to give an overall classification for your site. This means if you have 10% helpful content on your site, but 90% unhelpful, Google will classify your site overall as being unhelpful. The classification your site gets will affect how your site performs following this update.
This won't be a one-time update though, following the initial rollout, helpful content will be an ongoing factor to monitor both new sites and ones that are updated over time. Meaning that, if a site which was previously classified as unhelpful has all of its' unhelpful content removed and additional people-first content built up, the site's classification will change when Google reviews the site again.
Google's advice on how to create content for people and not search engines has not changed and they have reiterated their existing lists of questions you should ask yourself when creating content on their Google Search Central blog announcing the new update. By following these questions, you can ensure that you are creating valuable, people-first content which Google deems to be helpful and not just aggregating content from other existing sources which provide no unique value.
Although the update is broad, through Google's testing, there are certain niches that seem to be more impacted by this update than others at the minute, including:
Online education materials
Arts & Entertainment
Shopping
Tech-related sites
It's not that Google has necessarily targeted these niches, but these are the ones that have so far been found to be affected the most, likely because they are the niches that have the most unhelpful content across their sites.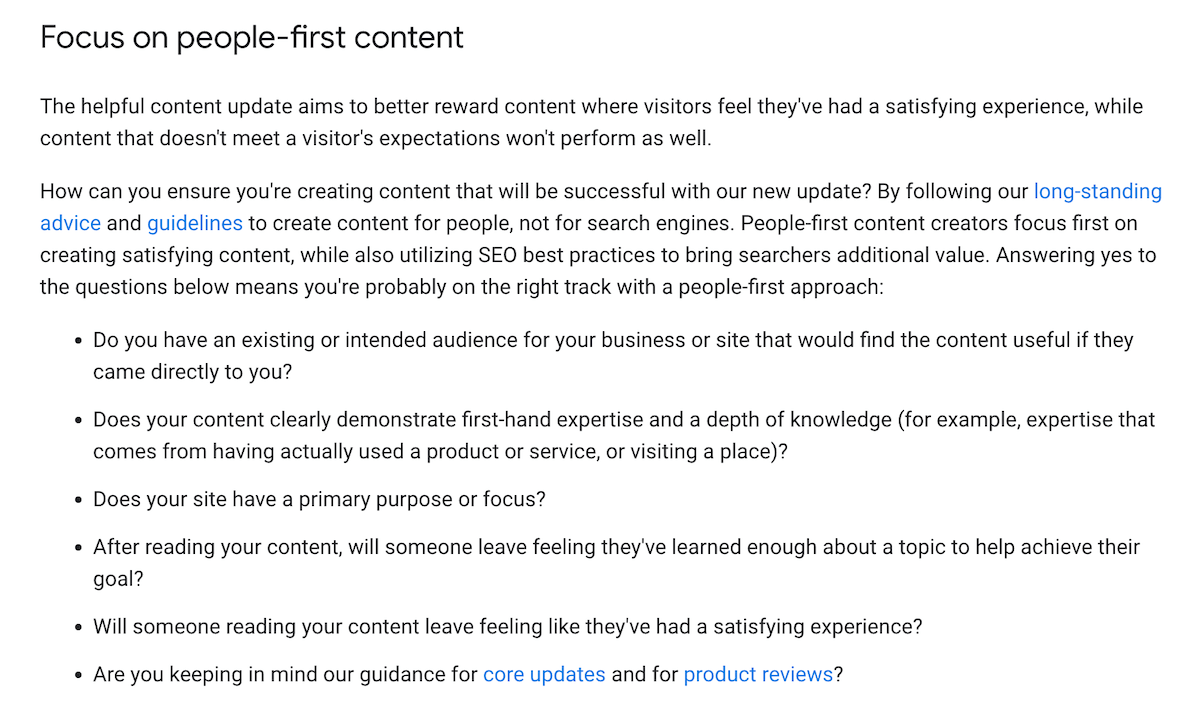 What can we expect?
Whilst Google haven't announced that sites not doing this will be penalised in the form of an actual Penalty as we've seen before, it is suggested that sites with poor content will be pushed down in the rankings as the new rankings are decided.
The hope of a lot of SEOs is that sites that are currently managing to rank that rely on scrapers and AI to mass produce content will be identified and pushed down the rankings, allowing sites producing genuine content to be rightly rewarded.
What can we do now?
Unfortunately, at this point, there's not much you can do to change how Google will treat your site following this update as they have already started to pull the data. But what you can and should do, is start pulling together a strategy to make sure you're adhering to Google's long-standing guidelines on writing people-first content going forward.
There are quick fixes that may be helpful in the short term, such as no-indexing poor content pages, but Google's John Mueller warned that this should not be a long-term fix as it will still provide a poor user experience for real users, whether Google can see the content or not.
How to recover?
If your site is negatively affected by this update, the bad news is, that recovery will not be overnight (or even within weeks). Re-classification will likely take months to allow sites to fully remove all unhelpful content and give enough time to build up a bank of helpful content.
To produce truly helpful content that will provide real value to your users, you should narrow your focus on to what you truly have expertise in. This means, not trying to cover broad topics without any extra insight from yourself.
Content strategies should also not be based on search volume alone. Although this is one factor we can rely on to get relevant topic ideas, a strategy based on just this will lead to search engine-first content, rather than people-first. Once you have a list of topic ideas based on search volume, we'd recommend that you then go through this list and decide which areas you can provide the highest quality and unique insights.
Overall, content strategies need to be based around answering real user questions in a genuinely helpful way, not just for the sake of ticking off another blog from your content plan to rank in search engines. Although we can always provide guidance such as ideal length and structure for content, the bottom line is, that if it's not being written in a way that's helpful to users, it's not helpful content.
Are you looking for support with your SEO marketing? Our SEO specialists can work alongside you to grow your inhouse team. Whether you're starting with the SEO basics or you're already working with strategy, drop us an email at team@modo25.com for a chat.