We're looking for a bright, ambitious PPC/Paid Media Executive to join our team.
You'll be digitally savvy and a good communicator, with the ability to deliver clear, insightful reports and solutions to our clients.
You'll have previous experience of managing and reporting on PPC campaigns in Google Ads and Microsoft Ads (previously Google Adwords and Bing Ads), and a good understanding of SEO, analytics, digital and social media marketing, RLSAs, ROI, and audience targeting.
A confident team player, you'll be proactive, hands-on, and always keen to learn more.
In return, we can offer you a dynamic, friendly, forward-thinking work environment, a competitive salary, and great employee perks.
We believe that if we invest in talented people and leading technology then we can, along with a network of digital experts, provide bespoke insight and solutions for our clients.
We are underpinned by our values of transparency, transformation and teamwork.
We're in this for the long haul – which means finding the right people to join our team on a long term basis.
At Modo25/Ask BOSCO,  everybody is invited with open arms.
We believe that fostering an inclusive and fair work environment is at the heart of our mission. As an equal opportunity employer, we embrace individuals from all walks of life, irrespective of race, colour, nationality, ethnicity, religion, national origin, sexual orientation, age, marital or family status, disability, gender identity or expression or any other legally protected status.
We strive for a culture that celebrates and incorporates diverse backgrounds and experiences. To anyone who is reading this, regardless of who you are, we extend a warm and heartfelt welcome. We are thrilled to have you join us!
Back to Vacancies
Team member benefits:
We want to attract the best people, so we're offering competitive salaries and excellent employee packages that include:
4-day working week
23 days annual leave
Fantastic benefits package that includes a discounted Apple Watch, discounted gym membership and retail/leisure savings (e.g. Vue cinema tickets, Amazon Prime membership and a free Caffe Nero coffee every week)
External personal development training
Electric Car scheme
Flexible working
Office dog (you need to feel comfortable in the company of  our well behaved office dog, Roxy)
Apply Below
Why Modo25?
We believe that by investing in our people, our clients can only benefit.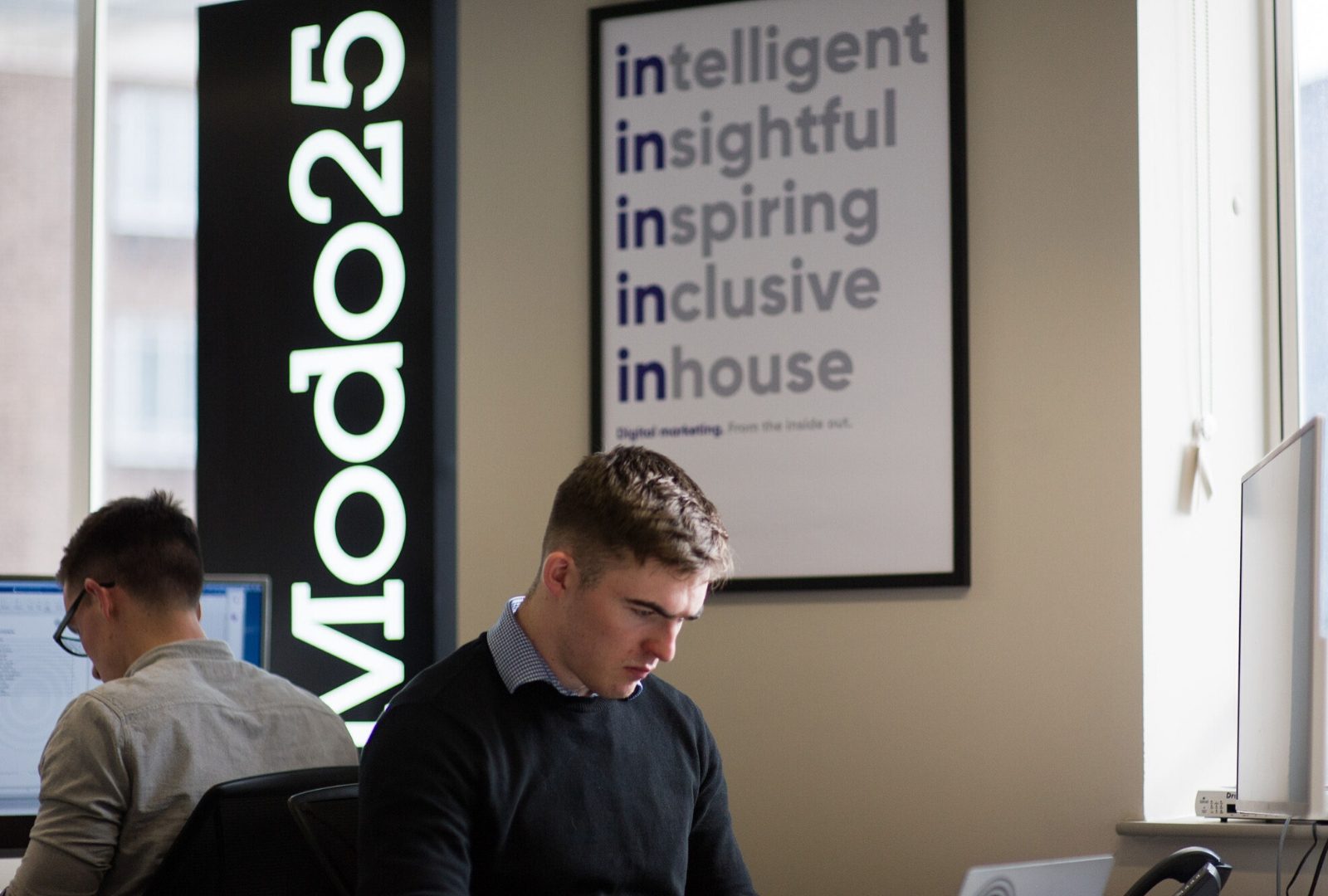 Modo25 newsletter Subscribe for news, jobs and more.