Are you looking to take your next step up in the world of SEO? 
We're looking for an ambitious and hard-working SEO Executive to join our fast-growing team. You will be working alongside our specialists to deliver essential SEO work for our clients. Experience in keyword research, competitor gap analysis and link audits are essential. As an expanding team, you will be expected to contribute to strategy meetings and occasionally contribute on clients calls.  
You'll need a lot of initiative for this role to ensure that we go above and beyond for our clients. Plus, you should be proficient with industry-standard tools such as Semrush, Google Analytics and Google Search Console. 
 As well as a good understanding of technical SEO, you will also be working to help our clients build out content plans based on keyword research. So, a bit of creative flair would be advantageous.   
What we're looking for
1+ 

years experience

 in SEO roles

 

Good understanding of core SEO disciplines

 

Experience using industry tools such as Screaming Frog Spider, Ahrefs and Semrush

 

Keyword research and strategy

 

Ability to carry out, or contribute to, technical SEO audits

 

Ability to carry out, or contribute to, content marketing plans

 

Be organised, proactive and resilient

 
Improvement and growth are the cornerstones of Modo25. So, the ideal candidate will be:   
A confident team player

  

 

A proactive and ambitious self-starter

  

 

Hands-on wherever necessary

  

 

Always keen to learn more

 

   

Eager to become an expert in an ever-changing industry

 

 
At Modo25/Ask BOSCO,  everybody is invited with open arms.
We believe that fostering an inclusive and fair work environment is at the heart of our mission. As an equal opportunity employer, we embrace individuals from all walks of life, irrespective of race, colour, nationality, ethnicity, religion, national origin, sexual orientation, age, marital or family status, disability, gender identity or expression or any other legally protected status.
We strive for a culture that celebrates and incorporates diverse backgrounds and experiences. To anyone who is reading this, regardless of who you are, we extend a warm and heartfelt welcome. We are thrilled to have you join us!
Back to Vacancies
Team member benefits:
Work/life balance is incredibly important to us here at Modo25. We believe in working smarter, not harder. That's why we all work a 4-day week, every week, on a full-time salary. Our team are also entitled to 23 days of annual leave a year (plus your extra one day a week off).  
We have always believed in flexible working. So, whether you want to work from home, in the office or a bit of both – you have the freedom to choose. On top of all of that, we also offer a whole host of other fantastic benefits including health insurance, a discounted Apple Watch, discounted gym membership and retail/leisure savings. One more thing, we have an office dog, Roxy, so you need to be happy sharing the office with a four-legged friend!  
4-day week – we work smarter so that we can work a shorter week
23 days annual leave
Fantastic benefits package that includes health insurance, a discounted Apple Watch, discounted gym membership and retail/leisure savings (e.g. free Caffe Nero coffee, Amazon Prime membership, free Vue tickets, retail vouchers)
Flexible working
Central Leeds office
Electric Car scheme
Office dog (you need to feel comfortable in the company of  our well behaved office dog, Roxy)
Apply Below
Why Modo25?
We believe that by investing in our people, our clients can only benefit.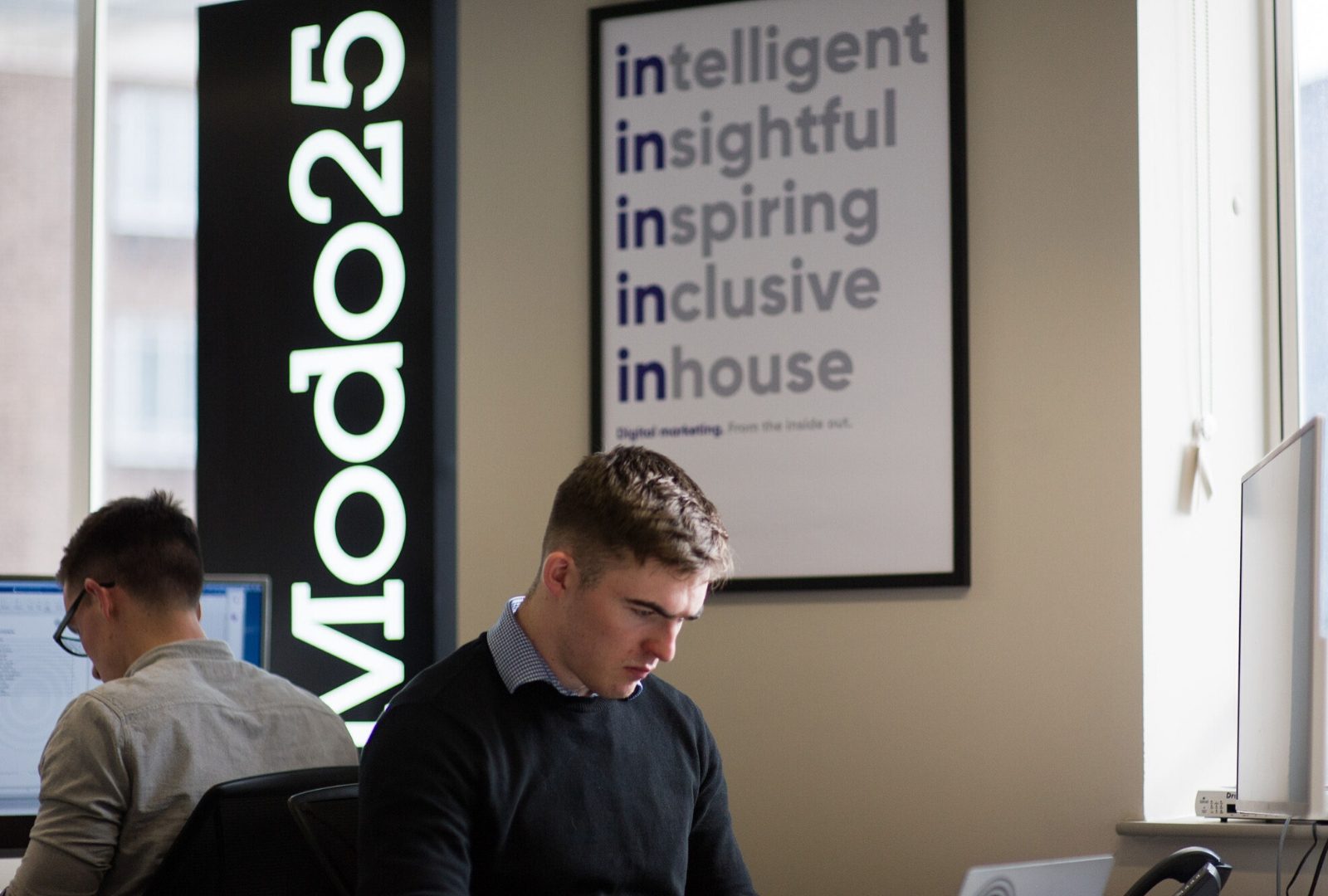 Modo25 newsletter Subscribe for news, jobs and more.