What is affiliate marketing?
Affiliate marketing is the discipline of using affiliate partners to promote a business' products and or services online. Affiliate partners are the individuals who earn a commission for promoting these products and or services. This is a great strategy for putting your products and or services in front of the right people, at the right time.
How does affiliate marketing work?
The first step to affiliate marketing is the recruitment of affiliate partners. A merchant will hire an affiliate to promote their business online. This is, of course, in exchange for a commission depending on the sales of their product and or service.
Step two consists of creating an affiliate URL. This is a unique URL created using a UTM code. This link will usually send a customer to a merchants page to buy their product and or service.
Step three is when the affiliate begins to promote the merchant's webpage with the affiliate URL.
This will then, hopefully, lead to a customer clicking the link.
An affiliate tracking cookie is then stored within the customer's browser.
If a customer makes a purchase via the affiliate link, the affiliate can then claim their commission. There is then a 30-day window for affiliates to claim commission on the conversion.
Finally, the merchant will then pay the affiliate their earned commission.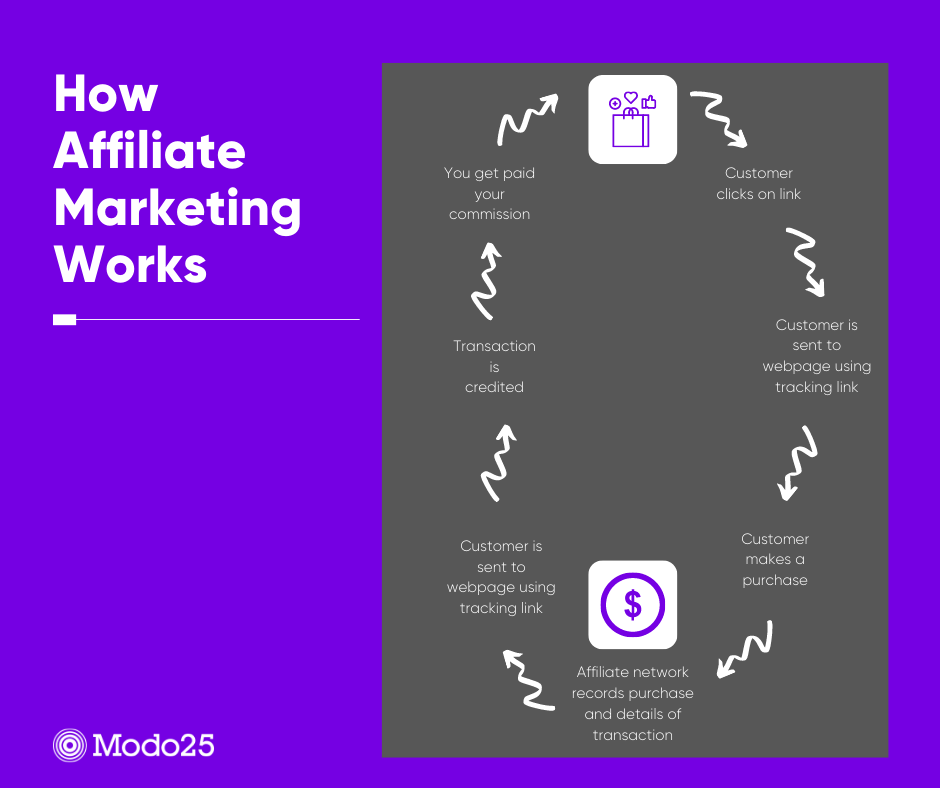 Is affiliate marketing worth it?
We asked one of our experts, Ioana Dobos, Performance Marketing Executive, to answer this question: "Yes! It is a low-risk channel with very little investment when starting, so why not give it a go? The full worth will depend on the type of strategy approached by each business, however, the benefit with this channel is that it allows testing, which is very important."
How to start affiliate marketing
Many affiliates will have different ways to do things. Ioana explains, "It's simple! Think of the outcome your company wants to get from this channel and search for the most suited network to start your program. There are different popular networks out there so it is important to book demos or have a chat with all to make the best decision."
Here are some of our top tips on how to start affiliate marketing:
Decide on a platform – A webpage, blog, or YouTube page are the most common platforms used to market. Although even social media platforms can be used.
Choose a topic that focuses on a specific category – This helps to focus your marketing more succinctly in order to find the best audience that will ultimately lead to more clicks and conversions.
Choose an affiliate program to join – Find the best program that will aid your journey into affiliate marketing.
Create the best content – Make sure all content on your affiliate sites is high-quality. This is the best way for your affiliate site to succeed.
Drive traffic to your site – Now that everything from the above is complete, it's time to drive traffic to your site. This can be done through paid traffic (PPC), organic traffic (SEO), or email marketing.
Get clicks on your links – Find the most suitable place to insert your links, make your links fit into the context of the content and include callouts.
Convert clicks to sales – The ultimate aim is to convert clicks to sales. This is done by linking to product pages.
Affiliate Marketing platforms
There are many popular affiliate marketing platforms that exist to help and support affiliate marketing. Ioana shares some of the top tools and platforms she uses when managing affiliate campaigns:
Iona also stresses the importance of knowing the geographic location you want to target, saying: "There are so many platforms to look out for and their popularity varies depending on the continent. For example, AWIN is one of the most popular platforms in Europe and CJ is well known in the US."
Affiliate Marketing examples
Affiliates have many platforms and ways to share their links. These are some affiliate marketing examples of where the links work best:
Voucher or deal sites – Affiliates often utilise exclusive offers and voucher codes in exchange for clicks. Affiliate marketing is most popular on these sites.
Cashback websites – The second most popular sites are cashback sites. These, again, give money-related incentives for customers to click on and get money back from products.
Onsite content – Content such as product reviews, detailed guides, and news articles can also feature links to sites for products/services.
Display advertising – Advertising pops up on websites featuring click-throughs to buy products.
Podcasts – Pop-up ads featured on podcast websites and used to link through to products.
Social Media – Social platforms are an up-and-coming platform for affiliate marketers to use as links to products and or services can now be published and featured on posts and ads.
Comparison websites – These websites feature deals and links to many different sites that find the best prices on products for customers.
Videos – Sites like YouTube can feature links to products in the comments or information sections underneath videos.
Are you looking for support with your affiliate marketing? Our affiliate marketing specialists can work alongside you to grow your inhouse team. Whether you're starting out with affiliate marketing or you're already working with strategy, drop us an email at team@modo25.com for an informal chat.