What is Google Ads?
Google Ads, also known as Google Adwords, is an advertising system created by Google. This is where advertisers bid on certain keywords in order for their clickable ads to appear in Google's search results. Due to advertisers having to pay for these clicks, Google will make money from this.
Google ads glossary of terms
Google shopping ads: A type of ad that displays in-depth information about the product and/or services a company is selling.
Google display ads: These are ads that appear when browsing on websites, checking out YouTube videos, and perusing emails on Gmail.
Google ad account: This is an account managed online that allows you to edit and view your Google ad campaigns.
Google ad campaign: A group or set of ads that promote a product/service.
How do Google ads work?
Google Ads works within a PPC (pay-per-click) model. This means that marketers will bid on specific keywords in order to get the ad to appear. The bids that marketers make are often called 'maximum bids' and are usually the most amount of money a marketer is willing to spend on bids. Below is a graph to demonstrate how Google determines which ads will appear by using bid amounts: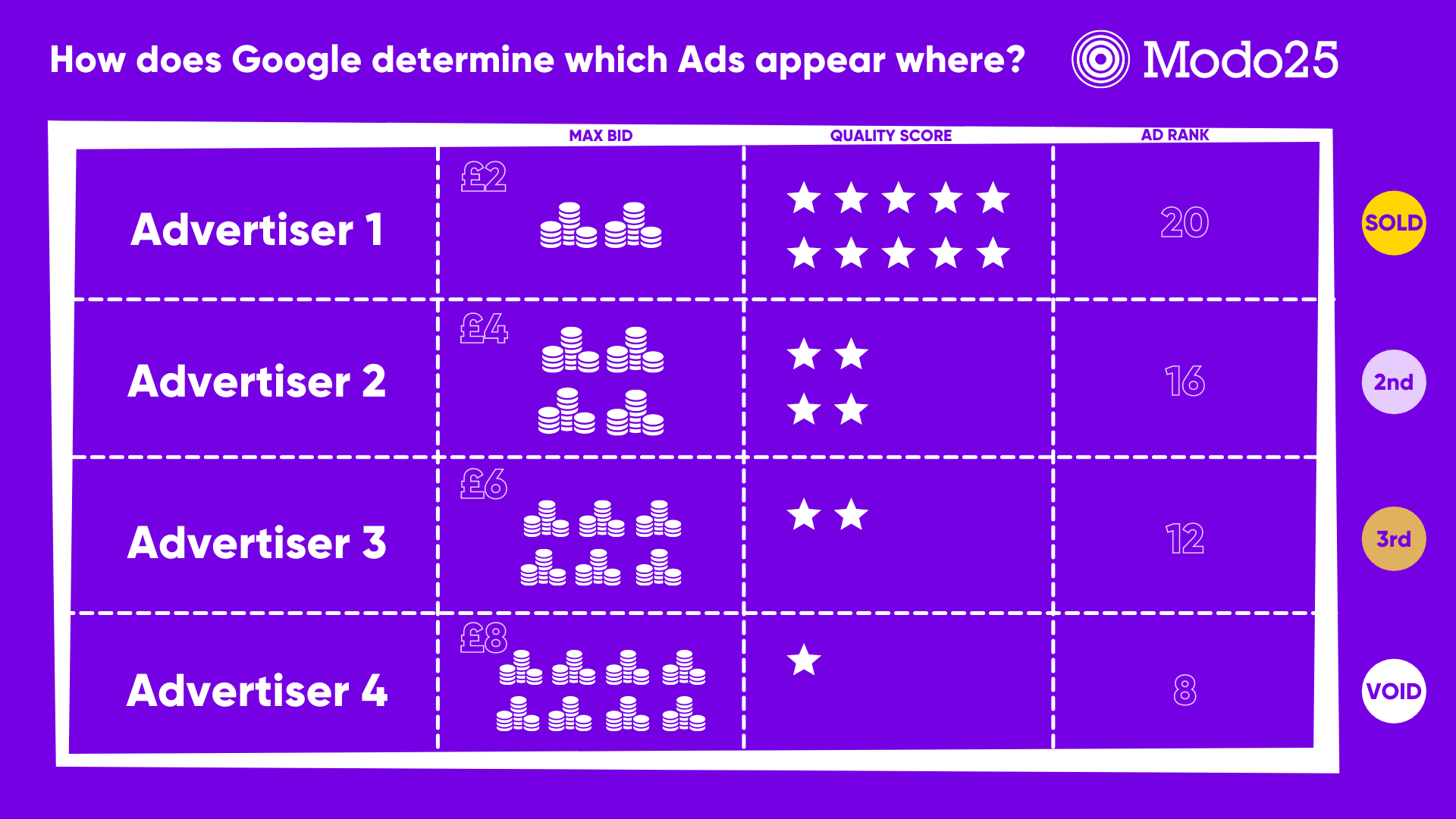 Types of Google ads
Search: Text ads that appear within search results
Display: Ads that contain images and usually appear on websites or within Gmail
Video: Ads that are usually video-based and appear on YouTube
Shopping: These appear as product listings on Google
App: This appears via apps across various channels
Smart: Simplified ads on Google and across the web
Local: These ads drive customers to a physical location
Discovery – Runs ads across all of Google's channels
How to set up Google ads
The next stage is to get set up on Google ads. We felt it was best to ask one of our performance marketing specialists to answer this question. So, here's Bex, our Performance Marketing Manager, to explain:
Before setting up your account there are a few key elements you'll need to take into consideration to ensure you'll be able to run and deliver successful PPC campaigns:
Your website needs to be designed to easily lead users to your end conversion
Have defined goals
Test budgets and timeline s(we wouldn't recommend less than £500 for three months)
Firstly, you'll need to set up a Google Account and pick your main advertising goal which Google will outline for you.
Then, before creating your campaigns, we'd advise confirming your business' info (billing country, time zone, and currency). It's important that you get this correct as you can't change this later down the line!
Google ads account set up
Now you have an account, it's time to start thinking about your campaign. So, we'd recommend tackling:
Keyword strategy

Keywords are words/phrases your customers would use when looking for your product or service.
Use your domain with keyword research tools such as Google keyword planner and think like your customer to come up with a list of relevant keywords, not forgetting brand terms.

Account structure

There are a number of ways to organise your account but our main recommendations would be by either the products and services you offer or by geographical location.  Your ad groups and keywords would then be grouped into the top-level campaign themes for ease of reporting and ad/landing page relevancy.
For example, if your campaign is handbags, you ideally want your keywords to be handbag related, not wallet related.
You then need to consider landing pages and ad copy. The higher the relevancy, the higher the click through rate. And without going into too much technical detail, your quality score will depend on relevancy!
Creating Google ad campaigns
Now you've got the background, you can begin to create the campaigns. You can choose from a range of campaign types and networks. For someone just staring out, it's best to test with either search network only or shopping (shopping doesn't require the above planning).
By default, your campaigns will apply to all devices but you can begin to make bid adjustments once you have performance stats per device. Or, apply bidding strategies to be less or more visible on devices depending on your goals.
You can select your locations and languages to appear in select geographic locations. For example, if you are a location-specific business you may want to appear only in certain cities or a radius surrounding your business.
Bidding strategies are important as you'll need to consider your daily budget. If you set these too high, you might spend your entire test budget within the space of a few days. We'd always recommend starting lower and increasing based on performance. Google has a range of automatic bidding strategies to help you out.
Before launching any activity you should be prompted to complete billing information and conversion tracking. This will allow you to measure the success of your campaigns and full implementation information.
How much do Google ads cost?
When trying to measure the cost of Google ads a marketer would usually look to how much the cost per click (CPC) would be. The average Google Ads CPC is £1.95 and for a Google Display ad, it is 49p on average. In comparison, an ad on Microsoft's CPC ad platform is £1.25.
Are you looking for support with your PPC marketing? Our performance marketing team at Modo25 are specialists in PPC marketing and we can work alongside you to grow your inhouse team. Drop us an email at team@modo25.com for an informal chat.